Wilmer C. Carlson, "Skunk," 83, of Melvina, Wis., passed away Friday, Sept. 2, 2022, at Gundersen Health System in La Crosse.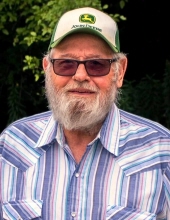 He was born in Belvidere, Ill., on April 17, 1939, to Glen and Marian (Bacon) Carlson. He went to grade school in Kingston, Ill., and graduated from Genoa High School in 1958.
Wilmer became "Little Skunk" at age 4 after his father was sprayed by a skunk; his dad was "Skunk," and he became "Little Skunk." It's safe to say the nickname stuck.
Skunk spent most of his life as a cattle buyer, always buying and selling the best breeds. Later in life, he found that the bovine didn't have a lot to say throughout the day, so he began driving his Amish friends. He enjoyed having conversations with people and staying busy.
If playing dirty clubs was an occupation, Skunk would have been the master. He always carried a small pad of paper and pen with him, finding a card game everywhere he went. The paper ensured he would always be the score keeper. Skunk was a humble man and often easy going unless there was a serious game of dirty clubs. If his buddies were talking smack, and he was sure to get the next trick, you better believe he celebrated with a quick slap of the card on the table.
Skunk had many highlights throughout his life. He was proud to win a team penning with his son and grandson (at 78 years old)! Skunk celebrated his 80th birthday with just about everyone in the county. It was no secret how loved he really was. In the last year, he ventured to San Antonio with his special friend, Jack Boldon, and enjoyed a night at the Elvis Explosion, sipping a glass of sweet red wine.
Skunk spent his life looking for a bargain. He would leave for the day in his bib overhauls, an auction ticket and his cell phone, going to see a "guy who could get him a good deal." While his "good deals" were well intended, they usually ended up costing him more to fix in the end.
Skunk is survived by his son, Mark (fiancée Jill Teal) Carlson of Cashton, Wis.; his grandchildren, Josh (Nicole Zimbauer) Haldeman of Norwalk, Wis., Brandon (Kim) Carlson of Cashton, Wis., and Bridget (Justin Orris) Carlson of Decorah, Iowa; and his great-grandchildren, Gavin, Deagan and Hadleigh Haldeman and Tenley, Lochlyn and Briggs Carlson. He is further survived by Landon and Amiyia Zimbauer and Keaton, Karter and Kyson Orris.
He was preceded in death by his parents, Glen and Marian, and a special friend, Otis DeWitt.
Funeral services will be at 12 p.m. Wednesday, Sept. 7, at the former Ontario Elementary School building,114 Church St., Ontario. Family and friends are invited for visitation Tuesday, Sept. 6, from 4–7 p.m. at the former elementary school in Ontario as well as on Wednesday from 10 a.m. until the time of service. The Torkelson Funeral Home of Ontario, Wis., is assisting the family with arrangements. Online condolences may be offered atwww.torkelsonfuneralhome.com.