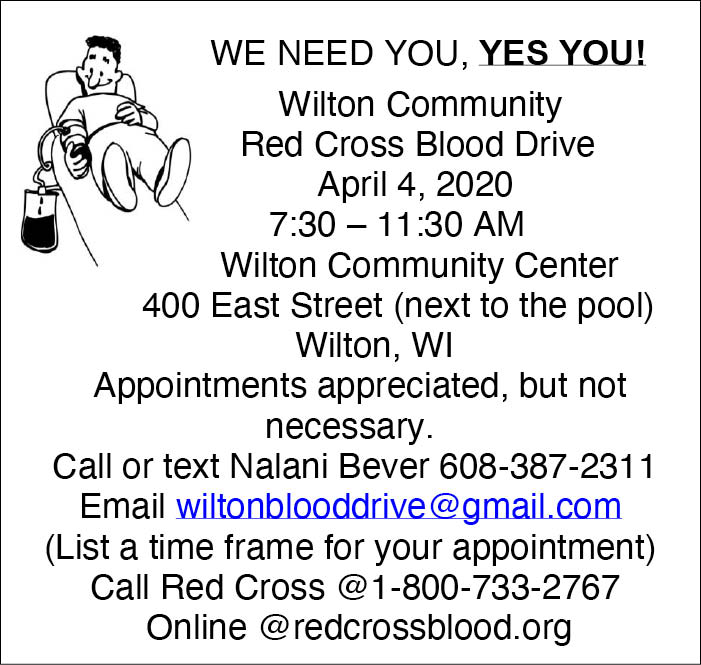 By NALANI BEVER
Wilton blood-drive coordinator

We want to share with donors the protocol being followed at the April 4 blood drive in view of the COVID-19 outbreak.

• Donors will enter the main doors to the Wilton Community Center and have their temperature taken by a Red Cross staff member prior to entering the donation site (gymnasium).

• All chairs and tables in the donation site will have been cleaned and disinfected prior to the blood drive. Disinfection will continue throughout the blood drive.

• We will follow the Centers for Disease Control (CDC) guideline for social distancing.

• Hand sanitizers will be available throughout the donation site.

• We will not have prepared food but will have prepackaged snacks and drinks for the donors.

How can you help make this as smooth as possible? Make an appointment and do not arrive prior to your appointment time. Mobile device? Use RapidPass (redcrossblood.org/rapidpass) to complete the pre-donation reading and answer health questions. You may choose to print your RapidPass or email it to yourself to display on your mobile device. You will need to present it on your mobile device or a printed copy when you arrive. The smoothest and fastest donations occur when donors make an appointment and use RapidPass.

Appointments are not necessary but appreciated. Here are your options for making an appointment:

• Set up an appointment online at redcrossblood.org.

• Call the Red Cross at 1-800-733-2767.

• Call or text Nalani Bever at (608) 387-2311 (if you leave a message, please list a time range for your appointment).

• Email [email protected] (please list a time range for your appointment).

Though more than 6,000 blood drives have been canceled, at no time did we consider cancellation an option here in Wilton. The Wilton Village Board allowed an exception to its recent decision to close the community center. We appreciate and thank them for their support.