My chains are gone. I've been set free.
Ryan Robert Brandau received eternal rest on Sept. 19, 2023.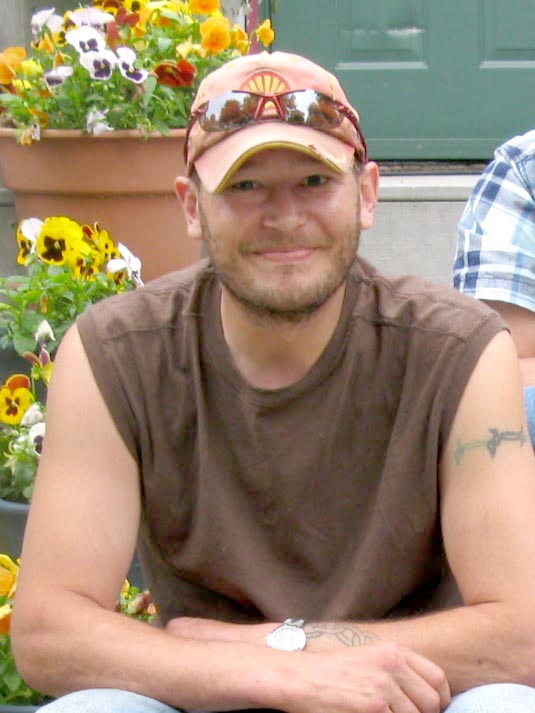 Ryan was born on June 8, 1978, to Gale and Ardis (Schnurr) Brandau. He was an adorable, curly-haired blonde boy. From his earliest days, he was a handful. He had an inquisitive nature and need to be on the go, and he had one hell of a stubborn streak. He tested the limits of his parents' patience. "Don't ride your bike down that gravel pile" was met with a little boy picking gravel out of his knees and skinned-up elbows.
Ryan spent the first 13 years of his life at the farm on South Ridge, near Wilton, next door to his Grandpa and Grandma Brandau. Ryan loved the farm and everything about it. He enjoyed being outdoors, on a tractor, and taking care of animals. He loved animal babies. Many times, he was the "adopter" of a new baby. A kitten (or four), calves, a puppy … "Mom, there's a baby goat at the sale barn. Can I bring it home?" They spoke his language, and he spoke theirs. He especially loved living next door to his Grandpa. To him, Grandpa was larger than life, and he looked forward to spending every opportunity he could with him: at the sale barn, hauling cattle, fixing in the garage, or taking rides in his grandpa's airplane.
Ryan attended Wilton Elementary School through the seventh grade. His family moved from the farm to Tomah at the start of his eighth grade year, and he went on to graduate from Tomah High School in 1996. Ryan was a gifted artist. Wildlife scenes were his favorite to replicate. Although Ryan didn't continue his education after high school, he was an excellent mechanic, lending his skills to his family and friends without hesitation. He held a number of other jobs as well: forklift driver, cemetery groundskeeper, butcher. He picked up canned milk from area Amish farms. He worked for a few farmers around the area, even the farm on South Ridge. Ryan's love was always the farm. After those opportunities had passed, he faithfully tended the garden at his parents' home and gladly shared the fruits of his labor.
Ryan's 10-year-old heart was shattered when his younger brother, who was also his best friend, died in an accident on the farm. It was a tragedy that altered the rest of his life. Even with this tragedy and the life choices that followed, Ryan had a heart of gold. He never said no when someone asked for his help and would give the shirt off his back. He spent countless hours with his dad, setting up Tomah's Holiday Lights display in Winnebago Park. He loved fishing and hunting and shared in the joy when his son and nephews harvested bucks off the farm's land. Ryan was generous with his niece and youngest nephews. He was always buying them candy bars, drinks and enjoyed playing games with them. He was a big kid himself.
Ryan struggled with addiction most of his adult life. Our greatest wish was that someday Ryan could overpower the pain, shame and demons that plagued him. But you can't do that alone. No one can. Resources for those struggling with addiction and their families is not always readily accessible.
Ryan's legacy lives on in the best gift: his son Ryan, an excellent mechanic with a heart of gold.
Ryan is survived by his son, Ryan (Lucia) Stanek; a granddaughter due in January; his dad, Gale Brandau; his sisters, Amy (Kermit) Brandau-Sharpe, Jeri (Ray) Brandau-Maack and Lacy (Ryan) Weister; his nephews, Cole and Connor Sharpe and Nathan, Heidi, and Miles Maack; his grandmother, Alice Brandau; and aunts and uncles and cousins.
Waiting for him at the gates of heaven are his brother Andy, mom Ardis, grandpa Robert (Bob), grandma Eleanor Schnurr and Uncle Ron Schnurr.
Ryan's family asks that memorials be given to a program or charity of your choice that supports mental health and addiction and recovery support services.
Funeral services will be at 11 a.m. Saturday, Sept. 30, at St. Matthew's Evangelical Lutheran – South Ridge. Pastor Limpert will officiate. Burial will follow at South Ridge Cemetery. Relatives and friends are invited for a time of visitation from 4–7 p.m. Friday, Sept. 29, at the church and on Saturday from 10 a.m. until the time of the service. Online condolences may be offered by visiting www.sonnenburgfamilyfh.com. The Smith-Nelson Funeral Home is assisting the family with arrangements.