The Wisconsin Rural Schools Alliance named Royall School District Superintendent Mark Gruen its Rural Administrator of the Year on Oct. 25 at its Rural Schools Conference. 
The Wisconsin Rural Schools Alliance (WiRSA) is a nonprofit organization dedicated to helping address challenges faced by rural school districts. Community member Ryan McKittrick had nominated Gruen for the award.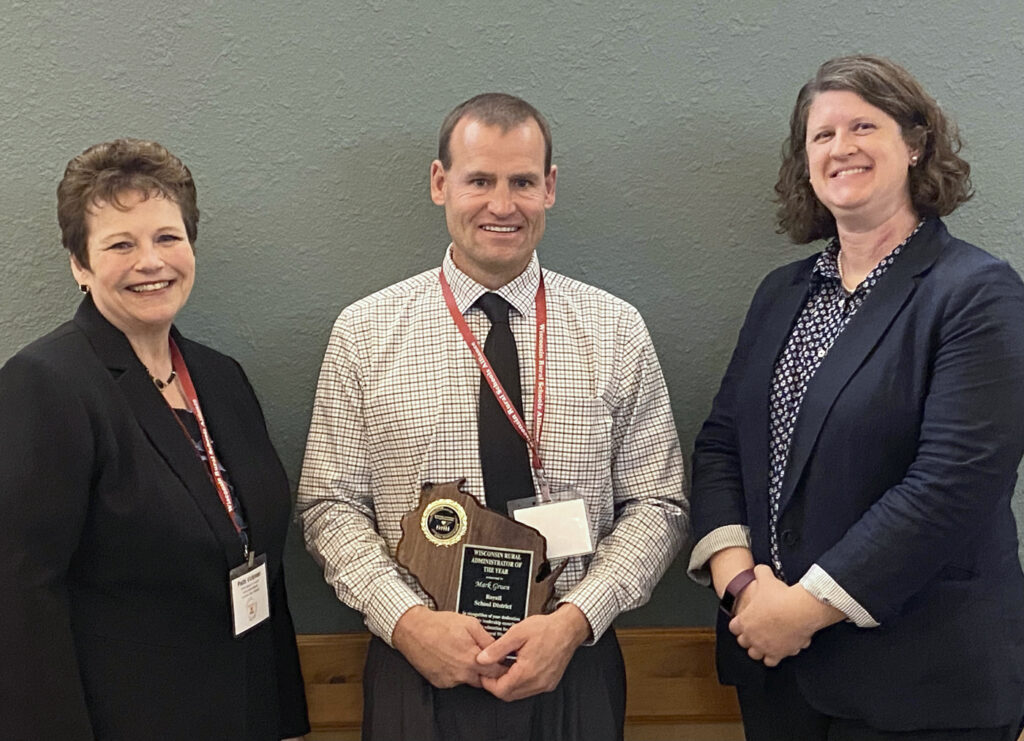 WiRSA members include a cross-section of administrators, educators, school board members, post-secondary representatives, rural community members, business leaders, and other concerned individuals who want a strong voice for rural education.
WiRSA presents the rural awards annually at their fall conference to recognize individuals and organizations for their contributions to rural education.
♦︎ ♦︎ ♦︎
McKittrick gave the following explanation of why he had nominated Gruen:
Why I nominated Mark: The biggest reason is his willingness to step in anywhere to help out the school district and do what is best for kids. Last week, he was serving lunch, he shows up at all school events, and overall has put the school in a position to go to referendum to add space for kids with little or no impact on the taxes.
When I started on the board 10-plus years ago, the first school board meeting I went to the DPI and other groups stopped me for meetings to let me know if we continued on the same path, Royall would be in trouble of going out of business. When I talked to teachers, they were all unhappy and our programs for kids were few and far between. In comes Mark. In 10 years, he has financially saved the district through his leadership. Though if you ask him, he will deny it, or share this with the rest of the team. We now have youth basketball, football, chess, expanded (and reorganized shop/tech. ed.), and so many other opportunities that were not there before for kids.
When I got on the school board, I was nervous; I didn't know what to do. Art Keenan told me to just make the best decisions for kids, and if I did, then I would always be making the best decision for the school district. Mark shows up every day and shows us the way to follow Art's advice to me.
♦︎ ♦︎ ♦︎
Patricia Vickman, retired administrator from Southern Door School District and a member of WiRSA's board of directors, gave the following speech at the conference:
The 2021 WiRSA Administrator of the Year is Mark Gruen from the Royall School District. Mark was nominated by community member Ryan McKittrick.
Mark has been the superintendent in the Royall School District since 2010. Mark grew up and attended school in the Royall District and came back home to lead his home district out of some rough times. Mark is well respected by the students and community and has done many great things since taking the helm in 2010.
In the words of Ryan McKittrick, through Mark's communications and public relations skills, he has totally transformed the Royall School District. He is visible at most every school and community activity and added needed staff to assist in this transparency and visibility.
On finances, Mark came in right away, and through diligent cost-savings measures and research, balanced the 2010–2011 budget. By 2015–2016, the board was able to put $350,000 into what is now the largest fund balance in the history of the Royall School District (from $200,000 to $2 million in five years with zero short-term borrowing). And by 2017, he had things on track for needed maintenance updates and building upgrades.
For students, Mark made upgrades to student software, curriculum and scholarships. Mark also worked hard to improve the school lunch program by incorporating Farm2School, fresh garden salad, and growing our own vegetables. He also added off-site locations for the summer lunch program, increasing the number we feed annually. Mark has also had a strong focus on poverty and the homeless. Finally, in the area of mental health, a Partnership with Gundersen Lutheran was formed, bringing professional counseling on site for our neediest students and free to the families.
Outside of school, Mark has been actively involved with the WIAA, WASDA, ASCD and the Elroy Chamber of Commerce, to name a few.
In closing, Mark Gruen is the consummate rural leader that is committed to his students, staff, district, community, and region. What he has done for the Royall School District since taking over is truly transformational.
Congratulations, Mark Gruen, WiRSA Rural Administrator of the Year.
♦︎ ♦︎ ♦︎
WiRSA also gave awards to the following:
• Rural Teacher of the Year: Dena Brechtl, high school math teacher at Waterford Unified High School — Brechtl was nominated by Director of Marketing and Communications Kate Brown.
• Rural School Board Member of the Year: Gary Gilbank, Clinton Community School District School Board — Gilbank was nominated by Clinton Community School District Administrator Jim Brewer.
• Rural Support Staff Person of the Year: Karen Mead — Mead is the registrar and school counseling office administrative assistant at Mauston High School. She was nominated by Mauston teacher Leah Lechleiter-Luke.
• CESA Employee of the Year: Hilary Cordova — Cordova is the director of finance at CESA 9. She was nominated by CESA 9 Administrator Karen Wendorf-Heldt.
• Rural Community Partner of the Year: Norm and Carol Aulabaugh, The Aulabaughs are from the Parkview School District. They were nominated by District Administrator Steve Lutzke.
• Rural Advocacy Award: Ron Fruit and Fruit Broadcasting, WRCO in Richland Center — Fruit was nominated by Ithaca School District Administrator Julie Prouty and the Ithaca administrative team.