By TRAVIS ANDERSON | N-O-W Superintendent
and JEREMY MACK | N-O-W Business Agent
and the N-O-W BOARD OF EDUCATION
Greetings, N-O-W community,
First off, thank you again for the continued trust and support in our school district. Your investment in the students at N-O-W is appreciated, especially with respect to the successful capital referendum vote last spring! Undoubtedly, the investment will positively impact the community and our students for generations ahead. Construction on parts of the project is already underway, and it is a truly exciting time for the N-O-W School District!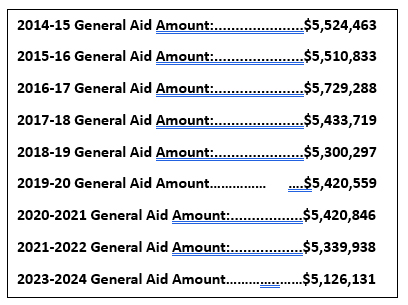 As the tax-levy season is upon us and the levy and mill rate for the 2023–2024 school year has officially been set, our school district team feels that it is very important to be as transparent as possible to communicate the tax-levy information and all its related components. We want to help our local stakeholders understand district financing, as these items can often be very confusing or even frustrating to understand. To briefly summarize public school funding, school districts obtain operating funds through two major sources, general aid from the State of Wisconsin and property taxes from district residents. There are a few smaller sources that provide some operational funds; however, state aid and property taxes are the two largest sources of operational funding for all Wisconsin school districts. The sum of money is distributed among all school districts statewide based on several factors, with the main factors being property values, student enrollment, and shared costs. The N-O-W School District is aided at 76.3% from the State of Wisconsin and 23.7% from property taxes. Summarizing school finance formulas can be challenging, but there are a couple elements that we feel are important for community members to be aware of as we continue to be as transparent as possible with school-community financial information.
Firstly, the Fund 10 levy that was certified by the N-O-W Board of Education at the annual meeting represents the difference between the district's revenue authority as authorized by the state budget and the district's portion of the available state funds for public education. While the district's access to these funds is dependent on several factors that the district itself has no control over, one important thing to note is that the district's general aid has hovered consistently around the same amount for the past 10 years, which has been around the $5.5 million (state general aid) mark. In that same time frame, we have all seen in our own lives the dramatic increases in the cost of every consumable, operational, or capital expense that any of us can imagine, thus driving the district's revenue requirements upward. It's an unfortunate situation for both the district and the taxpayer, but it is the reality of current public education funding. Simply, if you refer to the General Aid table above, one easy comparison is to see the General Aid amount in 2014-2015 was 5,524,463 and now in 2023-2024, the General Aid allocation for the N-O-W School District is $5,126,131. This is a decrease of $398,332 a decade later, when expenses in all areas have increased exponentially over time.
Secondly, we want to be fully transparent with the work that the administration and N-O-W Board of Education have done to mitigate the tax burden as much as possible. In the 2022-2023 budget, the district was able to levy additional Fund 39 (debt service) funds to be used this year as debt stabilization funds. These funds have allowed us to under levy (which means to ask taxpayers for less property tax funds than the State of Wisconsin allows us) for our debt service payments this year, keeping the mill rate below $9 despite the unfavorable gap created by the increase in revenue authority and the decrease in state funding. The illustration below shows the exact breakdown of the mill rate comparison of the 2022-2023 school year and the 2023-2024 school year based on the Fund 10 gap just described and the Fund 39 levy, which includes the spring referendum, but also those stabilization funds already mentioned. These stabilization funds actually allowed us to lower our Fund 39 (debt service) tax levy.
One final piece of information mentioned earlier is that student enrollment is a major factor in school funding and one very positive note is that our school district enrollment is trending upward, which is great news! On the third Friday every September, school districts are required to tabulate and report to the WI DPI their student counts. This third-Friday count is a major contributing factor to the funding formula for General Aid, and on the 2023–2024 student count, N-O-W had an increase of 22 students! With school enrollment counts increasing, our referendum projects underway, and a wonderful staff of dedicated professionals who truly care about the success of our students working hard every day to educate our students, together we believe that N-O-W has become a destination for education. Our administrative team and N-O-W Board of Education will continue to work tirelessly to find ways to continually be stewards of state and local funding for our school and community to thrive. Thank you to our entire community for your support. You are appreciated!