Mervin Taylor, 95, of rural Ontario, Wis., passed away Wednesday, Jan. 18, 2023, in his home on his beloved farm.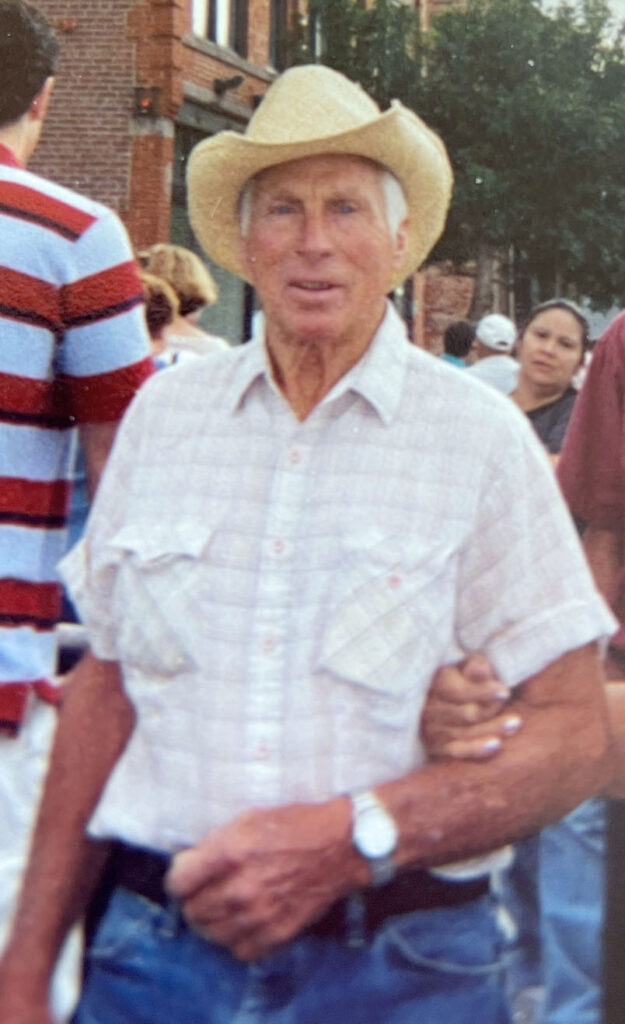 Mervin was born March 17, 1927, to Milo and Leah (Kraus) Taylor in Iron Mountain, Mich. Shortly after he was born, Mervin's family moved back to the Ontario, Wis., area because of loss of employment at Ford Motor Company.
Growing up, Mervin loved spending his summers helping his grandfather on his farm in Valley. When he graduated from high school, he traveled out west to Portland, Ore., where he worked various jobs, including logging and laying freshwater pipelines out of the mountains into Portland. He also worked in a mine near Climax, Colo.
In January 1949, Mervin joined the U.S. Air Force and was stationed in Japan and Korea during the Korean Conflict. He was honorably discharged in 1952.
After Mervin returned home to Ontario, he met Fodie Worthington. At this time, he was also beginning work in Janesville at Chevrolet. But in 1956, he decided that living the city life was not for him, so he returned to the Ontario area. On Sept. 28, 1957, he married Fodie, and together they bought their first farm up Lamb Valley, a short distance out of Ontario.
During their early years of marriage, Mervin and Fodie began farming beef cattle while Mervin also worked for Kraemer Construction. This was also when they increased their family by being blessed with three sons.
Mervin accepted Christ as his Savior on April 13, 1977, through John 10:27-28. Mervin was faithful and instrumental at the Gospel Hall, where he enjoyed fellowship with all the saints there.
Following a few years of farming in Lamb Valley, they soon outgrew this farm. They purchased various farms around Ontario, adding on to the operation. In 1978, they bought their final farm on South Ridge. Mervin and Fodie continued to dairy farm here until retirement in 1997.
Retirement brought about years of traveling around the country in their travel trailer. They enjoyed spending many winters in Arizona, Texas, and Oklahoma, visiting family and friends. When their days of traveling were behind them, Mervin and Fodie were happy living their lives on their beautiful farm on South Ridge together, enjoying each other and cherishing time spent with their family.
Mervin enjoyed cutting firewood. He amazed his whole family with his ability to cut his own firewood well into his 90s.
Mervin is survived by three sons, Kurt (Heather), Stacy (Angie) and Steven (Kyle); his grandchildren, Lance, Logan, Kole, Jesse, and Travis Taylor, Tiffanie Reimer, Kianna Castleman, and Kain Castleman; his great-grandchildren, Noah and Emily, Luka, Jesara and Jacey Taylor; his brothers, Ralph (Pat) Taylor of Warrenville, Ill., and Lee (Mary) Taylor of Janesville, Wis.; along with many nieces, nephews, other relatives and dear friends.
Mervin was preceded in death by his wife Fodie on Sept. 9, 2021; his parents; and a sister, Treva (Verlin) Matison.
Mervin's family would like to share their gratitude with and thank Teesa Wallace for all the special, tender-loving care she offered Mervin since Fodie died.
Funeral services will be at 11 a.m. Saturday, Jan. 28, at the Gospel Hall in Ontario, Wis. Family and friends are invited for visitation Friday, Jan. 27, from 4–7 p.m. at the Torkelson Funeral Home in Ontario, Wis. Visitation also will be held from 10 a.m. until the time of service at the church.
The Torkelson Funeral Home of Ontario, Wis., is assisting the family with arrangements. Online condolences may be offered at www.torkelsonfuneralhome.com.