Mary Ann Schmitz, 86, of Norwalk passed away Sunday, Nov. 7, 2021, surrounded by her family, at Rolling Hills Rehab Center in Sparta, Wis. Mary was born July 4, 1935, to Carson and Emma (Blinn) Larson in La Crosse. When she was 10, her family moved to Norwalk.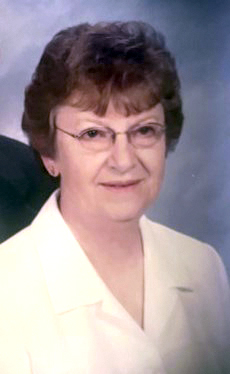 Mary was born with music in her heart and a lilt in her step, so it made sense that while she was in high school, she would take the train to La Crosse to play the accordion in the LeBaken's Accordion Band and tap dance at many of the shows and events at school. On June 8, 1955, on St. Mary's Ridge, Mary married her fun and wonderful best friend, Cletus "Pete" Schmitz. Mary and Pete began their lives farming outside of Norwalk. In 1963, they moved to town into the home that they currently reside in.
Over the years, Mary held a variety of jobs, starting out working at the Monroe County Home (later named Rolling Hills), Tillman's Produce, Norwalk IGA, the Norwalk Hardware Store and Judy's Trail Café. Mary and Pete had a lot of great adventures. They loved playing cards and snowmobiling with family and friends.
At 9:45 a.m., there was no stopping Mary from leaving the house to go see her dear friends at coffee clutch. She was an excellent cook and baker and loved putting her talents to use crocheting afghans for her family and doing embroidery work. Having her children and grandchildren around her kitchen table during the holidays made Mary the happiest.
She is survived by her husband of 66 years, Pete; her son, Todd (Kristi) Schmitz of Sparta; her daughter, Terry (Steve) Herrman of Sparta; six grandchildren, Emma (Chad) Zuehlke and their son Brooks, Ethan Schmitz, Sophie Schmitz, Katelyn (Tyler) Millis and their son Lincoln, Ellyn Herrman, and Meg Herrman; a brother, LaVern (Margaret) Larson of Omaha, Neb.; her brothers- and sisters-in-law, Joyce Dunnum, Caroline (Donald) Wavra, James (Melissa) Schmitz, Darlene Schmitz, Betty Schmitz, Robert "Bob" (Jane Lashmett) Gilbeck; along with many nieces, nephews, other relatives and dear friends.
Mary was preceded in death by her parents; a brother, Richard (Dorothy) Larson; her sisters- and brothers-in-law, Mary Schmitz, Geraldine "Toots" Gilbeck, Jim Dunnum, Eugene "Mike" Schmitz, Helen "Jenny" (Glenn) Muehlenkamp, and Gallis "Butch" Schmitz; along with Ruby and Missy, their beloved dogs.
A Mass of Christian Burial will be at 11 a.m. Saturday, Nov. 13, at St. Augustine Catholic Church in Norwalk. Father Michael Klos will officiate, and Father Eric Berns will concelebrate. Burial will follow in the church cemetery in rural Norwalk. Family and friends are invited for visitation Friday, Nov. 12, beginning at 3:45 p.m. with the rosary. Visitation will continue from 4–7 p.m. at the church. Visitation also will be held from 10 a.m. until the time of service at the church.
Memorials may be given in Mary's name to the St. Augustine Catholic Church PCCW. The family would like to extend a special thank-you to the wonderful staff on Maple Lane at Rolling Hills Rehab Center for the exceptional care that they gave Mary.
The Torkelson Funeral Home is assisting the family with arrangements. Online condolences may be offered at www.torkelsonfuneralhome.com.