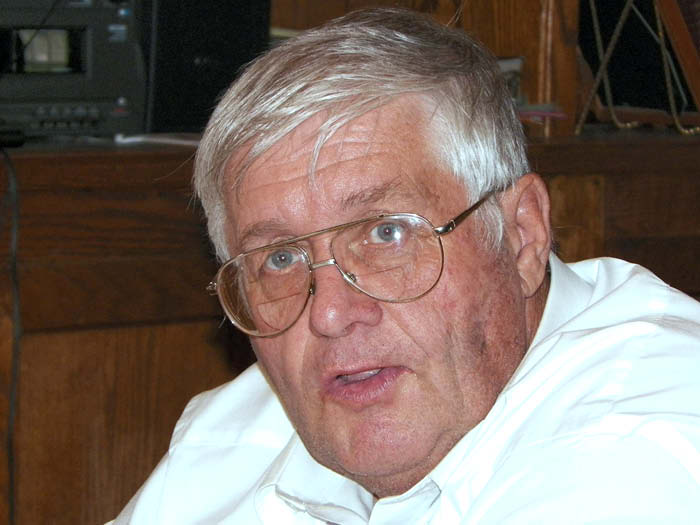 Marvin William Johnson, 70, passed into the loving arms of Jesus on Nov. 6, 2020, with his wife, Lynda, by his side after a battle with coronavirus at Gundersen Health System in La Crosse.

Marvin was born on a little farm just outside of Ontario to William and Vivian Lucille (Huffman). He graduated from Brookwood High School. On April 17, 1971, Marvin married the love of his life, Lynda Paulsen, from Wilton, Wis. In 1979, Marvin started his own excavating company, Johnson Construction, and with the help of his son, Joshua, has been able to keep the business running for 42 years. For the last 13 years, he has been driving bus for the Norwalk-Ontario-Wilton School District, where he enjoyed getting to know all of the children on his bus route.

Marvin enjoyed going for rides in his classic cars, visiting with friends and family, and attending meetings at the Gospel Hall in Ontario. Marvin always had a generous spirit and loved helping people. He was very proud of his kids and his grandkids and loved spending time with them. Marvin enjoyed watching his grandkids participate in sports and other activities. He was recently introduced to a smartphone and found great please in talking to Google and laughing his wonderful, infectious giggle at just about everything. He had a great sense of humor and loved to laugh at his own jokes.

He was raised in a Christian home, and in 1977, the Lord began to deal with his soul. Marvin realized that he was a rebel sinner on his way to hell. He realized that "it is finished" (John 19:30), and he thought, "What's finished? The work to save my soul from hell is finished." "And I give unto them eternal life; and they shall never perish; neither shall any man pluck them out of my hand" (John 10:25). He then obeyed the Lord in baptism and joined the local assembly in 1977, where he has enjoyed the Lord more and more every day. "For where two or three are gathered together in my name, there am I in the midst of them" (Matthew 18:20). Marvin looked forward to being in the presence of the Lord. "What a joy to be in His presence, the God of eternity. It gets better every day as we get closer to the rapture. To God be the glory for great things He hath done."

Marvin made it a priority to get his children and grandchildren under the sound of the gospel so that they can enjoy the same salvation that he and Lynda enjoy. He fervently prayed for salvation for his family and everyone that he met and cared for. He never met anyone whom he wouldn't share his testimony with.

Marvin is survived by his wife, Lynda, of 49 years; his son, Wyatt (June) Johnson of Ontario; his daughter, Kasee Stai of Winona, Minn.; and his daughter, Kari Johnson, and his son, Joshua Johnson, both of Ontario. He has two granddaughters, Allie Johnson of Ontario and Katalina Stai of Blaine, Minn., and one grandson, Cole Stai of Winona, Minn. In addition, he is survived by his sisters, Delores (Richard) Sanders of San Antonio, Texas, and Linda (Bruce) Spencer of Hillsboro; his brother, Gordon (Diane) Johnson of Ontario; his sister-in-law, Therese Johnson of Ontario; and his brother-in-law, Richard Rosol of Wonewoc.

He is also survived by his sister-in-law, Judy (Dennis) Clark of Strum, Wis.; his brother-in-law, Doug (Rai Ann) Paulsen of Mauston; his brother-in-law, Daniel Paulsen of Wilton; as well as many nieces, nephews, great-nieces and great-nephews.

He was preceded in death by his parents, William and Vivian Lucille (Huffman); his brother, Arthur Johnson; his sister, Jeanette Rosol; his brothers-in-law, Robert Sake and Richard Spencer; his father- and mother-in-law, Leroy and Leona Paulsen; and many aunts, uncles, family and friends.

A family service will be held Saturday, Nov. 28, at 1 p.m. at the Ontario Gospel Hall. A graveside service at Billings Creek Cemetery will follow. Masks are required, and social distancing will be observed.

The service will be offered on Zoom for those who are unable to attend. If you are interested in attending the Zoom service, please see the following information.

Marvin Johnson Memorial Service, Saturday, November 28, 2020
Time: Nov 28, 2020 12:45 PM Central Time (US and Canada)
Join Zoom Meeting: https://us02web.zoom.us/j/89467534096?pwd=Tk44bkcwNThhVGVtT0ZmSGNoSzRzUT09
Meeting ID: 894 6753 4096
Passcode: 431198
One-tap mobile
> +16465588656,,89467534096#,,,,,,0#,,431198# US (New York)
> +13017158592,,89467534096#,,,,,,0#,,431198# US (Washington D.C)
>
> Dial by your location
> +1 646 558 8656 US (New York)
> +1 301 715 8592 US (Washington D.C)
> +1 312 626 6799 US (Chicago)
> +1 669 900 9128 US (San Jose)
> +1 253 215 8782 US (Tacoma)
> +1 346 248 7799 US (Houston)
> Meeting ID: 894 6753 4096
> Passcode: 431198

The Smith-Nelson Funeral Home in Wilton is assisting the family. Online condolences can be offered by visiting www.sonnenburgfamilyfh.com.