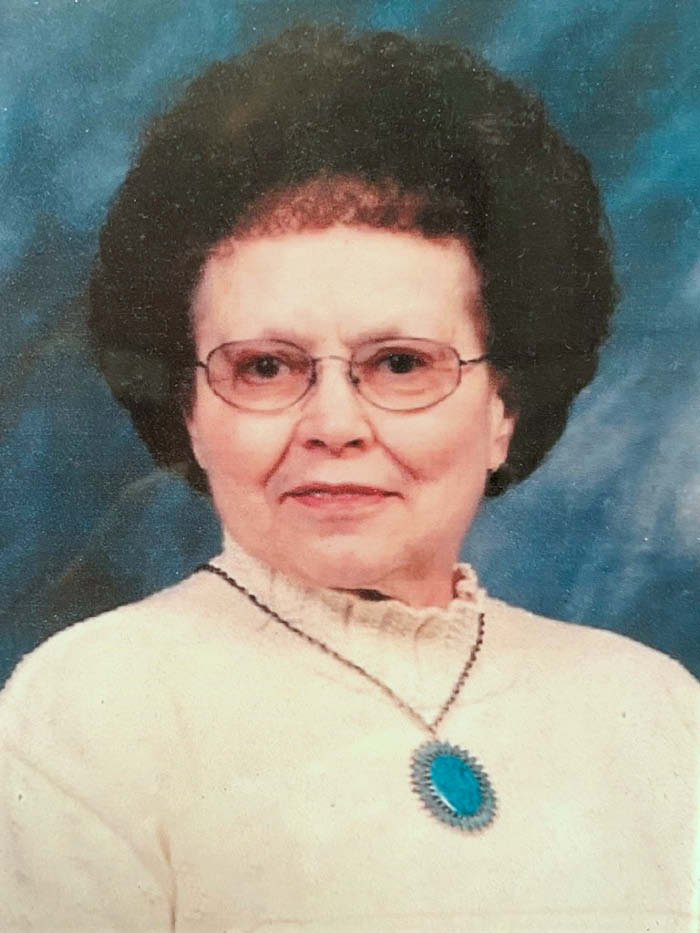 March 24, 1934 – June 17, 2021

Lucille Mae Breidenstein passed away on June 17, 2021, at the Benedictine Living Center in La Crosse, Wis.

Her life story was like a book with many chapters. This seems appropriate, as she was a prolific reader. Over the course of her life, she read hundreds of books, dare we say even a thousand or more.
She was born into the Bernard and Anna Collins Breidenstein farm family during the throes of the Great Depression. Her parents were big believers in an allowance for each of the children. Not money, of course, because there was precious little of that. Their concept of an allowance was that they allowed them to eat the food that was prepared, allowed them to walk more than one mile over the dusty, muddy, and snowy road to the Mount Pisgah one-room country school, allowed them to be in regular attendance at the small Mount Pisgah country church, allowed them (as ability increased) to help with the farm and home chores, allowed them (within the confines of the small community) to laugh and play, and allowed each of them, except for Clara, who had died of a rare blood disease at the age of 16 (her death had a major impact on Lucille) to graduate from Ontario High School.
During her adult life, she held a number of jobs, from Trane Company in La Crosse to medical records at the Hillsboro Hospital, to several other area businesses, but she was best known as one of the bosses at the Beauti-View Resort on Wildcat Mountain. Over time, young employees learned that they might just as well do the tasks to her standards the first time. Each spring, a new group of young folks showed up for work, and she soon sent them one by one to clean the cabins, motel, and restrooms. Upon their assurance that they had done a good job, she took them on an inspection tour, and her usual comment was, "Well, it looks pretty good. Now go back and do it better."
She lived for a number of years in Valley, and as time and opportunity presented itself, she was involved in the life of the community, the Valley Community Club, the church and the school. The birds of Valley and surrounding area, including the cardinals, purple finches, and goldfinches, flocked to her feeder for their favorite free meal.
One of her favorite times of year was the Christmas season. Shopping, decorating and planning, and executing the various family events was a busy time. No season was complete without her after-Christmas shopping spree. Her closet was full of good bargains.
Within the family circle, she earned the reputation of being an inveterate drinker, never alcohol of course, but Diet Pepsi or Pepsi Light. She seemed to believe it was her responsibility to keep the company solvent.
Lucille lived out the last few years of her life with numerous health issues, and just slipped away at the Benedictine Living Center in La Crosse, Wis. She is survived by her brothers, William (Marla) of Janesville and Bob and Alton of Ontario; her sister, Linda (Harry) Fiske of Hillsboro; her sister-in-law, Ruth Breidenstein, also of Hillsboro; and numerous nieces and nephews, and great and grand of each. She was preceded in death by her parents, Bernard and Anna; her sisters, Clara and Arlene (Duane) Obert; and her brothers, Blaine (Anna Marie), Beauford, Donald (Marlene), and Merril.
A memorial service and celebration of life is planned for Sunday, Aug. 22, at Mount Pisgah Wesleyan Church in Ontario, Wis. The Picha Funeral Home in Hillsboro is assisting. For online information, go to www.pichafuneralhomes.com.