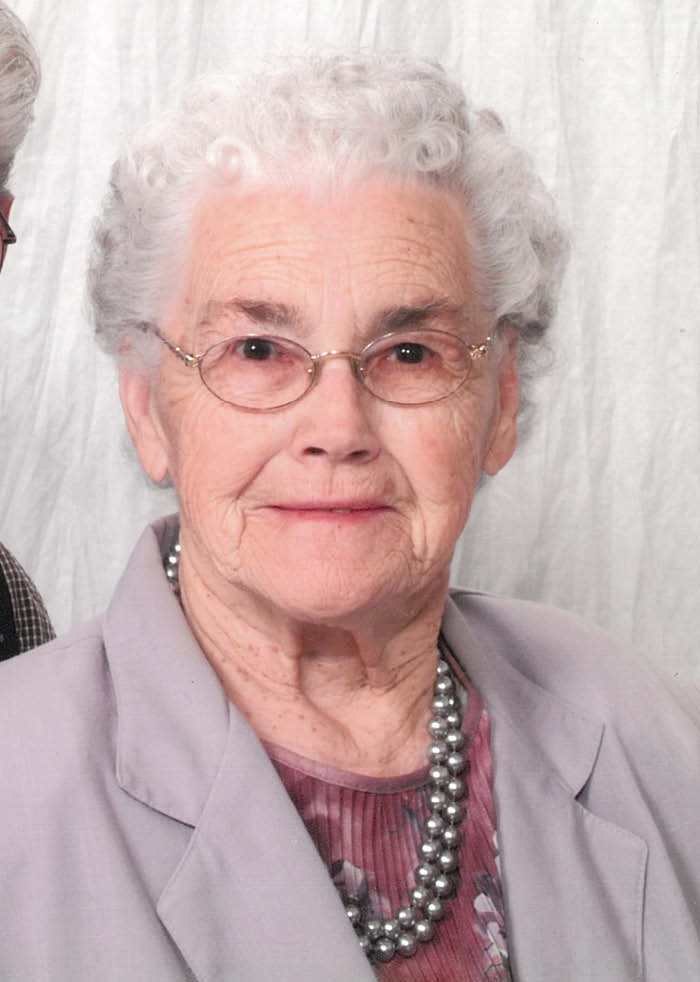 On Aug. 27, 2020, the work begun by the Lord was completed. Lelah Mae (Downing) Smith, 94, of Tomah went to her heavenly home, surrounded by her family.

Lelah was born in Jump River, Wis., on May 17, 1926, to Lee S. and Norah Alean (Marley) Smith. She attended school in Jump River and graduated in 1944.

After high school, the Lord brought Lelah and Spencer F. Downing together in marriage on Sept. 5, 1944. They enjoyed 42 years together until Spencer passed away on Aug. 14, 1987. They raised their three children outside Wilton, Wis.

She enjoyed gardening, hunting, fishing, going to their cabin in Jump River, and cooking for anyone that came to visit. She loved being active in the Assembly of God Church in Tomah. She made a point of sharing God's word with her three children, 13 grandchildren, 28 great-grandchildren and three great-great grandchildren.

During her life, other than working on the farm, she worked at Wilton Elementary School for 30 years. She also waitressed and was a cook for nine years at the VA in Tomah.

On Oct. 18, 1991, she was married to Robert Bliss. Unfortunately, Robert passed away on March 22, 1995. Even though their marriage was short, they enjoyed going to the cabin in Jump River and fishing.

Lelah met Don Smith at the Assembly of God church and was united in marriage on Oct. 19, 1997. They enjoyed almost 19 years together until his passing on Aug. 22, 2016. They loved being snow birds to Arizona, camping, fishing and being involved in their church.

After Don's passing, Lelah moved to live with her daughter, Faye, and husband Joe in Tomah. She was able to enjoy seeing many of her grandchildren and great-grandchildren. Family always meant a lot to her.

She is survived by her three children, David L. (Jeanie) Downing of Wonewoc, Catherine L. (Royce) Cox of Bloomington, Minn., and Faye A. (Joe) Baldwin of Tomah; 13 grandchildren and 28 great-grandchildren, Mark Downing and children Justin and Julie, Richard (Tracy) Downing and children Ryan, Chase, Andrew and Madison, Brian (Suzanne) Downing and children Emerson, Elliot, and Spencer, Scott (Corrin) Cox and children Paige, Lexi, Spencer, Andrew, and Neytiri, Randy (Kelly) Cox and sons Cameron and Corey, Kevin (Mindy) Cox, Joe (Dawn) Cox and sons Royce, Giovonnie, and Gannon, Jamie (Mandy) Cox, Matt Jesski and daughter Shelby, Michael (Hannah) Jesski and children James, Jonathon and Kaitlynn, Marcy (Bob Dwyer) Johnson and sons Tyler, Darin, Jason and Brian, Christopher (Ciera) Baldwin and daughter Nevaeh, and Jenny (Curt) Goulet; three great-great-grandchildren, Abigail, Jaxon and Corbin; along with many nieces, nephews, and her beloved dachshund Daisy.

She was preceded in death by her parents; her husbands; her siblings, Donald, Merle, Beulah, Joseph, Raymond and Lucille; and many other family and friends.

A funeral service will be at 1 p.m. Monday, Aug. 31, at the Sonnenburg Family Funeral Home, 801 E. Monowau St., Tomah. Pastor Bruce Milleman will officiate. A committal service will be in the Oak Grove Memorial Garden Cemetery on Monday at 1:45 p.m. Relatives and friends are invited for a time of visitation on Monday at the funeral home from 11 a.m. until the time of the service or at the cemetery for the committal service. Online condolences can be made by visiting www.sonnenburgfamilyfh.com. Those in attendance are encouraged to respect social distancing and safety guidelines according to CDC regulations.