Kathleen S. Chambers, 93, of Wilton, died Friday, Oct. 15, 2021, at BridgePath-Morrow Home in Sparta.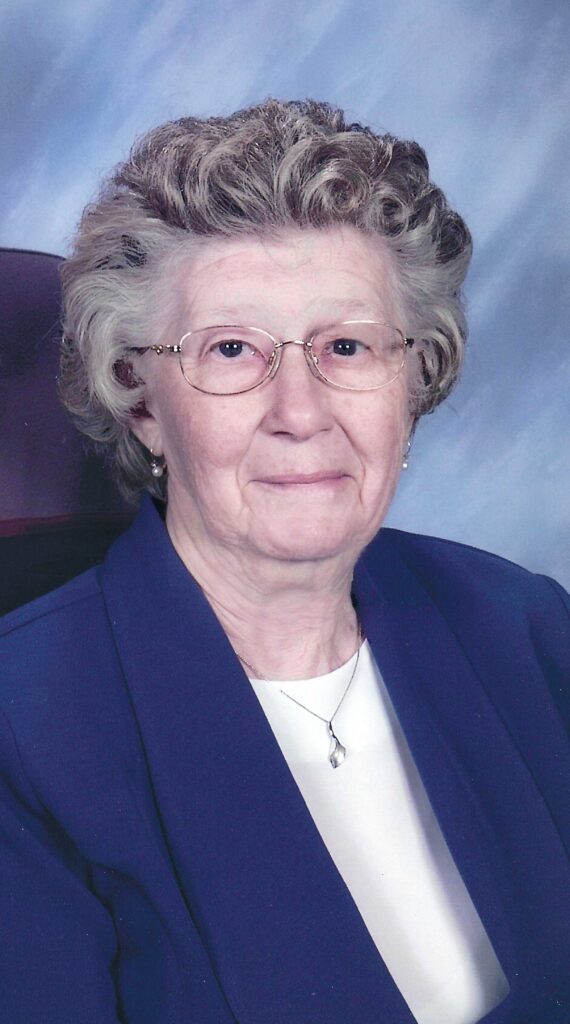 She was born Sept. 30, 1928, to Benedict and Martha (Kuderer) Rice on the family farm in the town of Wilton. She was baptized and confirmed in the Catholic faith at St. John the Baptist Church in Wilton. She attended Slaten Creek Country School and was a member of the Wilton High School graduating class of 1946. She worked as a waitress at the Airport Café in Tomah.
On Oct. 18, 1952, Kathleen was united in marriage to Harley Chambers at St. John the Baptist Catholic Church in Wilton. They celebrated their 60th anniversary before he preceded her in death on March 10, 2013. They spent their married life together farming in the Wilton area.
Kathleen's family was the center of her life: first raising her four children, and later babysitting her grandchildren. She loved cooking and having family at home for the holidays.
Kathleen enjoyed her yard and spending time in her garden, every year growing geraniums, peonies, and tending to her rose bush. She was a devoted Catholic, a lifelong member of St. John the Baptist Catholic Church, and a member of the PCCW.
Her grandchildren will always remember baking cookies and cinnamon rolls, farm rides in the back of the pickup truck, drinking chocolate milk made with chocolate syrup and extra sugar, and always having ice cream in the house. She was a loving wife, mother, grandmother, and great-grandmother and will be sadly missed by all who knew and loved her.
She is survived by her children, James Chambers of Wilton, Richard Chambers of Waupun, Wis., Christopher Chambers of Wilton, and Mary (Rich) Skolos of Kendall; her grandchildren, Tasha Chambers (Joe Bialkowski) of Waunakee, Wis., Jessica (Scott) Butt of St. Charles, Minn., Jason (Katie) Chambers of Madison, Brandon Skolos of Wauwatosa, Wis., and McKenzie (fiancé Trenton Pasch) Skolos of Onalaska; her great-grandchildren, Wrigley and Tori Bialkowski and Clara Butt; as well as nieces, nephews, other relatives, and friends.
In addition to her husband, she was preceded in death by a daughter-in-law, Diane Chambers; her grandsons, Jared Chambers and Joshua Chambers; her siblings, Anne Perkins, Marian Bohac, and Donald Rice; her sisters-in-law, Ester Rice, Geraldine Schindler, Shirley Luethe, and Francis Chambers; and her brothers-in-law, Joe Schindler, Lloyd Luethe, Alton Chambers, William Chambers, and Delbert Chambers.
A Mass of Christian Burial will be 12 p.m. Monday, Oct. 18, at St. John the Baptist Catholic Church, Wilton. Father John Ofri-Domah and Father James McNamee will officiate. Burial will be in the church cemetery.
Relatives and friends are invited to call the church on Monday from 10 a.m. until the time of the service. Online condolences may be sent to www.sonnenburgfamilyfh.com. The Smith-Nelson Funeral Home is assisting the family with the arrangements.
The family requests memorials be given to the Tomah Hospice Touch in Kathleen's memory.