June L. Welch, 100, of Tomah died Thursday, June 9, 2022, at Touch of Home in Tomah.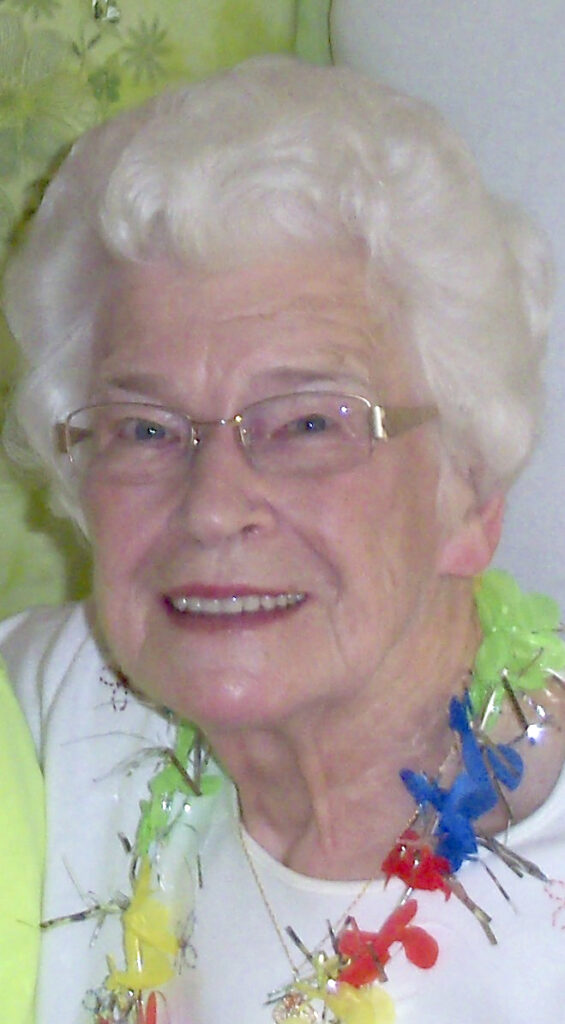 She was born July 1, 1921, to William and Hilda (Kindt) Hubert in the town of Wilton. She was a member of the Wilton High School class of 1939. After high school, she attended Teachers Normal College. June was united in marriage to Jens Peter Jensen in 1939. She was united in marriage to Wallace Brown on Oct. 18, 1958. He preceded her in death June 26, 1966. On May 19, 1969, she was united in marriage to George Welch. He preceded her in death on Nov. 19, 2002.
She worked at the Carlton Supper Club as a waitress for more than 40 years.  She enjoyed traveling, taking cruises and dancing. She always had a big vegetable garden and enjoyed canning; she will always be remembered for her canned beets and homemade sauerkraut.
She loved to play bingo and cards, especially pinochle, at the senior center. She was a member of the Gloria Dei Lutheran Church. She always had a special place in her heart for cats. June was a people person and loved spending time and visiting with her family, all of her nieces and nephews, and her many friends. She had a kind and caring personality and always enjoyed laughing. She would always mention that the key to a long life was a glass of Mogen David wine once a day. She will be sadly missed by all who knew and loved her.
She is survived by a daughter, Dorothy (Wynn)  Nighman of Las Vegas, Nev.; a son, Peter (Patricia) Jensen of Bradenton, Fla.; a stepdaughter, Jo Ann (Gary) Flint of Cadillac, Mich.; a granddaughter, Heather (Don) Grant of Allegan, Mich.; two great-granddaughters, Lily and Celia; an aunt, Lily Foemmel of Neillsville, Wis.; and many loving nieces and nephews.
In addition to her husbands, she was preceded in death by her parents; six brothers, Francis Hubert, Bill Hubert, Tim Hubert, Don Hubert, Ted Hubert and Dick Hubert; and a sister, Joyce O'Connor
Funeral services will be at 1 p.m. Saturday, June 18, at Gloria Dei Lutheran Church, 315 W. Elizabeth St., Tomah. Pastor David Dahl will officiate. Burial will be at the Oak Grove Cemetery in Tomah.
Relatives and friends are invited to call at the church Saturday from 11 a.m. until the time of the service.
Online condolences may be sent to sonnenburgfamilyfh.com. The Sonnenburg Family Funeral Home is assisting the family with the arrangements.