Joseph Henry Leis, 91, passed away peacefully at home, surrounded by family, on Nov. 24, 2021.
Joe was born Jan. 12, 1930, in Jefferson Township, Wis., to Henry and Kathryn (Seitz) Leis. On Nov. 14, 1956, he was united in holy matrimony to Ardella Schreier on St. Mary's Ridge and have been devoted to each other for 65 years. Together they raised seven children: Tom (Maria) Leis, Julie (Dennis) Hemmersbach, Karen (Don) Semann, David (Tammy) Leis, Alan (Sue) Leis, Randy (Brenda) Leis, and Pam (Todd) Erickson.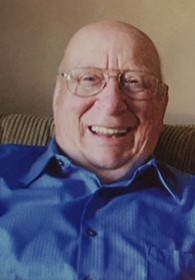 He worked at many different establishments but spent most of his life working as a cheese maker and finished his last 10 years at Golden Guernsey. He enjoyed camping with family at Jellystone and Stoney Creek in Osseo. When not camping with family, Joe enjoyed sitting around the table, playing cards with a Sun Drop or brandy and Coke. He would sit and watch the Green Bay Packers and Westerns on the TV. Joe's strong faith guided him through his life. He truly was a family man who enjoyed every event and gathering with everyone.
He is preceded in death by his parents, Henry and Kathryn; two brothers, Eugene and Floyd; a sister, Cecilia; two sisters-in-law, Luella and Harriet; and a brother-in-law, Ernest Schreier.
Joe is survived by his wife, Ardella; his sons, Thomas (Maria) Leis of Sparta, David (Tammy) Leis of Cashton, Alan (Sue) Leis of Sparta, and Randall (Brenda) Leis of Holmen; his daughters, Julie Ann (Dennis) Hemmersbach of Norwalk, Karen (Don) Semann of Sparta, and Pamela Jean (Todd) Erickson of Sparta; his sister, Elaine Leis of Sparta; his sisters-in-law, Carol Jean (Elwood) Gilboe of Mesa, Ariz., and Darla Schreier of Cashton; his brothers-in-law, Roger (Charlotte) Schreier of Black River Falls, Wis., and Dennis (Faye) Schreier of Cashton; 24 grandchildren; many great-grandchildren; along with many nieces, nephews, other relatives and dear friends.
In lieu of flowers, memorials can be sent to Sacred Heart Catholic Church in Cashton, Wis. The family wants to give big thanks to the St. Croix Hospice workers who cared for Joe and supported the family throughout this time. The family also wants to thank Vernon Manor in Viroqua for their care when Joe was in their presence. Another thanks to doctors, nurses, neighbors, and friends who have cared and prayed for Joe throughout the last couple months.
A Mass of Christian Burial was at 11 a.m. Saturday, Nov. 27, at Sacred Heart Catholic Church in Cashton. Father Michael Klos officiated. Burial followed in Saint's Peter and Paul Cemetery in Pine Hollow.
The Torkelson Funeral Home of Cashton assisted the family with arrangements. Online condolences may be offered at www.torkelsonfuneralhome.com.