Janet L. Torkelson "Jan," 86, of Cashton, Wis., passed away peacefully in her home Saturday, Aug. 13, 2022. She was born Aug. 10, 1936, to Dr. William and Margaret (Heuer) Popelars in Weyauwega, Wis. Jan was a 1954 graduate of Weyauwega High School. Jan excelled in music and went on to study at Luther College in Decorah, Iowa.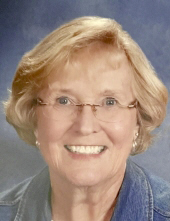 While visiting Cashton with her roommate Virginia Torkelson, she would meet her future husband, Jon. It was love at first sight, and they were united in marriage Aug. 20, 1960, in Weyauwega, Wis. Jan donated her time for over 40 years as the choir director at Trinity Lutheran Church in Cashton. She proudly started the bell choir at Trinity and directed many community events, including the Cantata Choir (Library Fundraiser) and the Centennial Choir in 1976 "Music of the Decades."
Jan enjoyed bowling, golfing, playing cards, a good game of cribbage with Jon, traveling, cooking, and keeping her diary. She loved spending winters in the Sunbird golf community, where they had many friends and church family. More than anything, Jan loved being a wife, mother, and grandmother. She was proud of her family and had a smile on her face to prove it whenever you would see her. Jan and Jon are together again; it's the perfect ending to their love story.
She is survived by her sons, Chris (Kelli) Torkelson of Milton, Ga., and their children, Connor, and Kelsi; Todd (Jennifer) Torkelson of Tomah, Wis., and their children, Tyler, and Trey; her daughter, Julie (Scott) Burns of Waterford, Wis., and their sons, Skyler and Cole; a brother-in-law, Harold Winkler; a sister-in-law, Virginia (Orval) Hilden; along with other relatives and friends.
She was preceded in death by her parents, William, and Margaret; her husband, Jon, on July 10, 2022; and two sisters, Mae (Herm) Linke and Mary Winkler.
Funeral services will be at 11 a.m. Thursday, Aug. 18, at Trinity Lutheran Church in Cashton. Burial will follow in the Moen Cemetery. Family and friends are invited for visitation Wednesday, Aug. 17, from 4–7 p.m. at the Torkelson Funeral Home in Cashton. Visitation will also be held Thursday from 10 a.m. until the time of service at the church. The Torkelson Funeral Home of Cashton, Wis., is assisting the family with arrangements. Online condolences may be offered at www.torkelsonfuneralhome.com.