Isabelle "Izzy" Lucille Ziegler, 91, of Norwalk passed away peacefully in the loving arms of her family on Thursday, Oct. 7, 2021, at the Serenity House in Tomah.  Izzy was born Aug. 18, 1930, to George and Bertha (Hutschenreuter) Felber in Oakdale, Wis.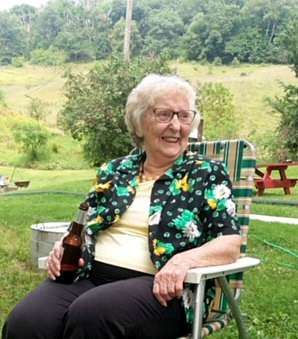 She was united in Holy Matrimony on Aug. 5, 1950, to Keith Ziegler. Together they raised their family and made their home on the farm that Keith had grown up on outside of Norwalk.
Izzy had a smile and a giggle that would make anyone happy. She loved life and made the best out of every situation. Izzy and Keith farmed their whole life and loved having a fun time with family and friends. Together they made sure to treasure the good moments, and this was something that they taught their children as well. Izzy had a group of wonderful friends in Norwalk with whom she enjoyed solving the town's problems at coffee klatch and attending plays. She loved playing Pfeiffer, constantly underbidding her hand, and watching Wisconsin sports. Izzy had a very special spot in her heart for her grandchildren and great-grandchildren and cherished every minute with them.
Izzy is survived by her children, Ervin (Phyl) Ziegler of Monroe, Wis., Chris (Dan) Glader of Burlington, Wis., Nancy (Ray) Kaus of Hillsboro, Jim (Kay) Ziegler of Lewiston, Minn., Mark (Lynn Maas) Ziegler of West Salem, Wis., and Michelle (Bret Buck) Ziegler of Olympia, Wash.; her grandchildren, Tracy (Lee), Travis (Jeny), Ryan (Sarah), and Andrea (Mike) Kaus, Casey (Ryan), Jaime (Josh), and Hannah Glader, Eric (Lauren), Megan (Ryan), Danielle (Derek), Lindsey (Kevin), Sara, and Nick Ziegler, and Ian, Erin, and Harrison Buck; 15 great-grandchildren; a sister, Rosella Bloom of Oakdale, Wis., who still has all of Izzy's nickels, and her baby brother, George (Lori) Felber of California; along with many nieces, nephews, other relatives and dear friends.
Izzy was preceded in death by her husband, Keith, in 2008; her parents; seven siblings; and eight brothers- and sisters-in-law.
Keeping family and friends safe and healthy during the COVID pandemic was always Izzy's concern; therefore, A Mass of Christian Burial was at 10:30 a.m. Monday, October 11, at St. Augustine Catholic Church in Norwalk, without visitation prior. Father Michael Klos officiated. Burial followed in the church cemetery. Anyone attending Mass was asked to please wear a mask.
The family has asked that memorials be made to either St. Augustine PCCW or to the Norwalk American Legion Post 438. The Torkelson Page-Smith Funeral Home of Sparta is assisting the family with arrangements. Online condolences may be offered at www.torkelsonfuneralhome.com.