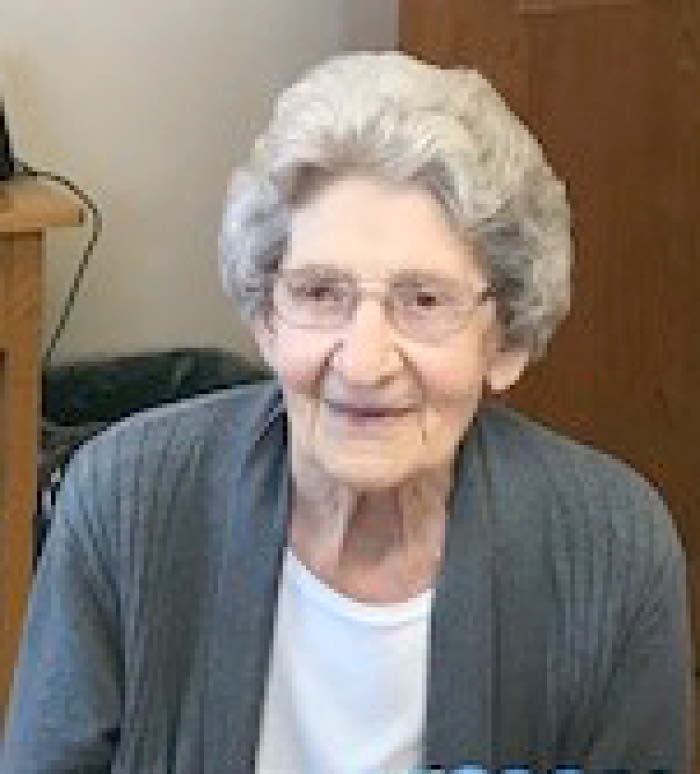 Helenjane (Mannel) Noffke, at the age of 99 years and 218 days, of La Crosse passed away peacefully with her daughter and granddaughter by her side in the early morning on Friday, Feb. 19, 2021, at Benedictine Manor.

Helen was born July 16, 1921, at home in Norwalk, Wis., to Barbara (White) and Milo Mannel. She graduated from Norwalk High School in 1939; she was the last survivor from this graduating class. Helenjane married Dean Noffke at St. Jacob's Evangelical Lutheran Church in Norwalk on Jan. 17, 1942.

She loved to sew, making everything from her daughter's wedding dress to outfits for her kids and grandkids. Helen, also known as "Bub" by many, enjoyed bowling, trips to the casino, and camping, and in her years at Benedictine, we learned about her competitive side with her thrill of winning games of bingo, horseshoes, or anything she could brag up about her winnings to us to. Dean and Helen enjoyed many winters in Apache Junction, Ariz., and camping at Lake Holcomb, Wis., in the summer. She enjoyed spending time with her family and watching her grandkids' and great-grandchildren's sporting events, and when she could not attend anymore, she always would ask about the ball games, even up to her last weeks.

Helen is survived by her daughter and son-in-law, Barb and Dave Denzer of La Crosse; her daughter-in-law, Joyce Noffke of Winter, Wis.; her grandchildren, Tamara Noffke (Raefael) of Milwaukee, Scott (Dana) Noffke of Hudson, Wis., Ryan (Carey) Denzer of La Crosse and Michelle (Shane) Lockington of La Crosse; her great-grandchildren, Cole and Aiden Denzer of La Crosse, Brooklyn, Savannah and Mya Lockington of La Crosse, and Emma Noffke of Stillwater, Minn.; and three nephews; Richard, Doug and Dave Mannel.

She was preceded in death by Dean on Feb 2, 2014; an infant son, David, in 1947; a son, Gary, on Jan. 20, 1991; her brother, Robert; and her sister-in-law, Faye Mannel.

A special thanks to all the staff at Benedictine Manor for their love and care they have given to Helen the past six years, especially this past year, when with the Covid-19 restrictions came into play and they stepped in when we could not. Also, to the Gundersen team of Dr Mary Bassing and Rachel Keehner, PA.

A private family funeral service will be at 11 a.m. Friday, Feb. 26, at the Torkelson Page-Smith Funeral Home in Sparta. Pastor Jonathan Rimmert will officiate. Burial will follow at a later date in the South Ridge Cemetery in rural Ontario. Memorials may be given to the Benedictine Manor in La Crosse or the Alzheimer's Association in Helenjane's name.

Family and friends are welcome to view services via Facebook Live Stream. They may visit Helenjane's obituary page at www.torkelsonfuneralhome.com and click on the Live Webcast link at 11 a.m. Friday, Feb. 26, or go to the Torkelson Funeral Home Facebook page to view.

The Torkelson Page-Smith Funeral Home of Sparta/Norwalk is assisting the family with arrangements. Online condolences may be offered at www.torkelsonfuneralhome.com.