Helen McDonald, 86, of New Lisbon (55 years in Elroy) went to heaven Wednesday, May 3, 2023, surrounded by family.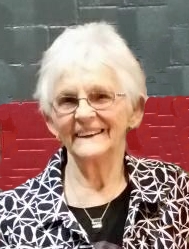 Helen was born Sept. 26, 1936, to Fred and Julia Urban. She had three sisters, Joanne (Klett), Janice (Brockman) and Judy Kay (Lovell), and her best friend, Carole Krueger, to grow up with. Carole and Helen shared a lifetime friendship.
Helen started her family with five children, Kevin, Jody, David, Tommy, and Peggy. She then married Dale McDonald and had the joy of adding Phyllis, Debbie, and Margaret.
Helen's main career was as a nursing assistant (CNA) for Mauston Hospital; she worked through the transition to Mile Bluff Medical Center. She made many wonderful friends during her years there and never forgot them, or them, her. Helen had a love for rummage sales and good deals. She made friends everywhere she went. She enjoyed her gardening, reading, quilting and family. She loved dancing with her husband, Dale.
Survivors include her children, Kevin Reynolds, Jody Decot (Ed), Peggy Buechler (Brian), Debbie Barreau (Al) and Margaret Durham (Jim), and lots of grandchildren and great-grandchildren.
Helen was preceded in death by her husband (and love of her life), Dale; her sons; Tommy and David; her daughter, Phyllis Osmond; her granddaughters, Josey Osmond and Sarah Thayer; and her sister, Janice Brockman.
A time of visitation will be from 10:30 to 11:30 a.m. Friday, June 23, at the Picha Funeral Home in Elroy, with a Celebration of Life service at 11:30 a.m. Interment will be in the Millards Prairie Cemetery near Elroy. Afterward, there will be a luncheon at the Elroy American Legion Hall.
The Picha Funeral Home in Elroy is assisting. For online information, go to www.pichafuneralhomes.com.