Harry M. Thonesen, 90, of Kendall passed away peacefully Monday, Nov. 1, 2021, at his home, surrounded by his family.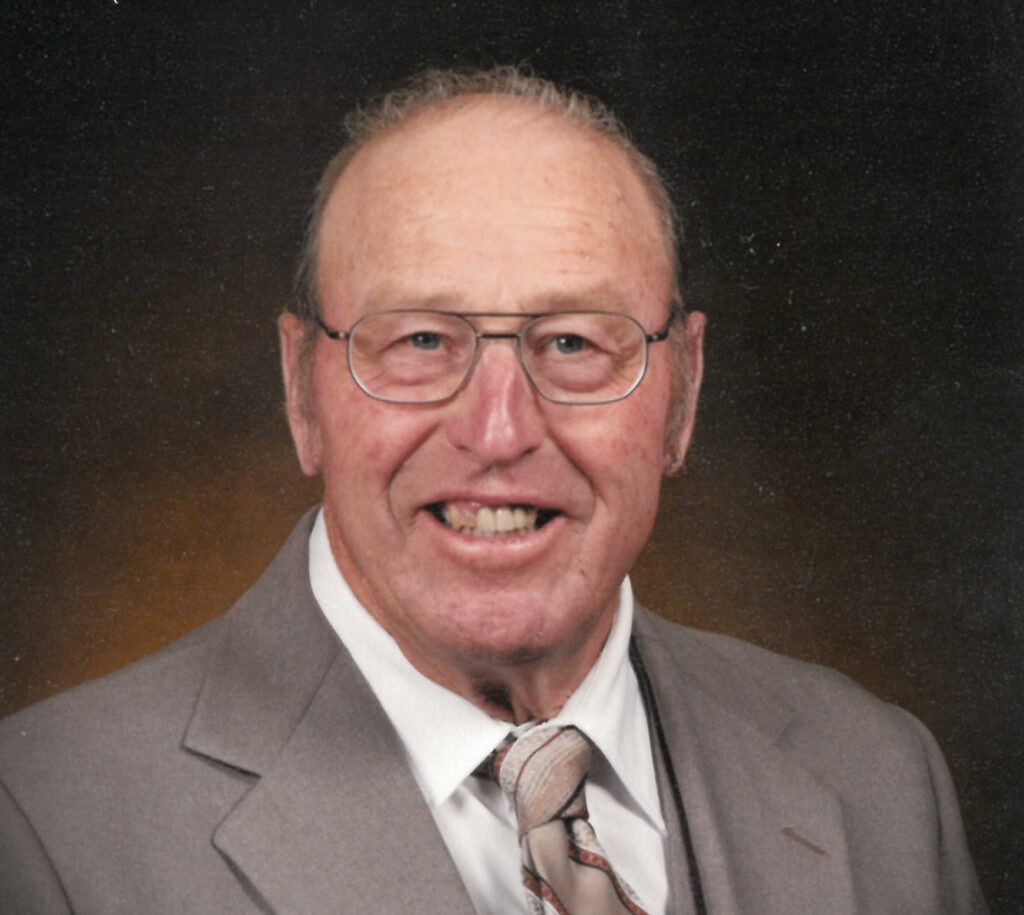 Born on the Thonesen Family Farm on June 29, 1931, to Christen and Christina (Petersen) Thonesen, Harry began his love of farming from an early age. He was a member of the Kendall High School graduating class of 1949, lettering in baseball and basketball. In his earlier years, Harry enjoyed roller-skating, and while skating around the rink one day, a young lady by the name of Joyce caught his eye, and on Aug. 31, 1954, Harry was united in marriage to Joyce G. Hahn in Union Center.
Shortly after, Harry and Joyce purchased the family farm. Aside from farming, Harry drove school bus, which he loved doing, for many years. He was an avid sportsman in high school and loved watching any type of sports.
While in his retirement years, Harry enjoyed working on bicycles and hauled countless folks around to different drop-off and pickup points along the Elroy-Sparta Bike Trail.
Community stewardship was an important part of Harry's life; he served on the Elroy Fair Board, the Kendall Lions Club, and the Kendall Village Board and was a 4-H leader for many years. He was able to give back to the Kendall community.
He also was a faithful member of St. John's Evangelical Lutheran Church in Kendall and a watchful neighbor, keeping a close on the church from many years.
He was a loving and devoted husband, father, and grandfather. Together over their 67 years of marriage, Joyce and Harry enjoyed roller-skating and square dancing and loved playing cards, visiting friends and family, and spending time with their grandchildren.
His is survived by his wife of 67 years, Joyce of Kendall; his children, Debra (Melchior) Schwarz of Sparta, Daniel (Mary) Thonesen of Elroy and Denise (Donald) Britzman of Kendall; his grandchildren, Matthew (Michelle) Schwarz and Luke (Sara) Schwarz, all of Sparta, Christen (Sarah) Britzman of Wilton, Cody Britzman and friend Sally of Kendall, Sara (Tyler) Donovan of Mauston, and Andrew Thonesen and friend Riley of Eagan, Minn.; his great-grandchildren, Emalee, Phoebe, Madysen, and Jackson Schwarz, Camryn and Shelby Schwarz, Margaret Britzman, and Danica and Waylon Donovan; and his siblings, Earl (Alice) Thonesen, Esther Vlasak, Douglas (Sue) Hahn, Lorna Hahn and Alan (Deb) Hahn.
He is further survived by nieces, nephews, other relatives, and many dear friends.
He was preceded in death by his parents, Christen and Christina Thonesen; his in-laws, Lawrence and Goldie Hahn; his siblings, Dora Thonesen, Ada (Malcolm) Johnson, Mildred (Harold) Willie, Adolph Vlasak, and Alma (Benny) Buchal; and his in-laws, Lawrence (Mary) Hahn, Violet (Russell) Farra, Eva (Gordon) Wendtland, and Roger Hahn.
A funeral service will be at 10 a.m. Saturday, Nov. 6, at St. John's Evangelical Lutheran Church, 297 E. South Railroad St., Kendall. Pastor Jacob Limpert will officiate. Burial will be in Millards Prairie Cemetery, rural Hillsboro. Relatives and friends are invited for a time of visitation on Friday at the church from 4–7 p.m. and at the church on Saturday from 9 a.m. until the time of the service. The Sonnenburg/Smith-Nelson Funeral Home is assisting the family with arrangements. Online condolences can be offered by visiting www.sonnenburgfamilyfh.com.