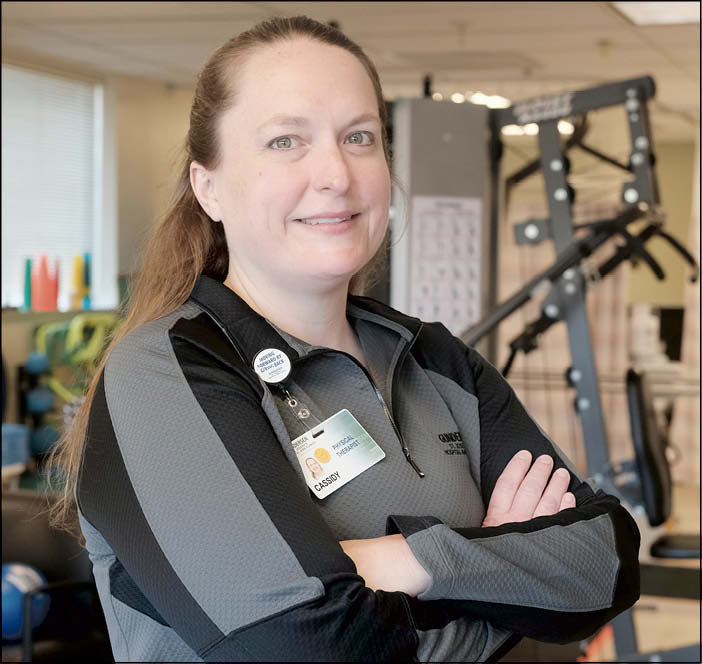 Cassidy Sanchez, PT, PCS, a physical therapist at Gundersen St. Joseph's Hospital and Clinics, was recently awarded therapist of the year by mobility and independence organization AMBUCS at its national conference in Pittsburgh.
The award recognizes Sanchez's commitment to addressing the physical needs of those served by the local chapter of AMBUCS, known as Western Wisconsin Wheels, of which Sanchez is the president and a founding member. Since 2014, the southwestern Wisconsin chapter has helped to provide over 70 adaptive tricycles to individuals dealing with physical disabilities.
According to a press release prepared by Gundersen St. Joseph's, "Sanchez, a physical therapist who specializes in pediatric patients and women's health, has devoted much of her time to empowering individuals and helping them gain mobility and independence — often spending time building and delivering tricycles to those who need them."
"This organization means a lot to me, and we get to really make a difference in people's lives and the lives of their families," Sanchez said. "Seeing kids riding for the first time, the smiles on their faces, realizing they can control where they go, the sense of freedom and independence that wells up inside them, it's inspiring. Everyone should experience it. It drives me as a therapist."
"Cassidy embodies the qualities of a therapist worthy of this award," states her nomination form. "We can always count on her for events, assessments, fittings, trike builds, fundraising and building a presence in our communities. Her compassionate, caring attitude extends far beyond our riders and her patients, inspiring mobility and independence throughout our communities."
"I am so proud of Cassidy's accomplishments with Western Wisconsin Wheels," said Ashley Thayer, PT, director of rehabilitation services at Gundersen St. Joseph's Hospital and Clinics. "She embodies the mission of every therapist to advocate for your patient and improve their mobility and independence. She's spent years being a champion for her patients, putting bikes together, raising funds and making a difference in their lives. She fully deserves this recognition."
For more information on Western Wisconsin Wheels, go to adaptivetrykewi.org.