Fern Arlene Hutchison, 100, of Hillsboro passed away at home in the comforting presence of her children on Nov. 2, 2021. She was born Jan. 25, 1921, to Earl E. and Pearl (Burch) Ferries in Wellington Township, Monroe County, Wis.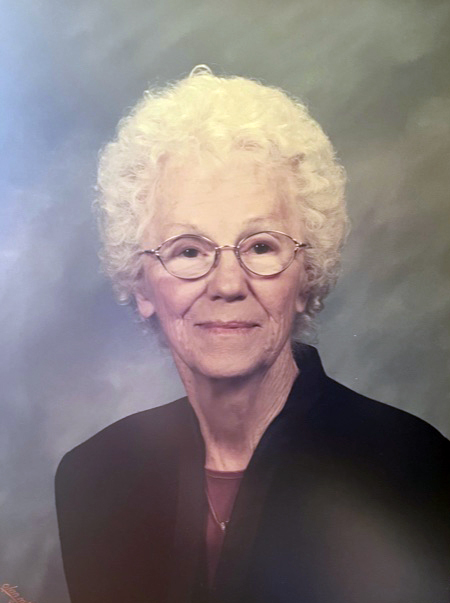 Fern was raised on the family farm in Billings Creek, where she kept a treasure trove of memories: riding her pony to the Mount Pisgah School, traveling to Gilles Pond on a class trip with her teacher Howard Seaman, sledding down Wildcat Mountain, and making the holiday rounds on a horse-drawn sled over snow-covered roads. And she also recalled the sad time that Billings Creek flooded and they lost her pony's foal and a workhorse.
Fern attended Ontario High School and graduated in 1938. On June 12, 1940, Fern and Mailen J. Hutchison were married in Waukon, Iowa. Although they first "met" when Mailen was 4 years old and Fern was 1 day old, they didn't date until she finished high school.
The newlyweds lived in Ontario before moving to Aberdeen, Md. Fern worked at a munitions plant while Mailen was in the service. After the war, they moved to Toledo, Ohio, where Mailen had employment at Willy's Jeep.
Fern was busy with a new home, new friends, a new church and two small children. When the children entered school, Fern took an interest in their education and joined the PTA. She was an active member, organizing countless educational fundraisers to benefit the needs of the school.
She was a Cub Scout Den Mother, working with future Boy Scouts on crafts and nature projects. Fern was also the score keeper for her son's pee-wee and youth baseball teams.
She was a member of the Toledo Zoological Society. Fern was recognized by the city and the society for her voluntary work on membership drives and in the office.
Fern and Mailen were members of the Calvary E.U.B. Church, where she encouraged family participation in everything from Bible study to band.
Mailen retired in 1972, and the family returned to Wisconsin. They bought a small farm near Mount Tabor, in the neighborhood where their ancestors once lived. Fern was happy to be back home with her relatives and friends. She could enjoy family reunions, birthday parties, and small get-togethers. For the first time, Fern hosted the large family Christmas dinner in her home. She had a garden and liked going to sales. If needed, she fed calves, swept the mangers and hayed the cows.
Fern was always busy and never bored. She was a member of the American Legion Auxiliary in Ontario. She attended Grace Community Church for several years. Following in her dear mother's footsteps. Fern devoted much of her life to family. Fern was the oldest of six children and learned at an early age to care for others. Her home was open to those who needed her. She always cared deeply for her grandsons. When her mother began to fail, Fern brought her home and cared lovingly for her for several years. She also helped her father keep his independence until his final day.
In 1998, Mailen became seriously ill and was hospitalized. He passed away with Fern, the woman he met when she was a newborn, by his side.
In the last year of her life, Fern enjoyed the visits from her great-grandsons. She loved their hugs and those gentle little touches only a small child can give.
Fern knew that every day was God's precious gift. She was blessed with a long life, and she lived that life wholeheartedly.
She will be sorely missed by those she loved and those who loved her.
Fern is survived by her two children, James Hutchison of Hillsboro and Marijean Sebranek of Hillsboro; her grandsons, Jeremy (Barb Ryan) Hutchison of Hillsboro and Thomas (Jessica Krevzer) Sebranek of Hillsboro; her great-grandsons, Tyler Rose of Prairie du Chien and Declan and Nolan Sebranek of Hillsboro; her great-great-grandchildren, Sidney, Allison, and Clayton Rose, all of Prairie du Chien; her brother, Earl G. and Paulette Ferries of Ontario; a sister, Loreen Hendricks of Pound, Wis.; along with many nieces, nephews, other relatives and friends.
Fern was preceded in death by her husband, Mailen; her brothers, Dean and Arlene Ferries and Donald and Jeannete Ferries; a sister, Loreta and Leo Havlik; and her brothers-in-law, Jerry Hendricks, Daniel and Carole Hutchison, and Kenneth and Delores Hutchison.
Graveside memorial services are being planned at the Hilltop Rest Cemetery in Ontario for a later date. The Torkelson Funeral Home in Ontario is assisting the family with arrangements.
Online condolences are available at www.torkelsonfuneralhome.com.