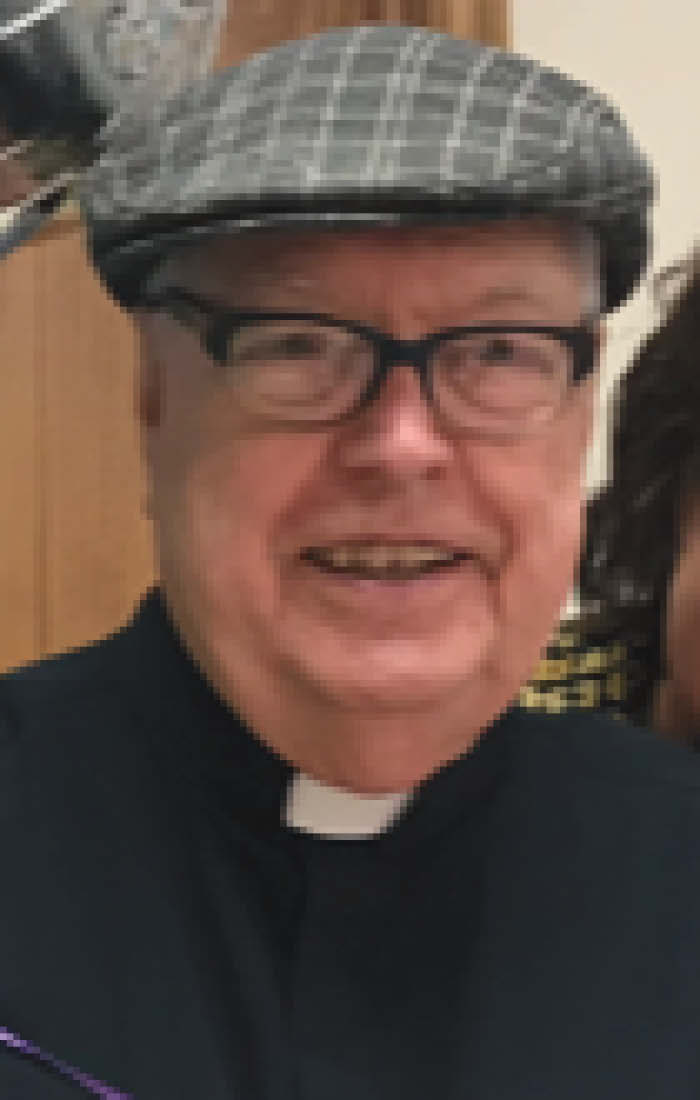 Father Eugene Durrant Trainer, 88, of Sparta, Wis., formerly of Wilton, Wis., passed away peacefully at Mayo Clinic Health System in La Crosse on Tuesday, Jan. 5, 2021.

Fr. Gene was born in Lyndon Station, Wis., to James and Ruth (Sannes) Trainer on Oct. 20, 1932. After St. Patrick Grade School in 1946, he spent the next five years at the Missionaries of the Sacred Heart minor seminary in Geneva, Ill. He went on to the seminary in Shelby, Ohio, where he underwent training, and college, obtaining master's degrees in religious education and music. Father Trainer was ordained on May 31, 1958. His first assignment was with the old Mission House in Sparta. He spent the summer there before returning to Geneva, where he taught history and music.

Fr. Gene then took up diocesan parish work and was assigned a parish in Pepin and Mosinee. From there, he moved to Stockton, Calif., where he began work in the Stockton diocese. He remained in California for 20 years, serving as pastor in Portuguese Parish in Turlock, St. George Parish in Stockton and Angel's Camp Parish, all in California. These assignments required him to hone his foreign language skills. He was well versed in Spanish and fit in well.

He honorably retired from the Stockton Diocese and moved back home in Wilton, near his mother and siblings, spending his remaining years helping Catholic parishes throughout the area. He built many lasting relationships wherever he traveled but enjoyed being "home."

Fr. Gene was also a sage historian, educator, and scholar. He mastered languages including Spanish, German, Latin, French, and most recently re-learning Hebrew. He regaled parishioners with his weekly sermons, which became history lessons and were looked forward to by many. He was fun to listen to and had the ability to break down theology language so that the ordinary person could understand. Fr. Gene's sense of humor was naturally quick and his wit was sharp.

He proudly provided sacraments to many of his siblings, nieces, and nephews. He loved his nieces and nephews as his own, and didn't like missing a party with family, because they meant everything to him.

Fr. Gene left an impact on those who knew him, not only because of his deep boisterous voice, but also by the wisdom he willingly shared with everyone around him. The world will be a different and quieter place without him. "He was a gentleman and a scholar, and now there is one less left …." It's one of the many famous quotes that will be remembered of him.

Fr. Gene is survived by his loving sisters, Marcia (Don) Sandeen of Portola, Calif., twins, Margaret "Peg" (Ron) Hedrick of Wilton, and Mary Sheppard of Duluth, Minn.; local nieces, Denise (Pat) Mulvaney, Jennifer (Dave) Erickson, and Jessica (Dillon) Denter; along with many more loving nieces, nephews, relatives, and close friends made by anyone who had the pleasure of meeting him.

Fr. Gene was preceded in death by his parents, James and Ruth Trainer; his brothers, Dave Trainer and Dick Trainer; his sister-in-law, Ann Trainer; his brother-in-law, Dick Sheppard; and his niece and nephew, twins Mary and Richard Hedrick.

A Mass for Father Trainer will be at 11 a.m. Saturday, Jan. 9, at St. Patrick's Catholic Church in Sparta. Father Eric Berns will officiate. Burial will be held at a later date in St. Mary's Catholic Cemetery in Lyndon Station, Wis.

Family and friends are invited to pay their respects to Fr. Gene from 10 a.m. until the time of service at the church. Due to the care and concern for safety of family and friends, there will be no family reception line, and those who attend must wear masks.

Fr. Gene's Mass will be livestreamed via Zoom beginning at 11 a.m.

To join Zoom meeting:

• https://us02web.zoom.us/j/86922048096?pwd=K3F1aUtkczZURjYvRDFVOUtrZkdXUT09

• Meeting ID: 869 2204 8096

• Passcode: 518732

The Torkelson Page-Smith Funeral Home of Sparta is assisting the family with arrangements. Online condolences may be offered at www.torkelsonfuneralhome.com.