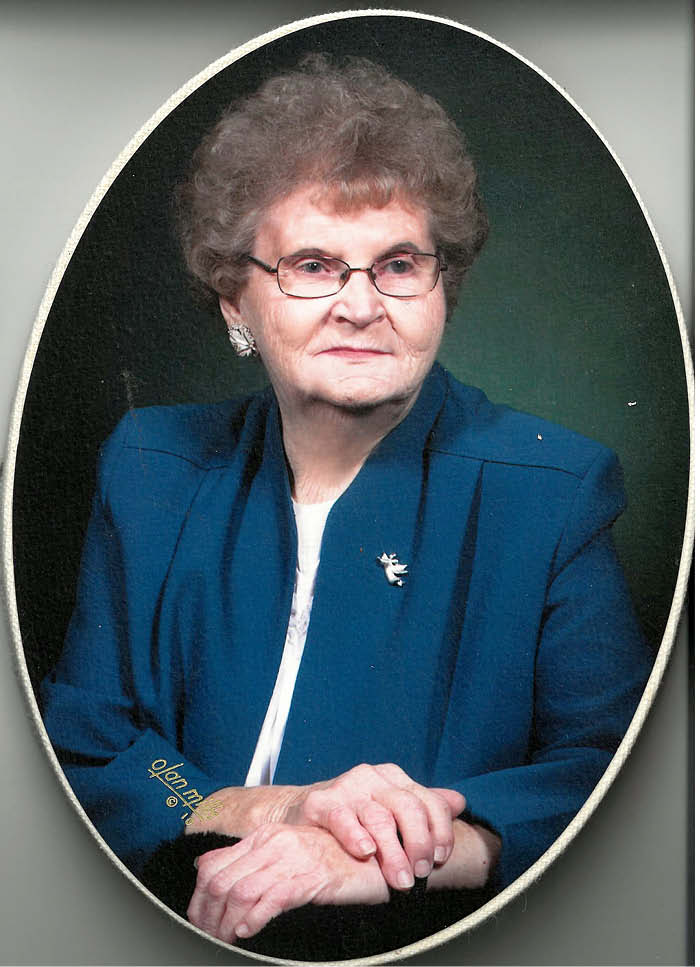 Eunice Lucille (Jerome) Savall, 90, died peacefully July 11, 2021, at the Rolling Hills Rehabilitation Center.

Eunice was born Aug. 3, 1930, in Sparta, daughter of Harry and Laura (Knutson) Jerome. She grew up in Cannon Valley between Leon and Melvina. She graduated from Cashton High School. On Sept. 24, 1948, she married Otto Savall and settled in Norwalk. Eventually they bought a small farm outside of Norwalk and raised their seven children there. Eunice was busy with the children and farm life. She did some babysitting and helped in the restaurant they owned for a short time, The Place in Norwalk.
Eunice eventually worked at Northern Engraving in Sparta for 25 years. Before and after she retired, Otto and Eunice loved to travel all over the U.S. and for several years wintered in Mesa, Ariz. Eunice loved entertaining and being around people. She could throw a meal together in no time that always tasted so good. Her sense of humor was enjoyed by everyone she came into contact with.
She was a member of the United Methodist Church in Norwalk for over 50 years. She enjoyed being a part of the United Methodist Women's Group, taught Sunday School for many years, and helped with any project that the church did. She was a member of the Loyal Homemakers Group, riding in parades and doing a lot of good for so many people. She touched so many people with her smile and good deeds. She was excellent at visiting the homebound.
She loved her family and was not afraid to give advice to any of them. As the 17 grandchildren came, and the 24 great-grandchildren, she made each one feel very special and was always interested in what they were doing. She scoured rummage sales for the best toys for her toy room so her grandchildren had a super playroom when they came to visit. She always had time to play a game with the kids.
Eunice was preceded in death by her husband of 54 years, Otto; her parents, Harry and Laura Jerome; her infant grandchildren, Gwen Schwarz and Michael Savall; her sister and brother-in-law, Helen and Ernie Muenzenburger, and their daughter, Lori; her sister and brother-in-law, Pearl and Glenn Stroessner; and her brothers-in-law and sisters-in-law, Ella and Leonard Stoiber, Astoria and Milnor Olstad, Roy and Stella Swanson, Herman and Martha Brickl, Melvin and Mabel Savall, Henrick and Viola Savall and Richard Savall.
Eunice is survived by her children, Ronald (Barb) Savall of Wilton, Gary (Jan) Savall of River Falls, Wis., Linda (Richard) Beier of Wilton, Bruce (Chris) Savall of Sparta, Robert Savall of Sparta, Debra (Douglas) Schwarz of Cashton, and Sherri Savall of La Crosse; her sister, Marvel Schiller of Colorado Springs, Colo.;
her grandchildren, Matthew Savall of North Dakota, Alicia (Jonathan) Savall-Wedd, of Rochester, Minn., Casey (Hallie) Savall of Roberts, Wis., Dylan Savall and Ty (Katrina) Savall-Butler, all of Duluth, Minn., Nathan Beier of Wilton, Johnathan (Megan) Beier-Sievers of DeForest, Wis., Aaron (Stephanie) Savall of Sparta, Jerrick Savall and friend Skylar Strait of La Crosse, Laura Savall and friend Ben Bennington of Vermont, Nicole (Bill) Osgood of Onalaska, Wis., Randy (Kelly) Schwarz of Viola, Josie (Mike) Hofschulte of Zumbrota, Minn., Jessica (Josh) Hiniker of Prescott, Wis., and Daniel Schwarz of Cashton; and her great-grandchildren, Genene, Behailu, Tedros, Bemnet, and Amedeo Savall-Wedd, Jackson and Alita Savall, Avery Van Allen, Henry and Chloe Savall, Liam and Abbygail Savall, Bella and Garret Osgood, Brandon Braun, Mackenzie, Jacob and Caleb Schwarz, Oliver Vargas, Leo and Zoe Hofschulte, and Adeline and Isaac Hiniker.
Funeral services will be at 11 a.m. Friday, July 16, at Immanuel United Methodist Church in Norwalk. Visitation will be at the church from 5–7 p.m. Thursday, July 15, and from 9–11 a.m. Friday. Pastor Fran Hewuse II will officiate. Burial will follow at Wanderer's Rest Cemetery in rural Norwalk. Reception will follow in the church fellowship hall.
The Torkelson Page-Smith Funeral Home is assisting the family with arrangements. Online condolences may be offered at www.torkelsonfuneralhome.com.