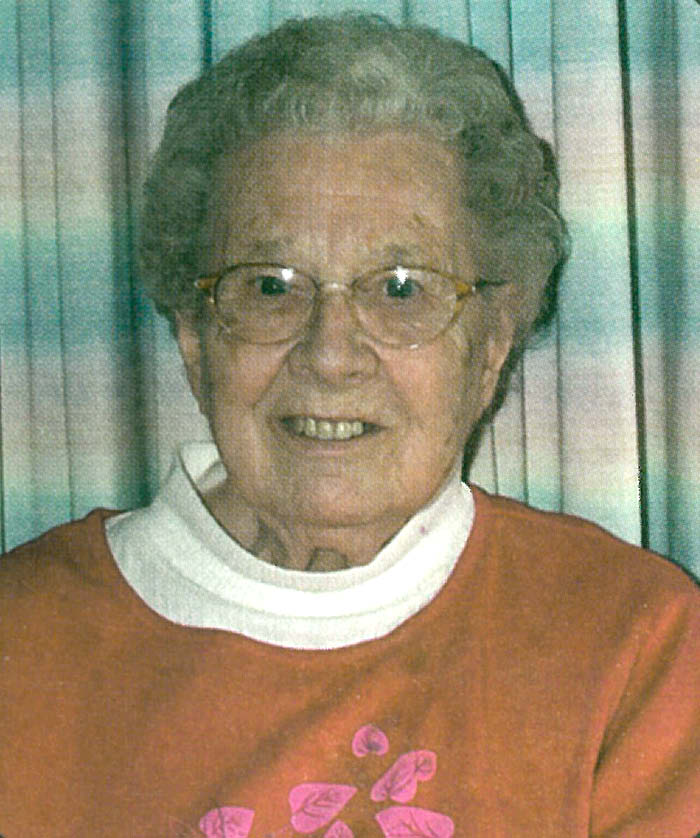 Doris Marie (Neumann) Nading passed away peacefully on Sunday, Oct. 18, 2020, at the Morrow Home in Sparta.
Doris was born July 4, 1923, to Walter and Wilhemina "Minnie" Neumann and grew up in Strawberry Point, Iowa. She married Anton "Tony" Nading on June 4, 1945, and they celebrated 60 years of marriage before he died on Aug. 13, 2005.
Together, Doris and Tony farmed in Lamont, Iowa, before moving to the Kinney Valley, near Wilton, Wis., where they raised four children. When they retired from farming, they loved being part of the Wilton community and were often found enjoying a morning cup of coffee with friends, making pancakes with the Wilton Lions, or worshiping at St. Matthew's Evangelical Lutheran Church on South Ridge. Their home attracted visitors who came to view their incredible summer flower garden or festive Christmas light displays. Doris also spent several years cooking and baking for the children at Kendall Elementary School, where she found such joy.
When not working or tending to their garden, Doris and Tony never missed a softball or baseball game — especially if their sons, grandchildren, or friends were on the field. In the evenings or on weekends, she would be found sewing or crafting as she watched the Brewers or Packers. Or she would be sitting on the screen porch, humming a hymn, or singing along with classic country music on the radio. She and Tony loved to travel and visit family, and they treasured time spent in the warm sunshine of Florida for several winters. Doris was known for her kindness, a sly sense of humor and contagious laugh. Her family will never forget her bright smiles and warm hugs that always greeted them when they walked through the door, even toward the end of her life, when her memory started to let her down.
Her family takes great comfort knowing that Doris is now in her eternal home, reunited with the love of her life, Tony, and her beloved eldest son, Adrian.
She was also preceded in death by her parents; her stepfather, Fred Hock; her two brothers, Ted and Carl; and many cherished sisters- and brothers-in-law.
Doris is remembered and celebrated by her daughter, Sherri White of Caledonia, Minn., and her sons, Jerry (Mary) of Sparta and Dave of Butler, Penn. She is also survived by her daughter-in-law, Rhonda Nading of Peterborough, N.H., and her 13 grandchildren, Anna (Matt) Lovely, Stephanie (Abe) Al-Arnasi, Mark (Donna) Nading, Tony (Dana) White, Dan (Jessica Peck) Nading, Jared (Kim) Nading, Jacqueline (Nick) Camerlengo, Justin Schultz, Brennen (Jami Kallenbach) Nading, Zach (Liz) Nading, Aleatra (Casey) Olson, Kirsten (David) Nye and Cassie Nading. She also leaves a legacy of 20 great-grandchildren who continue to share her wide smiles, deep laughs, and warm hugs with the world.
The family would like to thank the caring staff at Morrow Home who watched over Doris for many years.
A private family service will be held at St. Matthew's Evangelical Lutheran Church on Sunday, Oct. 25, with burial next to Tony at South Ridge Lutheran Cemetery. When it's safe to do so, the family will welcome friends to celebrate Doris' life and legacy — for now, she'd want you to be healthy and safe.
The Smith-Nelson Funeral Home in Wilton is assisting the family. Online condolences can be offered by visiting www.sonnenburgfamilyfh.com.