Updated at 5:03 p.m. Sunday, Nov. 21, to reflect changes in survivors' list and service location.
Donna Rae DeWitt, 83, of rural Ontario, Wis., passed away Friday, Nov. 19, 2021, at the Gundersen Lutheran Medical Center in La Crosse.  Donna was born April 5, 1938, to Frank and Olleen (May) Castner in Colorado.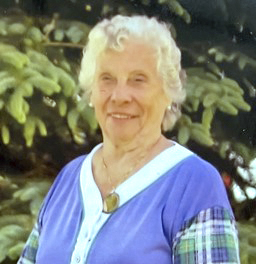 Donna graduated from high school in Two Harbors, Minn., in 1956. She found her way to the state of Washington, where she met a handsome serviceman from Ontario, Wis. On March 3, 1962, Donna married her dance partner, Melvin "Don" DeWitt in Vancouver, Wash. She worked as a telephone operator for many years, and this is where she started her high-heel shoe collection.
In 1964, Donna and Don moved to Forest Township and farmed in partnership with Don's dad and brother, Glen and Otis DeWitt, living at the foot of Tuttle Hill.  In 1966, they bought the Double D Dairy and began farming on their own.  In 1973, they settled on Moon Ridge.  For a short time, they lived in Yuba, where they built and ran U Buy at Yuba. This also started a few more pop-up stores located in Ontario, Kendall and Wilton, including Main Street Market, run by her daughter Jolene, which is still going strong today. 
For many years, she and Don were proud foster parents for young boys and girls. They later did adult foster care out of their home. She stayed in touch with these children, who felt like Donna's own kids. When she and Don were not working, they loved to listen to country music and dance.
Donna was very active in the Ontario community. She proudly served as a charter member of the Ontario Legion Auxiliary Post 467. Donna was an involved member of Grace Community Church in Ontario and loved her time spent with friends in the Red Hat Club. When her kids were growing up, she enjoyed volunteering with Brownies, Girl Scouts and 4-H clubs. She excelled at being the family historian. She also loved her flowers, birds, and her kids. Family meant everything to Donna. Her face lit up when loved ones walked in, and she flashed her heart-warming smile. Family and friends meant more to her than anything else in the world. She will be missed by many.
Donna is survived by her husband of 60 years, Don; her children, Joleen (Steve Zimmerman) Revels of Wilton, Wis., Dorese (Mark) Leis of Ontario, Wis., Frank (Joy Klum) DeWitt of Hillsboro, Wis., and Harold "Willie" (Shelly Von Ruden) DeWitt of Melvina, Wis.; her brother, Dewey (Roxy) Castner of Washington; her sister, Karen (Tim) Tondreau of Oregon City, Ore.; 14 grandchildren; 21 great-grandchildren; one great-great-granddaughter; her sisters-in-law, Glenda DeWitt, Karen Raines and Karen DeWitt; along with many loving nieces, nephews, other relatives and dear friends.
Donna was preceded in death by her parents, Frank and Olleen; her sister, Trudy Goerig; her granddaughter, Kady Rene Revels; her brothers-in-law, Dale and Otis DeWitt and Butch Raines; her sister-in-law, Merilee Richardson; along with other special relatives.
Funeral services will be at 11 a.m. Saturday, Nov. 27, at the Grace Community Church in Ontario. Pastor Bruce will officiate. Graveside services, with an American Legion Auxiliary presentation, will be follow at 12 p.m. in the Billings Creek Cemetery in rural Ontario.  
Keeping the family and community safe during the rise in Covid numbers, we ask that those attending the funeral inside the church please consider wearing a mask.  A livestream of the funeral for Donna may be viewed on the Torkelson Funeral Home Facebook page on Saturday at 11 a.m.
The Torkelson Funeral Home of Ontario is assisting the family with arrangements. Online condolences may be offered at www.torkelsonfuneralhome.com.