Darlene (Williams) Cooley, 99, of La Farge passed away Wednesday, Sept. 21, 2022, at Bethel Oaks Memory Care in Viroqua, Wis., following a 3 ¾-year stay.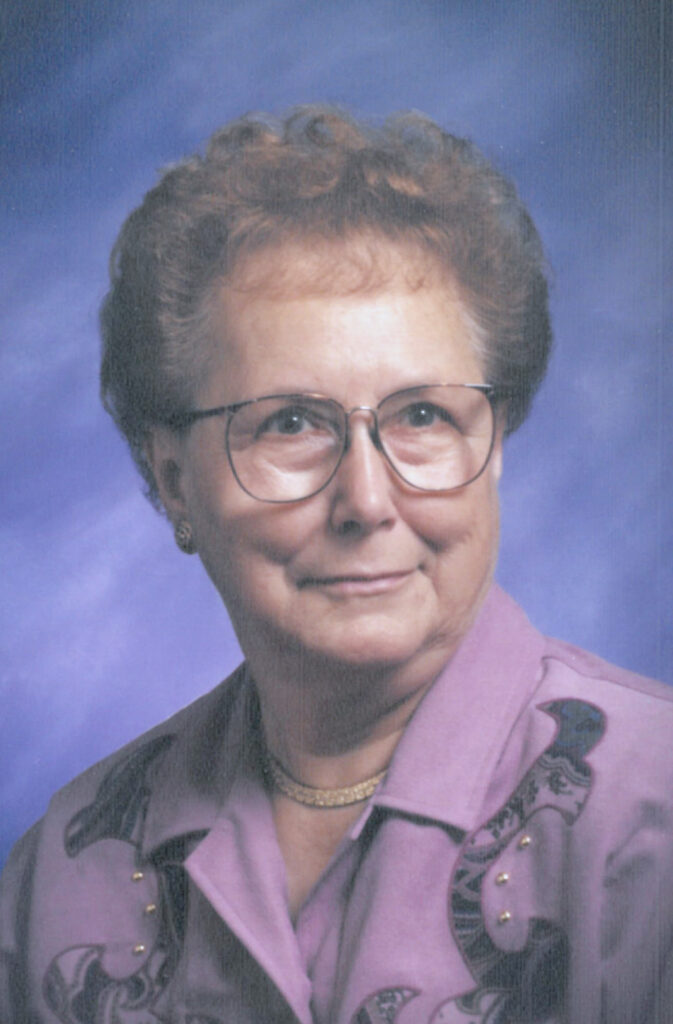 She was born April 14, 1923, the middle child of seven, to Earl and Winnifred (Potts) Williams in rural Ontario, Wis. Many lifelong friendships developed there. After her eighth-grade graduation from Johnny Cake School, the family moved to Bear Creek in rural Viola, Wis., where she attended West Lima High School, graduating in 1940.
She moved to Chicago, where she worked in various factories supporting the war effort. While there, she married Charles Spilman, and a son, Rich, was born. She and Charles later divorced.
In June 1948, she married Robert Cooley in a lawn wedding at the Williams farm. They moved to Richland Center, Wis., where a son, Randy, was born but later died at three weeks of age. They then moved to Wauwatosa, Wis., where daughter Marlys was born. While living in the Milwaukee area, she worked at a variety of General Motors factories and branches.
In 1967, the family moved to rural La Farge. Her husband, Robert, passed away Jan. 28, 1971, following open heart surgery. Being only 47 years old at the time, Darlene had to work at numerous factories in the Vernon/Richland County areas. She later moved to Janesville to fulfill her retirement years, working for General Motors. She commuted back home to La Farge every weekend so she could attend dances put on by her brothers, Otis and Mel Williams, and their country bands. She also spent as much time as possible with the grandkids!
In her retirement years, Darlene took many trips, hitting all 50 states (some many times) and several foreign countries. She traveled with many friends and family members, but her favorite companions were her four grandchildren. She lived a full and happy life, fulfilling most of her dreams.
She is survived by her son, Rich, and his daughter, Lisa (Craig) Taylor; and by daughter, Marlys (Dean) Steinmetz, and their children, Wes (Gina), Chris and Marcie (Chris) Tauscher. She also is survived by four great-grandsons, Logan and Bryce Taylor and Grady and Jory Tauscher, along with numerous nieces, nephews and friends.
She was preceded in death by her parents, Earl and Winnie Williams; her husband, Robert; her son, Randy; and her siblings and spouses, Helen (Bill) Russell, Dorothy (Irven) Wagner, Woodrow (Vada), Mel (Wanda), Otis (Darlene) and Bud (Shirley) Williams.
A memorial service will be noon Saturday, Oct. 1, at the La Farge Free Methodist Church. Visitation will be from 11 a.m. until the time of services. Burial will follow at Bear Creek Cemetery. Online condolences may be expressed at www.vossfh.com.