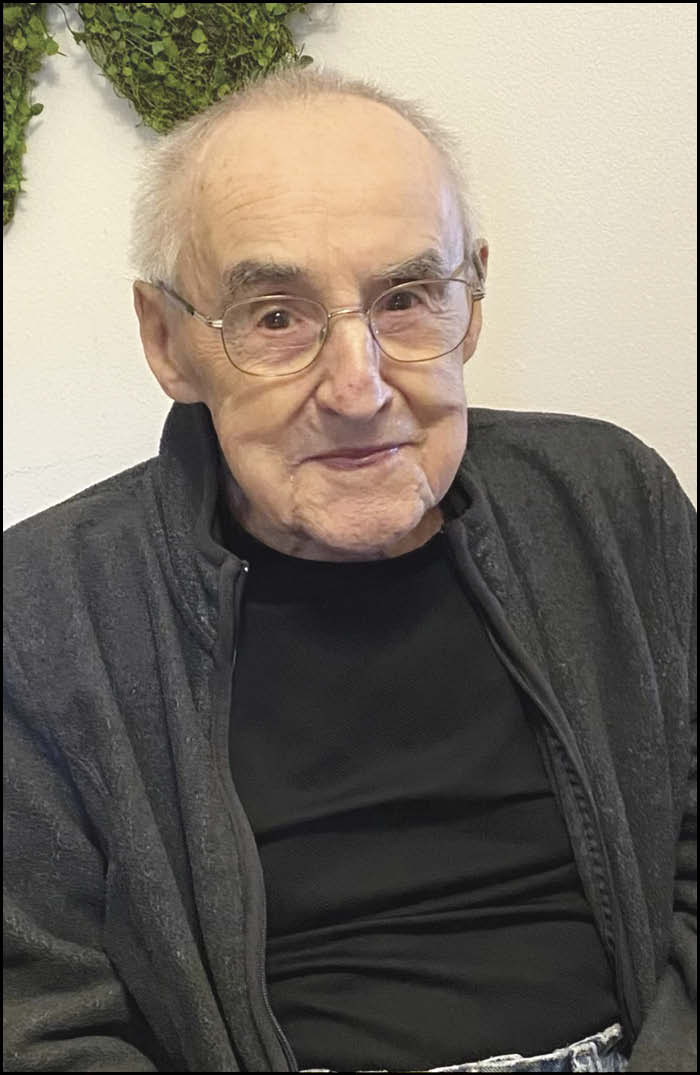 Clayton W. Hansen, 97, of Tomah passed away peacefully Saturday, Feb. 6, 2021, at the Hospice Touch Serenity House in Tomah.

Clayton was born June 15, 1923, in Monroe County to Godfred and Louisa (Servais) Hansen. Proudly serving his country during World War II, he was a member of the United States Navy's Seabees from 1943–1945. Upon his military discharge, Clayton was united in marriage to Isabel Schmidt on June 14, 1945. Together, Clayton and Isabel raised eight children on the family farm near Clifton, Wis. After almost 56 years of marriage, Isabel preceded him in death on Feb. 10, 2000. Clayton was blessed to find love again, and in April 2001, he was united in marriage to Marion Brookman. After almost 16 years of marriage, Marion preceded him in death on Feb. 11, 2017.

Clayton was a faithful member of the St. Michael the Archangel Catholic Church at Indian Creek. He was active in the church until his later years in life and he was still very faithful to his home church. As a proud member of the farming community, Clayton was a founding member of the National Farmer's Association and proudly served as an honorary member of the Knights of Columbus. 

He is survived by his children, Eugene (Barb) Hansen, Kenny Hansen, David (Sally) Hansen, Barbie (August) Lueck, Dennis (Melida) Hansen, Duane (Dianne) Hansen, and Patty (David) Gerke; 25 grandchildren; 39 great-grandchildren; seven great-great-grandchildren; and his stepchildren, Pat Jones of Lodi, Wis., Larry of Kendall, Betty (Larry) Murphy of Camp Douglas, Scott (Stephanie) of Tomah and Barb (John) Kratche of Tomah. He is further survived by many nieces, nephews, and their families, additional stepchildren, and their extended families.

Clayton was preceded in death by his wives, Isabel and Marion; his daughter, Janet Jones, and an infant daughter; his stepson, Tom Jones; his daughter-in-law, Nancy Hansen; a great-granddaughter; and 11 siblings.

A private family Funeral Mass of Christian Burial will be at 11 a.m. Saturday, Feb. 13, at St. Michael the Archangel Catholic Church, 18316 County Hwy. N, Tomah (Indian Creek), rural Oakdale. Father Robert M. Letona will officiate. Burial will be in the church cemetery. A private family Knights of Columbus rosary will be held on Saturday at 9:30 a.m.

The Sonnenburg Family Funeral Home in Tomah is assisting the family with arrangements. Online condolences can be offered by visiting www.sonnenburgfamilyfh.com.

Those in attendance are encouraged to wear a mask and use CDC-recommended guidelines for social distance and safety measures.

The family would like to thank the Greenfield House staff for their love and care of Clayton in the last years of his life. We also thank the Serenity House staff for their compassionate care of Clayton in the last days of his life.

In lieu of flowers, the family asks that donations be made in Clayton's memory to the Greenfield House, 2144 Flatiron Ave., Tomah, WI 54660 and Hospice Touch Serenity House, 601 Straw St., Tomah, WI 54660.

Due to Covid concerns, the family is planning a celebration of life to be held at a later date.

Livestream viewing of the service can be found on the Sonnenburg Family Funeral Home Facebook page.