Charles "Lee" Stenerson, 95, went home to be with his Lord and Savior on June 13, 2022. Resting on the promises of God, he passed peacefully into the presence of the Lord.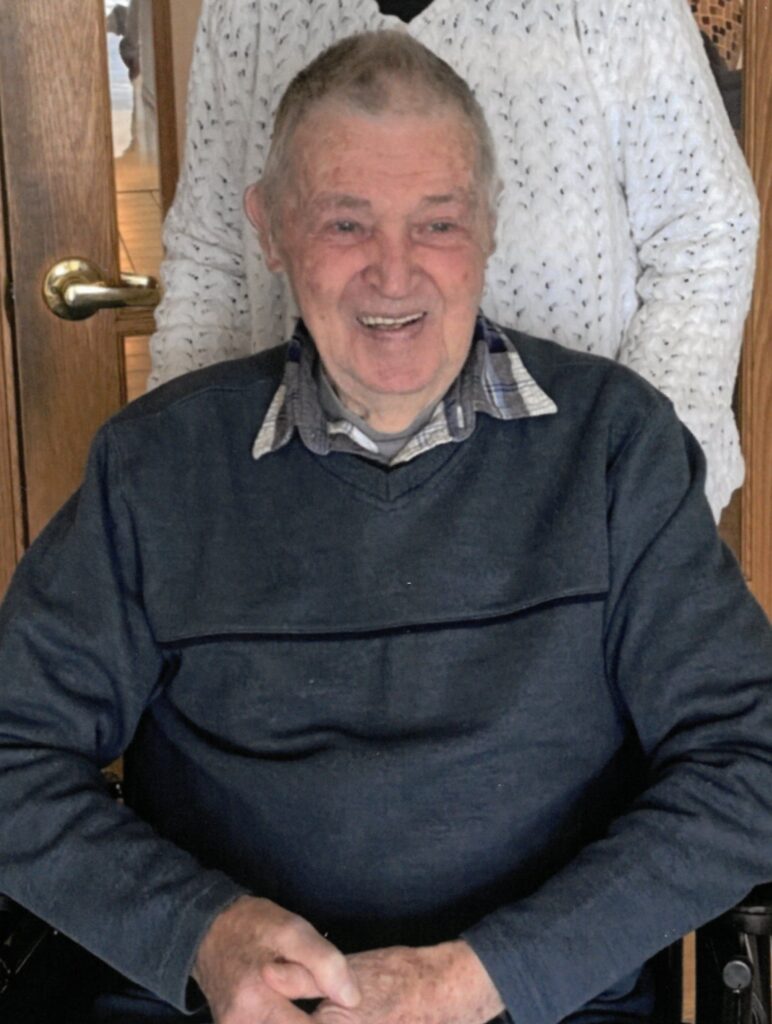 The most important day in Lee's life was Sept. 22, 1952. On that day, having realized his sin was against God, he also realized that God sent his son to die for him. He was always conscious of being faithful to his Savior. He wanted everyone to know the good news of God's salvation.
Lee was born to Pelmer and Gladys Stenerson on May 16, 1927. They farmed on a little farm outside of Ontario.
Lee enlisted in the Navy at 17 to serve in World War II. After returning home to the love of his life, Beverly Bauman, they married on Feb. 16, 1948. They farmed on South Ridge until back problems forced Lee to seek employment elsewhere. He applied for work with the Army Corps of Engineers and took a job as a laborer at the lock and dam in Lynxville, Wis. During this time, he was also an OSHA inspector and a boiler inspector. After working his way up for 20 years, Lee was able to retire as lock master, in which he oversaw 3 separate lock and dams on the Mississippi River. After retirement, he bought an unfinished cabin in Colorado, where he and Bev spent their time turning it into a place where countless great memories were made with family, friends, and hunting/fishing buddies.
Lee is survived by his wife, Beverly; his daughter, Diane (Ron) Doll; his grandson, Brandon (Kristi) Doll and their children, Brenna, Gracie, and Nolan; his grandson, Lance (Sharlene) Doll and their children, Marshall, Shepard, and Wesley; his son, Michael Stenerson; his daughter-in-law, Marilyn Stenerson; his granddaughter, Marcy (Jake) Sheire; his great-granddaughter, Nicole (Jonathan), and their children: Noah, Quinten, Wyatt, Otis, and Aria; his great-granddaughter, Kathrine (Ryan), and their son, Jax; his granddaughter, Shel (Dan) Hyatt; his great-granddaughter, Leah (Andrew), and their daughter, Avery; his great-granddaughter, Morgan (Nick); his great-granddaughter, Kate; his granddaughter, Nic (Pete) Hansen, and their children, Miah, Josiah, Michelyn, and Jaren; his granddaughter, Shanna (Ben) Peterson and their children, Bryce, Brady, Brock, and Brynn; his grandson, Todd (Tabitha) Volden and their children, Seth, Chandler, and Tessa; his granddaughter, Tasha Volden, and her children, Morgan, Dominic, Savannah, and Vivian; his grandson, Lee (Heidi) Stenerson, and their children, Maggie, Sawyer, and Connor; and many other nieces, nephews, and other family members.
Lee was preceded in death by an infant son, David; his parents, Pelmer and Gladys Stenerson; his sister and brother-in-law, Kathleen and Lee Stoddard; and a nephew Ron.
A funeral service was Saturday, June 18, at the Ontario Gospel Hall. Brandon Doll officiated. Family and friends were invited for a visitation Friday, June 17, from 5–7 p.m. at the Sonnenburg Family Funeral Home, 801 E. Monowau St., Tomah, and again on Saturday at the church from 10 a.m. until the time of the service. A graveside committal service with military honors was at 4 p.m. Monday, June 20, at Hilltop Rest Cemetery in Ontario. Online condolences may be sent to www.sonnenburgfamilyfh.com. The Sonnenburg Family Funeral Home is assisting the family with arrangements.