Barbara Thuresson DeLong Nofsinger, 88, of Elroy, Wis., passed away peacefully Tuesday, Oct. 24, 2023, in her daughter's home in St. Charles, Ill., with her daughters Deb and Dawn by her side.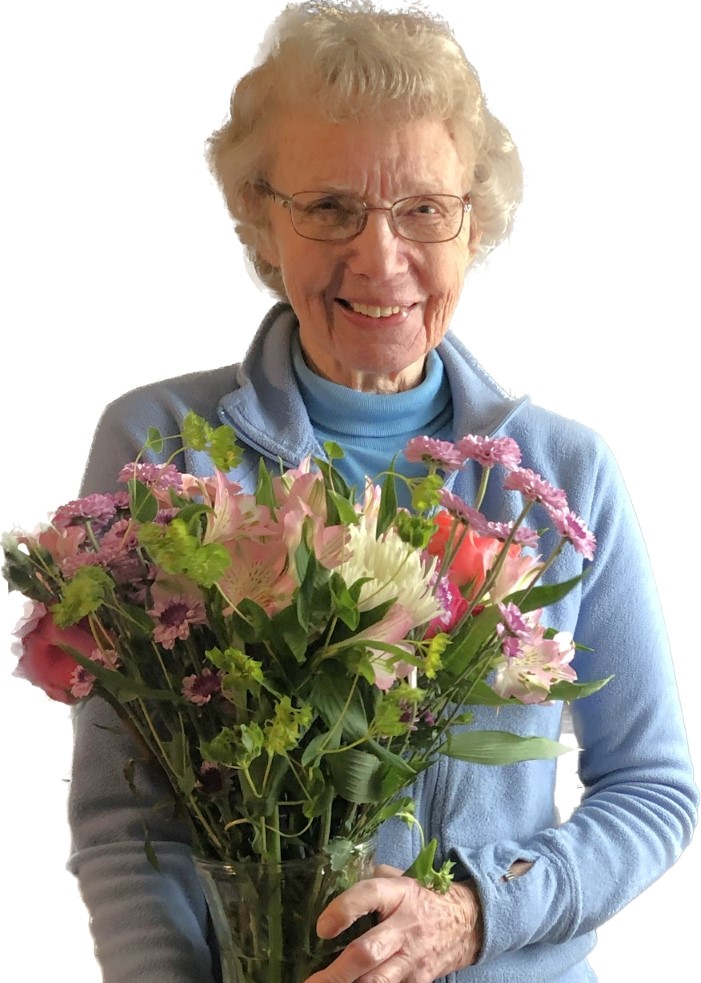 Barbara, born in New York City, was the youngest daughter of David and Alma Thuresson, Scandinavian immigrants. She met her husband, Daniel DeLong, as they both worked summers as high schoolers at the Brittingham Estate in Madison, Wis. After Dan finished his stint in the Navy and Barb graduated with honors from the University of Delaware as a medical technologist, she married the love of her life in 1957 in Wilmington, Del. Dan returned to school at UW-Madison, and Barb worked as a med tech at the Wisconsin Alumni Research Foundation and Madison General Hospital. In 1965, Dan's teaching/coaching job brought them to Elroy, Wis. Barb was a homemaker with her young girls and worked part time at Elroy Primary School as a library aide while taking library science classes at UW-Madison. She became certified as a public librarian and worked at the Elroy Public Library from 1980–1995, when she retired to take care of Dan.
Barbara was always interested in civics, church and volunteering. During her time in Elroy, she was proud of being elected as the first woman on the Juneau County Board of Supervisors. She also served on the Elroy City Council. Other volunteer activities included being a Girl Scout Leader, a member of Elroy Area Advancement Corporation, a docent at the Elroy History Museum, and a longstanding member of the Elroy Lions Club with Dan. Grace Lutheran Church was an integral part of her life. She was active in church, including WELCA, Kinship, Church Council Committees and Sunday School, Ruth Circle and Quilter's Guild. She started and organized the first food pantry in 1981 with Pastor Pierson and served on the food pantry board for many years thereafter. Barb and Dan became custodians for the church after their retirement.
Dan died in 2005, and five years later she met Dorville Nofsinger at the Grace Senior Meal Site. They were married in 2010. After moving to Dorville's house in Elroy, they enjoyed time together gardening, canning their abundance, and sharing music and dancing. Dorville passed in 2020.
Barb was known in the community for her generous spirit, kindness and compassion. She believed in working for a fairer and more just world. A voracious reader, she also loved to travel and took her daughters on several trips. She enjoyed her pets, flowers, and grandchildren. She was often seen taking her walks around the community and on the trail.
Survivors include her daughters, Deborah (Jim) Bosley of Kennett Square, Penn., and Dawn Lutz of St. Charles, Ill.; her stepson, Steve (Lila) Nofsinger of Hillsboro, Wis.; five grandchildren, James (Savannah) Bosley of Gilbert, Ariz., Jason (Danielle) Lutz of Osage Beach, Mo., Jordan Lutz of Chicago, Beau (Samantha) Blakeley of Chicago, and Drew Blakeley of St. Charles, Ill., and three great-grandchildren (Taylor, 5, Austin, 3, and Jon, 1).
Barb is further survived by her brother, Arne (Mary) of Harrington, Del.; and beloved nieces, Barb (Karel) Kimpel, Bev (Biz) Kimpel, Leah (Dave) Gryzbowski, and Lenea Thuresson, and nephews, Frank (Donna) Kimpel and Dave (Kim) Kimpel, Dana (Karen) Thuresson, Don and Doug Lowing, Michael Ward; and a special friend, Henry Schmid.
Besides her parents, she was preceded in death by her husbands, Daniel DeLong and Dorville Nofsinger; her sisters, Hjordis Lowing and Gunvor Kimpel; her brother, Ragner Thuresson; her son-in-law, Jon Lutz; her sisters-in-law, Janet and Beverly DeLong and Dorothy Ward; her nephews, Eric Thuresson and Max Ward; and her stepson, Stanley Dean Nofsinger.
In lieu of flowers, memorials may be sent to the Elroy Area Food Pantry at Grace or Grace Lutheran Church itself at 226 Erickson St., Elroy, WI 53929.
Visitation will be from 2–3 p.m. Saturday, Nov. 11, at Grace Lutheran Church, with the service at Grace Lutheran Church at 3 p.m., with refreshments immediately afterward in the church basement. Interment will be private. The Picha Funeral Home in Elroy is assisting the family with arrangements. Online condolences can be offered by visiting www.pichafuneralhomes.com.