August "Auggie" Oakley Hanson, 94, of rural Ontario passed away Saturday, April 29, 2023, after a brave and courageous battle with bladder cancer and the complications that followed.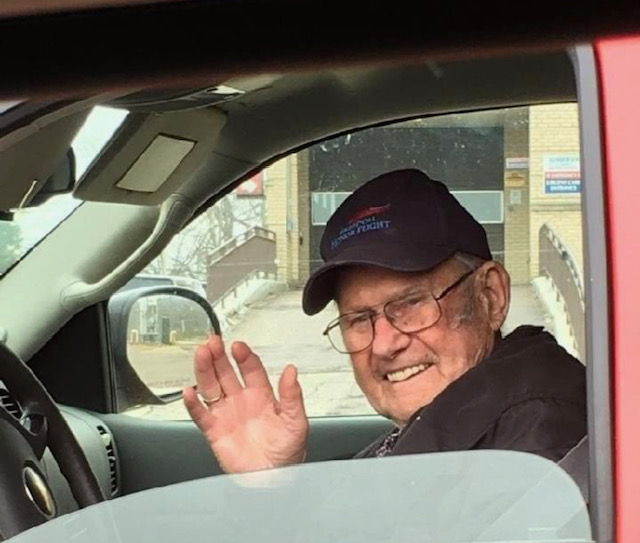 He was born March 12, 1929, to Otto and Nellie (Winchel) Hanson of Purdy Valley (rural Viroqua). He was one of eight children in his family. He attended school at Purdy Valley School through the eighth grade. At the age of 17, Auggie's family moved to rural Ontario, where he worked on the family farm.
In 1952, he was drafted into the U.S. Army and fought in the Korean Conflict as a tank commander, 3rd Armored Division. On April 22, 1953, he was wounded by an enemy sniper. He was later awarded a purple heart, along with many other medals, for his dedication to our country.
On Oct. 11, 1954, he married Mary Ellen Wacker, daughter of Herman and Lucille Wacker of Ontario. Auggie and Mary rented a farm in rural Ontario until 1956, when they purchased a farm in Brush Creek, west of Ontario. There, they ran a successful dairy farm, grew tobacco, and raised their four sons.
In 1986, they sold their dairy farm except for the acreage across the road and moved to Sparta. Auggie then got a job at Fort McCoy, where he worked for the next 10 years. He worked various jobs there, and eventually he became a bus driver. He enjoyed talking to the different service members during the bus rides and later always had stories to tell his loved ones about who he had met and where he had been.
In 1996, after Auggie chose to end his bus-driving career, they sold their home in Sparta and built a new house back on their property in Brush Creek.
Auggie was a very caring and compassionate person. He took pride in being an active member of Ontario American Legion Post 467. He loved his Massey Ferguson tractors, talking about cars and trucks, deer hunting, hayrides, watching Wisconsin Badger basketball, driving his Kubota UTV, gardening, tending to their cats Marlie and Milo, and most of all spending time with his beloved family. The old farmhouse on the property and a pole shed that was built along the way have always provided a wonderful gathering place for family and friends to enjoy picnics and weekend getaways, which provided much fun and laughter for all.
Auggie is survived by his loving wife, Mary Ellen, of 68 ½ years; his children, Gary (Mitzi) Hanson of Onalaska, Mike (Karen) Hanson of Reedsburg, Brian (Jane) Hanson of La Crosse and Todd (Vickie) Hanson of Sparta; his grandchildren, Heath (Krista) Hanson, Tara (Tony) Scarpone, Melissa (Kurt) Southworth, Isaac (Amanda) Hanson, Clayton (Julie) Hanson, Ben (Erin) Hanson, Emily (Shawn) Gallagher, Kelsey (Justin) Hanson and Tyler (Alora) Hanson; his great-grandchildren, Xander, Micah, Alexa, Kirsten, Alek, Kate, Alayna, Drew, Bennett, Liv, Ellie, Conner, Caleb and Caitlin; his sisters, Betty and Ona; his sister in-law, Eunice; a special family friend, Lynn Jerome; and many other extended family members and friends.
He was preceded in death by his parents, Otto and Nellie; his siblings, Olga, Orbin, Leona, Otto Jr. and Bonnie; his father-in-law, Herman Wacker; his mother-in-law, Lucille Wacker-Schaefer; and his stepfather-in-law, Fred Schaefer.
August's family would like to thank homecare giver Theresa Nichols, Leslie Las and Ann Anderson from the Tomah VA, and the Gundersen Health System staff for all of the wonderful care they provided their father. They treated him with dignity and respect — thank you.
A Mass of Christian Burial will be at 11 a.m. Saturday, May 6, at Sacred Heart Catholic Church in Cashton, Wis. Burial with full military honors will follow in St. Mary's Ridge Catholic Cemetery. Family and friends are invited for visitation Saturday from 8:30 to 11 a.m. at the church.
The Torkelson Funeral Home of Cashton, Wis., is assisting the family with arrangements. Online condolences may be offered at www.torkelsonfuneralhome.com.