Alred "Allie" John Schmitz, 82, of Norwalk, Wis., passed away peacefully Friday, May 19, 2023, at his home.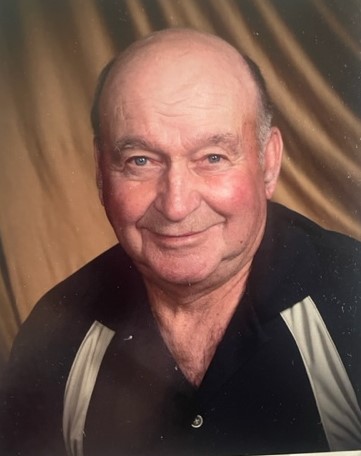 Allie was born April 24, 1941, to Raymond and Frances (Frederick) Schmitz. He was born on the home farm, where he would live and farm for the next 70 years.
After high school, Allie began working in construction with Schroeder's, and then drove a milk truck for Leo's Trucking. Allie still felt a deep kinship with nature and farming on the family farm. Eventually he and his brother, Wally, took over the Schmitz tradition of farming.
In 1977, Grace Brieske took Allie out of bachelorhood. They were married, and to this union, Grace brought two grown children and their families, which meant that he was now a grandpa — and he loved this new title. Allie's world changed from being centered on cows and chores, since there now were large family gatherings and grandchildren's functions to attend. Grace died January 2001, at about the same time that a good friend, Ally Berendes, lost her husband.
Several years later, Allie needed a ride home from a medical appointment. He asked his friend Ally Berendes if she would be able to help. On the ride home, she took a wrong turn, and they ended up in Melvina, stopped for a drink and supper, and then the magic began. Allie and Ally married Jan. 28, 2006, at St. Augustine Catholic Church.
Allie's faith was always steadfast and strong. He was proud of his spiritual roots from the ridge, where he received every sacrament. Faith, farming and family were three driving forces in his world. He shared those values with his grandchildren, showing them what it looked like to have fun, be kind and compassionate, and give freely to others. Allie was a member of many organizations, where he spent countless evenings and weekends helping for the good of others. He was a member of the Norwalk Lions Club and the Catholic Order of Foresters and helped at St. Mary's Catholic Church functions.
But he always held a special place in his heart for farming. He cared for the farm animals as gently as the plants in the fields. At age 70, he retired from the farm. This gave him more time to spend doing important things with family and to begin his new hobby of fishing. Allie may have been as talented a fisherman as he was a farmer. He fished up until his final days with his many loving family members and friends.
Allie's recent days were spent doing what he and Ally loved most, and that was being with each other. They would laugh and have fun taking rides on their side-by-side through the country and stopping for lunch. They found peace and joy simply by going to Mass together, watching their favorite sports on TV, and just being together. He will be missed by many.
Allie is survived by his loving wife of 17 years, Ally; his stepchildren, Kay (Ed) Klinkner, Marian Brieske (step-daughter-in-law), Jeff (Karen) Berendes, Bob (Diane) Berendes, Julie (Bill) Degenhardt, and Dan (Connie) Berendes; his brothers, Wally (Emily) Schmitz and Carlton "Carly" (Lori Kaye) Schmitz; his sister, Anita (Ray) Zimmerman; his grandchildren, Kurt (Nora) Schmitz, Karla (Steve) Nelson, Kenny (Marlus) Schmitz, Kathy Kaiser, Kevin (Amanda) Schmitz, Kristi (Jeff) Schlafer, Doug (Jeanine) Brieske, Steve (Jen) Brieske, Mindy (Derek) Waddell, Miranda (Vince) Turner, Derek (Meghan) Berendes, Nikki Berendes, Jenni Berendes, Paul (Kristi) Berendes, Jon (Kendra) Degenhardt, Joe (Kelly) Degenhardt, Amanda (Jason) Niemeier, Melissa (Sam) Winchel, Megan (Jesse) Haney, Molly (Jovi) Skinner, and Morgan (Grant) Martin; 41 great-grandchildren; 11 great-great-grandchildren; an aunt, Ann (Quinton) Sullivan; along with many other relatives and dear friends.
Allie was preceded in death by his first wife, Grace (Brieske) Schmitz in January 2001; his stepson, Faye "Duke" Brieske; his brother, Dick (Jan) Schmitz; his sister, JoAnn (Leonard) Schreier; and a stepson-in-law, Arnold "Arnie" Schmitz.
A Mass of Christian Burial will be at 11 a.m. Wednesday, May 24, at the Nativity of the Blessed Virgin Mary Catholic Church on St. Mary's Ridge, rural Norwalk, Wis. Burial will follow in the St. Augustine Catholic Cemetery, Norwalk.
Family and friends are invited to the church on Tuesday, May 23, beginning at 3:30 p.m., with rosary, and visitation will follow from 4–7 p.m. Visitation also will be held Wednesday from 10 a.m. until the time of service at the church.
The Torkelson Funeral Home is assisting the family with details. Online condolences may be offered at www.torkelsonfuneralhome.com.