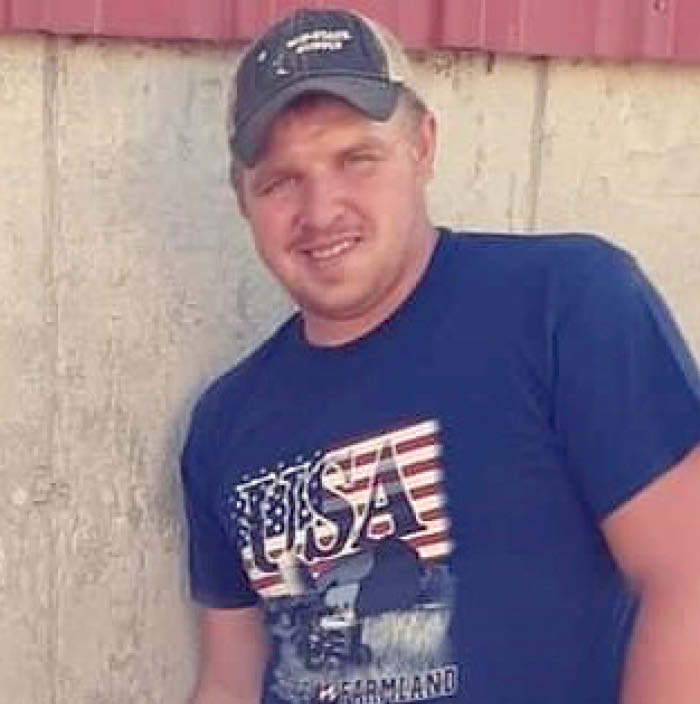 Logan T. Henthorne, 27, of Kendall died Wednesday, Nov. 25, 2020, at his home.

He was born April 24, 1993, to Mark and Betty (Kiel) Henthorne in La Crosse. He was baptized and confirmed at St. John's Evangelical Lutheran Church.

Logan was a member of the Royall High School graduating class of 2011. After high school, he attended Southwest Tech.

In early 2015, Logan purchased the farm down the road from where he had grown up as a place to raise his own family. Logan was united in marriage to Blake Weber on Sept. 26, 2015. He was a proud farmer and loved everything about farming. He was humbly proud to farm with his parents on the family's century-year-old farm, along with farming his own farm. The family was given the 2018 conservation farmer of the year award for land stewardship. It was his dream for him and his family to be able to take over the farm one day.

He was a member of the Kendall Fire Department and looked forward to the Sportsman's Night Out and the Corn and Beer Bust each year and helping anyone in a crisis time when the pager went off.

He worked as the town patrolman for the Town of Glendale. Logan always said he "always had work to do and energy to do it but not enough hours in the day." He always had gloves in his pocket, pliers and utility knife at his side, and a cap on his head. He was the #1 go-to guy, not only for his friends but everyone; he would do anything at any time for anybody. He was a best friend to many. He loved his old flatbed pickup, and he would give a guy the shirt off his back at any moment. He loved tipping back a few Busch Lights with his family and friends.

Above all, Logan was #1 a daddy and family man; he always had trouble sitting in the house unless it was for family time. Logan had the honor of being his Dad's Best Friend. He loved family chores, any kind of field work and gator rides. He would always tell his family, no matter what "it will be okay."

He will be sadly missed by all who knew and loved him.

He is survived by his wife, Blake; a daughter, Leah, and twins Wade and Jada; his parents, Mark (Betty) Henthorne of Kendall; his father-in-law and mother-in-law, Kris (Lori) Weber of Elroy; a grandmother, Bev Weber of Elroy; and many aunts, uncles, cousins, and many friends.

He was preceded in death by his grandparents, Robert "Butch" and Margaret Kiel, Tom and Ellen Henthorne, George Weber, and Robert and Esther Stroetz.

A funeral service will be at 1 p.m. Tuesday, Dec. 1, at St. John's Evangelical Lutheran Church, 297 E. South Railroad St., Kendall. Pastor Larry Neitzel will officiate.

Relatives and friends are invited to the burial, which will be at Millard's Prairie Cemetery on Tuesday at 2 p.m.

Relatives and friends are invited to call at St. John's Evangelical Lutheran Church from 12–4 p.m. and from 7–9 p.m. on Monday, Nov. 30, and from noon until the time of the service on Tuesday, Dec. 1. Online condolences may be sent to www.sonnenburgfamilyfh.com.

The Smith-Nelson Funeral Home is assisting the family with the arrangements.