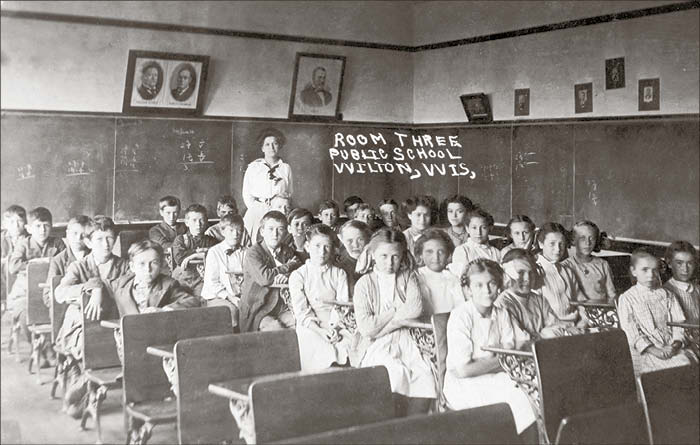 This photo depicts the students in room three in Wilton public schools, date unknown.

Can you offer more information on this photo? Contact the County Line at 337-4232 or [email protected]
Dillon Denter of Kasson, Minn., formerly of Kendall, offered the following insight into this photo.
Although I cannot identify any individuals in the photo from the Sept. 17 paper, I can provide some information on the date of the photo. I am an educator, so I am looking at room decorations to establish the timeline. In those days, it was accustomed to always have the current President/Vice President displayed on the classroom walls.
From what I can see in the background, there are pictures of President William Howard Taft and Vice President James S. Sherman. Their terms in office were from 1909–1913. What is very interesting about VP Sherman is that he was the first VP to fly in an airplane, throw out the first ceremonial pitch at a baseball game and the most recent VP to pass away while in office (1912).
I also believe to the right of them is Ulysses S. Grant. He is a man I admire who unfortunately has been dubbed in recent American history as an afterthought. Over time, Robert E. Lee has been sensationalized as some great military leader, but should rather be seen as a traitor. He was an American soldier in the Mexican-American War who later joined the opposition as he worked for the Confederacy during the Civil War.
It made me happy to see the true Civil War general/president displayed on the classroom wall in Wilton all that time ago who still needs to be regarded as the hero he was and should be given the credit he deserves for trudging through the Civil War and preserving the Union at a very fragile time in history. Our country could definitely use a reminder of his importance as an early civil rights activist throughout his lifetime, such as liberating his own slave early in his life, and the accomplishments he did make not only during his military career, but as president, as well abolishing the KKK in 1873.