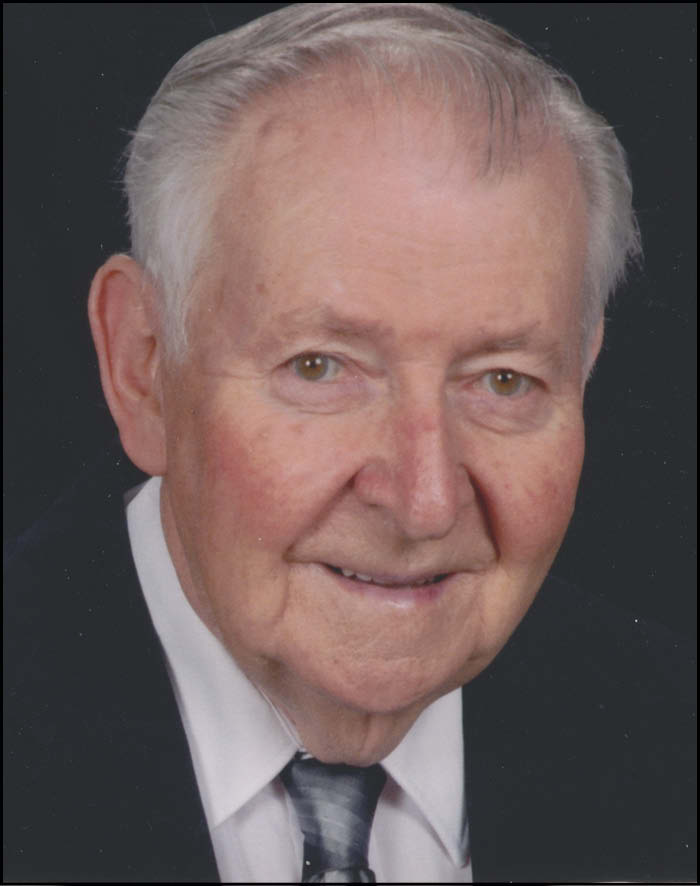 Wayne Woodard went to be with his Lord on Saturday, May 9, 2020, with his loving family at his side.

He was born Dec. 31, 1932, to parents Joseph and Vesta Woodard in La Crosse. He was raised on a farm near Ontario. The farm was located near the Kickapoo River and Wildcat Mountain State Park. What a great place for this lover of the outdoors to be born and raised.
Wayne graduated from Ontario High School. There, he met his wife, Monica (DeWitt). They shared this journey for 66 years and were blessed with three daughters, Tara Sue, Tracy Lynn and Jane Catherine.
Wayne worked at General Motors in Janesville for over 41 years, retiring in 1997. After attending technical school, he worked in the tooling department and received his journeyman status.
He had so many interests and hobbies. He was a lifetime member of the UAW and the National Rifleman's Association, always loving trapping, hunting and fishing from the time of his childhood. He was a ham radio operator and belonged to several shooting clubs in which he was a competitive shooter. Later he decided to polish the skills he had inherited from his grandfather, Sam Woodard, playing bluegrass instruments by ear. He concentrated on the mandolin, loving its mellow tones. He was instrumental in starting the gospel band "Rock River Revival," formerly known as "Woody and the Knot Heads." The band performed often and in many different states. His wife Monica ran sound, and this group of musicians became family to both of them, playing together for over 23 years.
After living in Janesville for over 60 years, Wayne and Monica moved to Rochester, Minn., to be near their children and grandchildren. Wayne was a member of the Roxbury Rd Church of Christ for over 60 years and a member of Hope Summit Christian Church in Rochester for five years.
He loved being a father, taking his girls with him on dirt bike rides, fishing and hunting trips and many other activities. Wayne was a gentle man and loving husband, father and grandfather (he loved being their Bumpa). He is missed by family and many friends.
Wayne was preceded in death by his daughter, Tara; his mother and father; his brother, James (Jim), and his wife, Roxeen Woodard; his sisters and their husbands, Elna and Talmage (Tom) Nottestad and Jeanette and Donald (Don) Ferries; his father-in-law, James DeWitt; his mother-in-law, Hazel Marshall, and his stepfather-in-law, Sam Marshall; his sister-in-law, Patricia (Pat), and her husband, Frank Herrlein; his sisters-in-law, Nancy DeWitt and Inge DeWitt; and his nephews, Mark Nottestad, Frank (Gino) Herrlein and Todd DeWitt.
Wayne is survived by his wife, Monica; his children, Tracy (David) Bruess and Jane (Stephen) Wernimont; his grandchildren, Joel and Joshua Bruess and Stephanie, Jennifer and Addison Wernimont; his brothers-in-law, Ernest (John), Michael (Mike) and James (Jim) DeWitt; one cousin, Gordon Stoddard; and many nieces, nephews and friends.
Memorial services will be Saturday, July 11, at the Roxbury Rd Church of Christ in Janesville, with visitation from 10–11 a.m. and a memorial service following at 11 a.m. with Pastor Jon Grice officiating. Burial will be the following day, July 12, at 1:30 p.m. at Billings Creek Cemetery near Ontario.
The family would like to thank Macken Funeral Home in Rochester for their assistance. Also, thank you to Mayo Hospice Care and the Visiting Angels for the personal and loving care they gave to Wayne. They made it possible for him to stay in his home and be with his family. Now we know he is truly home because of the mercy and grace of our Lord and Savior, Jesus Christ. Thank you, Jesus, for your unspeakable love.
"I Can Only Imagine"
Just think of stepping on shore, and finding it Heaven;
Of touching a hand and finding it God's
Of breathing new air, and finding it celestial
Of waking up in Glory, and finding it home.