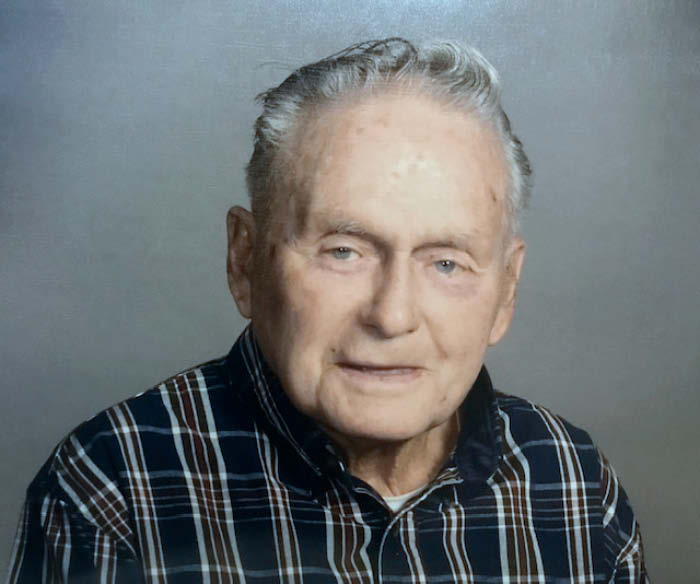 Vernon "Pete" Peterson, 87, of Norwegian Valley Road, rural Ontario, passed away peacefully at home, in the arms of his loving family, Saturday, Jan. 4, 2020.
He was born March 30, 1932, in Whitestown Township, outside of Ontario, to Orvis and Tennie (Hanson) Peterson. He attended O'Connell Grade School and walked 4–5 miles one way to Ontario High School each day. At age 15, he moved to Illinois to work for a former neighbor on a farm. He also worked for National Electronics. He proudly earned enough money to buy his folks a car.
In 1952, Pete moved back to the Ontario area. He worked for Kramer Construction and had to travel all over the state for jobs. He also worked for a while at Bong Airforce Base near Milwaukee. In 1959, he purchased his first farm, which would later be called "The Peterson Leaning Acres Ranch." This also began his career as the Whitestown patrolman.
In 1963, his future in-laws, the Enesses, moved to the township, and their daughter, Esther, visited often from Iowa. Pete asked her out, and the rest is history. On May 16, 1964, one year after their first date, they were married with the understanding that Pete wanted two children and Esther wanted four. They had six.
Pete continued as a patrolman for 36 years; once he retired, he stayed active on the farm right up until his death. He was often called "grader Pete"; also, he was referred to as the "best blade man in the state." Pete was a tinkerer; he could fix anything, even if it took multiple teardowns to get it working again.
He had a hobby of going to auctions. He was always so proud of purchasing a big box of miscellaneous items and telling everyone he got a "good deal." He and Esther enjoyed going to area farm shows and threshing bees. He loved seeing how the new machinery was evolving from the International tractors he was using on his farm.
Pete centered his life on the neighboring Brush Creek Lutheran Church, where he was the groundskeeper and the sexton of the cemetery. He served on the church board for several years and acted as president for a few. He and Esther helped with all of the fundraisers and luncheons. They raised their family in the small rural church, which many of his children and grandchildren still attend.
Pete would say that he lived a blessed life. He had a passion for their farm, international tractors, his Norwegian heritage, auctions, tools, parades, polka music, RFD TV, playing euchre and horseshoes (with his partner in crime, Lawrence Berg) and collecting pens, but his family was his pride and joy. Picnics at their private park, Kubota rides with the grandkids, trips out West, mowing the cemetery, and cutting wood — these were all things that Pete found enjoyable in his life. Working hard and being with family meant the world to Pete, and the world was a better place with him in it.
Pete is survived by his wife of 55 years, Esther; his children, Roger (Sheila) Peterson, Marc (Nancy) Peterson, Scott Peterson, Marlus (Kenny) Schmitz, Michael (Talia) Peterson and Karin (John) Hansen; his grandchildren, Hannah (fiancé Tyler) Peterson, Grant (Lauren) Hansen and their children, Beau, Decklynn and Kenzie, Elijah, Abigail, Jeremiah Gjefle, Caleb Peterson, Mike Kaufmann, Tom (Esther) Peterson, Elizabeth Peterson, Logan, Kelsey, Dan and Anna Peterson, Taylor (Branden) Fleming, Katelyn and Matthew Schmitz, Ezra, Thor, Gideon, Hogun, Iain, and Joshua Peterson, and Karina, Daisy, Brady and Molly Hansen; his sister, Pearl (Bruce) Bauman; his brother, Eugene (Linda) Peterson; and many dear in-laws, nieces, nephews, other relatives and good friends.
Pete was preceded in death by his parents and two brothers, Laverne "Ole" (Connie) Peterson, and Arnold "Tubes" Peterson.
Funeral services will be at 11 a.m. Saturday, Jan. 11, at Brush Creek Lutheran Church in rural Ontario. Burial will follow in the Brush Creek Cemetery. Family and friends are invited for visitation from 4–7 p.m. Friday, Jan. 10, at the Torkelson Funeral Home in Cashton.
It was Pete's desire to have his funeral service at his beloved little Brush Creek Church; unfortunately, it is a small church (not everyone will fit). Therefore, the family is having a celebration of life with lunch immediately following the funeral on Saturday from 12:30 to 3:30 p.m. at the Cashton Community Hall.
In lieu of flowers, Pete's family has requested that memorials be given to Brush Creek Lutheran Church in his memory. Online condolences may be offered at www.torkelsonfuneralhome.com.