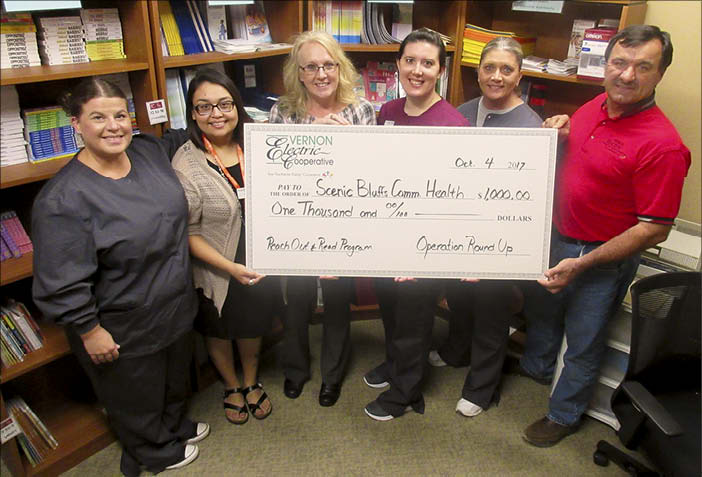 Vernon Electric Cooperative recently awarded Scenic Bluffs Community Health Centers $1,000 toward a dental book program.
This grant, which was awarded through Operation Round Up, will be used to buy books that will be given to children during dental visits. With this award, Scenic Bluffs will be able to purchase the first 300 to 500 books.
Already having a similar program in place in its medical department, Scenic Bluffs wanted to extend this service into the dental department.
"We know the critical importance of access to books and reading to young children, and staff at the health center wanted to extend this amazing resource to our dental patients and their families," said Dr. Julie Domeyer, dental director at Scenic Bluffs. "Children who are not read to in the home can suffer once they enter school, and becoming familiar with books at a young age prepares them for lifelong learning."
Forty-one percent of the health center's patients are children.
Vernon Electric Cooperative's Operation Round Up Trust accumulates and disburses funds for charitable purposes in Vernon Electric's service area. These funds are dispersed to individuals and organizations for food, shelter, clothing, health needs, education and community-oriented projects.
Operation Round Up is a program in which customers volunteer to have their electric bill "rounded up" to the nearest dollar. The change collected from each bill is then donated to the Operation Round-Up Trust Fund to help the local community.
To participate in the Operation Round Up program, check off the Operation Round Up box on your electric bill, or send an email with your account number to [email protected], indicating your wish to join the program. You may opt out of the program at any time.
An independent, nonprofit healthcare provider, Scenic Bluffs offers medical, dental, chiropractic, behavioral health, health education and pharmacy services for patients in Monroe, Vernon, Crawford and La Crosse counties. Scenic Bluffs has health centers in both Cashton and Norwalk, dental services in Viroqua and behavioral health services in Sparta. Scenic Bluffs also maintains Lugar de Reunion, a Hispanic outreach center, in Sparta.