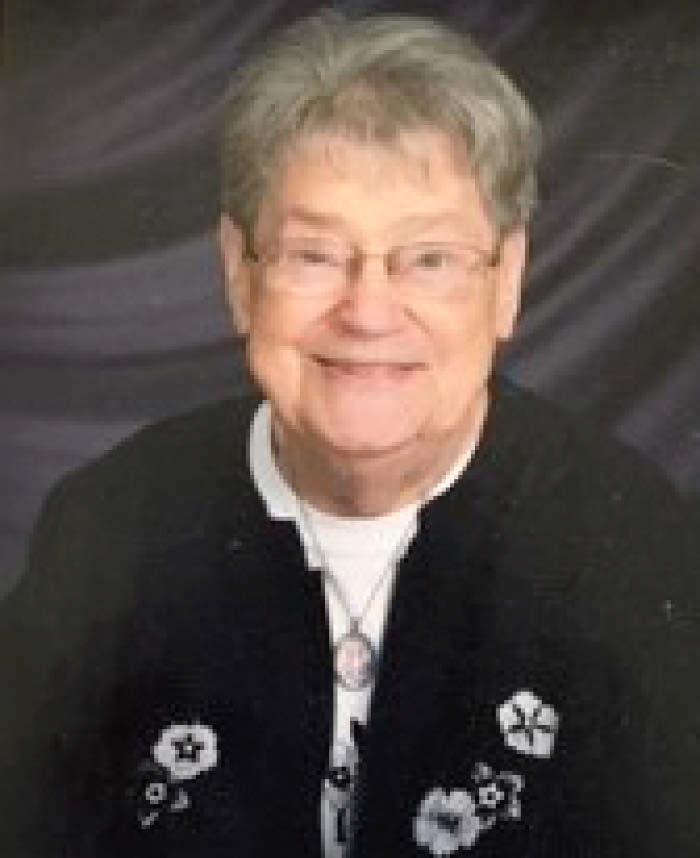 In loving memory of Verna Catherine Doyle:
Verna Catherine Doyle, 88, of rural Wilton joined her beloved husband in heaven Friday, Aug. 2, 2019, after complications of a heart attack while at the Gundersen Lutheran Medical Center.
Verna was born Feb. 6, 1931, in the town of Lemonweier, Juneau County, to Frank and Margaret (Sweeney) Trepes. She was united in marriage to James Doyle on June 6, 1953, at St. Joseph's Catholic Church in Kendall. They were blessed with four wonderful children: Edward, Kay, Kari and Janis.
She attended Waters School, a one-room schoolhouse, and Kendall High School. After high school, she attended Juneau County Teachers Normal in New Lisbon and many years later received her bachelor's degree from the University of Wisconsin-La Crosse.
Verna's passion for teaching began in several one-room schoolhouses — Hofmeister near Hillsboro, Sunny Slope near Kendall, Slabtown and Dorset Valley, both of Wilton, and St. Patrick's in Sparta — and retired after 39 years in the EKW and Royall School District.
Verna followed the example of Jesus in her ability to take care of family, to always have enough food for everyone, even unexpected guests who came at mealtime, and taking care of the precious harvests. She LOVED cooking, baking (especially pies), canning and freezing fruits and vegetables. She treasured all of the times family and friends got together for events. Family events always had some extended family in attendance. Many times, she just smiled as she watched everyone having a good time. We all have many memories of Grandma, especially the mini "Grandma Trips." We will see her in the birds we see that she always watched and all of the beautiful flowers that she loved.
Survivors include her children, Ed (Sherry) Doyle, Kay (Gene) Dougherty and Janis (her friend Michael Miller), all of Wilton, and Kari (Frank) Benish of Elroy; 12 grandchildren, Andy (Madelyn) Doyle and Paul Doyle, Katie (Kelly) Wallace, Michael (Kelly) Dougherty, Geena (Travis) Skowrowski, Mitchel (Kimberly) Benish, Marcia (Zach) Zierke, Mindy (Thomas) Vieth, Matt (Hana) Benish, Max Benish, Justin (Jamie) Adams, and Anthony (Lindsey) Adams; 16 great-grandchildren; her brothers, Francis Trepes and Leo (Karen) Trepes; a sister Margaret Hubele; her sisters-in-law, Pat Taylor and Carrie Doyle; and many nieces, nephews, other relatives and friends.
Verna was preceded in death by her beloved husband of 61 years, Jim; her parents, Frank and Margaret Trepes; a granddaughter, Megan Doyle; her brother, John Trepes; her sisters-in-law, Zelma Trepes and Dorothy Trepes; and a brother-in-law, Fritz Hubele.
A Funeral Mass of Christian Burial will be at 11 a.m. Wednesday, Aug. 7, at St. John the Baptist Catholic Church, 504 Enderby St., Wilton, with an hour of visitation prior to the service. Father John Ofori-Domah will officiate. Burial will be in the church cemetery. 
A parish rosary will be recited at 4 p.m. Tuesday, Aug. 6, at the church, with a visitation to follow until 8 p.m.
The Smith-Nelson Funeral Home is assisting the family with arrangements. Online condolences may be given at www.sonnenburgfamilyfh.com.