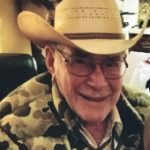 Stacy Raymond Dobbs of Ontario passed away Monday, Jan. 27, 2020, after nearly 92 wonderful, adventure-filled years on this earth. Stacy spent his last days in the home in which he raised his two children, surrounded by his loved ones.
Stacy was born March 12, 1928, in Clinton Township, Wis., to Roy and Dott (Calhoun) Dobbs. The second of four children born to a farming family during the Depression, Stacy learned early on to work hard, make do with the resources at hand, and be content in all circumstances. These lessons served him well throughout his life as a farmer, small-business owner, husband and father. You'd be hard pressed to meet someone less likely to complain or more likely to lend a hand.
In 1947, Stacy married the love of his life, Margie (Worthington) Dobbs. They spent 68 beautiful years together, and their adoration for each other is an inspiration to many. Together they lovingly raised two children, Cindy and Scott. Aside from his family, Stacy's great loves were horses and traveling the country with his camper in tow. He also enjoyed playing old campfire songs on his guitar, hunting and fishing with his brother and friends, and a good game of cards. He was a good man — honest, generous and kind. He liked to joke that you could tell a cowboy's character by the color of his hat. If it was black, he was a bad guy, and if it was white, he was a good guy. If that were true, Stacy's hat would be the whitest of white. He will be missed by many.
Stacy was preceded in death by infant sister, Donna May; his parents, Roy and Dott; his brother, Lavern; his grandson, Joel; and his wife, Margie.
He is survived by his loving children, Cindy Bjerkos of Eau Claire and Scott (Sue) Dobbs of Ontario; his granddaughters, Miriah (Nate) Noble of Minneapolis, Sierra (August) Hagen of Ontario and Noel (Danny) Koeller of Ontario; six great-granddaughters; a brother, Larry (Pat) Dobbs of Ontario; his caretaker and nephew, Bodie Dobbs of Ontario; and other special nephews, nieces, in-laws, cousins and dear friends.
Funeral services will be at 12 p.m. Saturday, Feb. 1, at Grace Community Church in Ontario. Pastor Bruce Milleman will officiate. Burial will follow in Hilltop Rest Cemetery in Ontario. Family and friends are invited for visitation Saturday from 10:00 a.m. until the time of service at the church.
Online condolences may be offered at www.torkelsonfuneralhome.com.
The Torkelson Funeral Home of Ontario is assisting the family with arrangements.