Shirley A. (Schmitz) Collins, 86, of Janesville passed away at home Tuesday, Aug. 17, 2021. She was born in Ontario on May 7, 1935, the daughter of George and Helen (Sullivan) Schmitz. Shirley attended Ontario High School, where she was a cheerleader, played the cornet in the band, and was a school choir member. Ontario High School is also where she met the love of her life, Robert "Bob" Collins. She married Bob on Sept. 28, 1954. Shirley and Bob were happily married for over 50 years, until Bob's passing in 2005.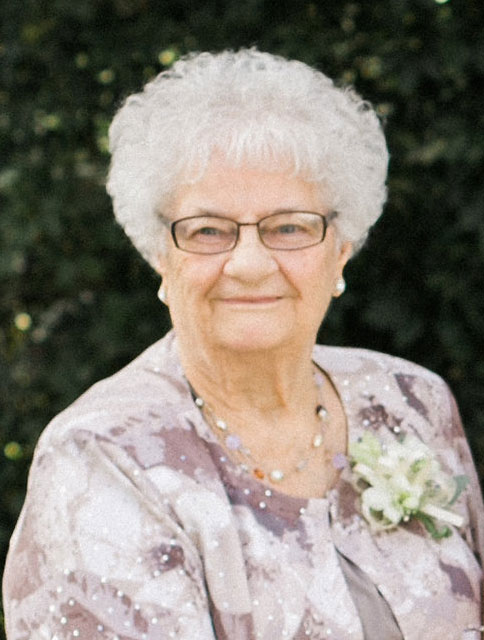 Bob and Shirley moved to Janesville in 1954, building their home, family and countless memories together. Shirley took pride in raising their growing family and was a homemaker until all of their eight children were in school. There are many memories of packing up the whole family and venturing to the park, playing games together, being active in Cub and Boy Scouts, and watching all of the kids' sporting events — and there were many! Shirley went on to work at the courthouse in Elkhorn for many years until finding a housekeeping job at Cedar Crest Retirement Home in Janesville. She worked there for 32 years and made lifelong friends. A hard worker, Shirley made it well known that she only called in sick a few times in all those years!
After retirement, Shirley enjoyed being involved with the church and volunteering in the community. A woman of strong faith, she was dedicated to her beliefs and was an active member of St. John Vianney and St. Patrick Catholic Church. She enjoyed singing in the choir, helped deliver Meals on Wheels, made baked goods for the homeless shelter, and took part in many other activities. In addition, Shirley also served on the board for the Women's Spirit Club for six years.
It's well known that Shirley loved her hair appointments and a good game of bingo at the senior center. She always knew what time it was if it was a salon day or a bingo night — she'd never be a minute late! Shirley enjoyed the special lunches and trips with her friends from the senior center and always looked forward to a new lunch spot to check out with the group. But her favorite hobby was watching her team, the Milwaukee Brewers. She never missed a game on TV, even if she might have dozed off during part of it. She'd be the first to tell you when they did well and certainly let it be known when they didn't.
Shirley was a kind, giving person whose caring presence was evident the moment you had the opportunity to talk with her. In fact, connecting with friends and family was her top priority. Holidays, birthdays, and family reunions were mandatory attendance events if you were in the Collins family (no sick days allowed). And she was always excited to catch up with a quick phone call to see how you were doing, especially when it was from one of her grandchildren. Shirley loved to attend school programs, celebrations, sporting events, or just spending time with her grandchildren and great-grandchildren whenever she could and made a lasting impact on their lives. She will be dearly missed, but we are so grateful for the memories we had with her.
She is survived by her three daughters, Brenda (Carl) Christian of Racine, Wis., Jeanne (Peter) Anathan of Waukesha, Wis., and Wanda Heyerdahl of Janesville; four sons, Ivan (Joyce Danielson) Collins of Janesville, Michael (Barb) Collins of Janesville, Gary (Lisa) Collins of Waldo, Wis., and Dale (Rhonda) Collins of Lake Tomahawk, Wis.; 17 grandchildren, Cory Webb, Chad (Jodi) Christian, Justin (Hannah) Collins, Tyler (Amber) Collins, Amber (Andrew) Hatleback, Andrea (A.J.) Cirilli, Nicholas (Kylee) Heyerdahl, Shelly (Cory) Besch, Jade (Bob) Hanus, Ashlie (Kevin) Downing, Jason Collins, Brandon (Kara) Danielson, Stacy (Chad) Sullivan, Kelly (Ray) Risch, Deb Heyerdahl, Bruce (Yvonne) Heyerdahl, and Darci Pitkin; 21 great-grandchildren; six sisters, Leona (Bill) Jantz of Eau Claire, Joan (Richard) Pastula of Janesville, Karen DeWitt of Ontario, Jeanice (Al) Gabardi of Brookfield, Wis., Bernadette (Bob) Dagget of Cambridge, Wis., and Dolores (Rick) Ellinger of Janesville; two brothers, Gerald (Jeanette) Schmitz of Hartford, Wis., and Richard Schmitz of Janesville; and many nieces and nephews.
She was preceded in death by her husband, Robert; her parents; her son, Randy; her daughter, Katherine; her grandson, Jason Eckert; her great-granddaughter, Alexis Christian; and her son-in-law, Gordon Heyerdahl.
A Mass of Christian burial will be celebrated at 11 a.m. Monday, Aug. 23, at St. Patrick Catholic Church, with Fr. Drew Olson officiating. Burial will follow in Mount Olivet Cemetery. A visitation will be from 10 a.m. until the time of Mass on Monday at the church. The family will make a memorial to St. Patrick Catholic Church in Shirley's name. Schneider Funeral Home & Crematory is assisting the family. For online condolences and a guestbook, please visit: www.schneiderfuneraldirectors.com.