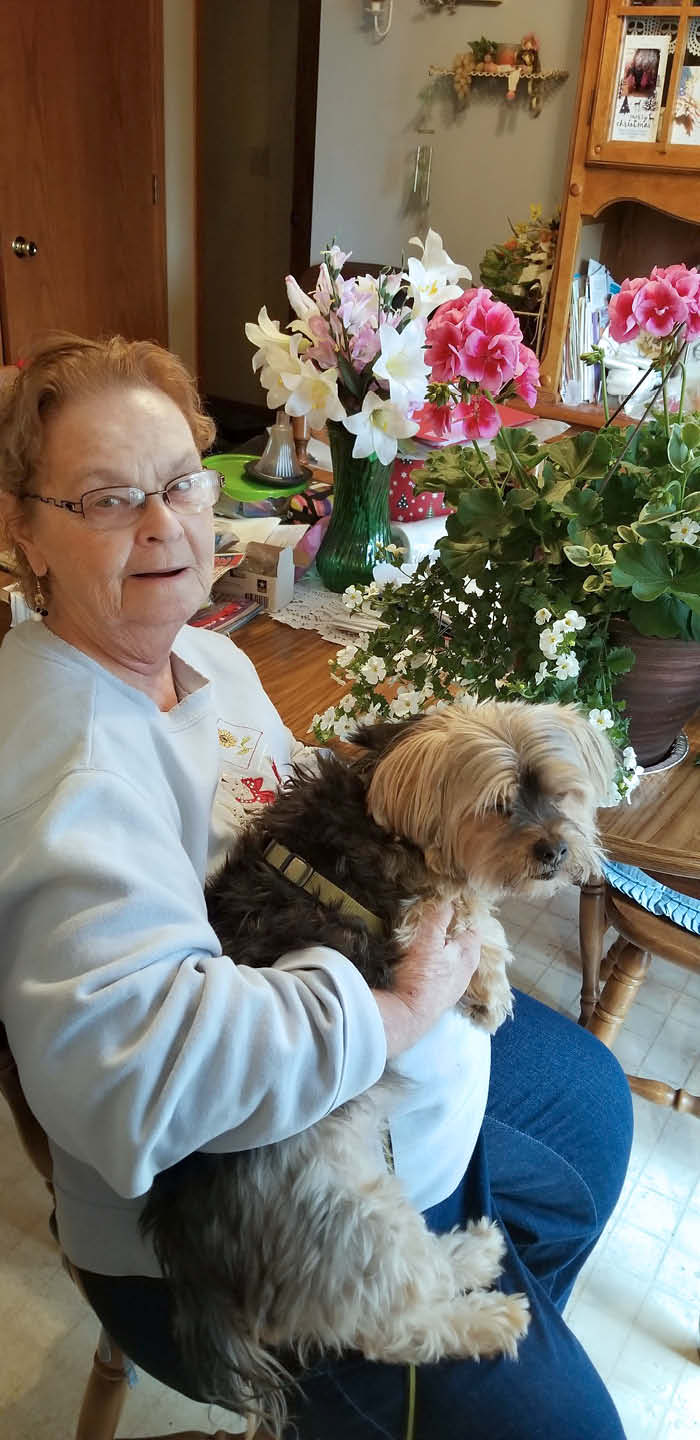 Sharron Lea Neitzel of Kendall passed away peacefully Thursday, Oct. 1, 2020, at Gundersen Lutheran Hospital in La Crosse at the age of 82 years, eight months, 30,211 spins around the sun.

Sharron was born to Frank and Ethel Benjamin on Jan. 15, 1938. She was the middle of three children and the only girl. She was a proud Kendall Mustang, graduating from the Kendall High School in May 1956. She married her high school sweetheart George Neitzel on June 25, 1955, and recently celebrated 65 years of marriage.
Sharron was the mother to four children and a homemaker while they went through school, and she later started working as a CNA for Tomah Memorial Hospital and Heritage Manor Nursing Home. She worked for Ho-Chunk Gaming and Casino in Wisconsin Dells as security and EMT.
For many years, she was an active participant with the Kendall holiday craft fairs. She founded Sheri's Shop, which created and sold plaster crafts and more. Sharron loved ceramics, woodworking, leather tooling, painting, and many other arts and crafts. She was gifted musically and played the cornet, accordion, organ and piano. She enjoyed sewing, quilting, playing cards, country music and the occasional polka. She loved to travel and heading to Canada with her husband and family for 53 summers of fishing. Lunch island will never be the same without her. She took up 3D archery, being a member of the Kendall Archery Club and Wilton Rod and Gun Club.
Sharron was an active member of the Kendall Area Ambulance Service and EMT for 37 years starting in 1971. She was an instructor of first aid and CPR classes, regularly helping Monroe County with mock disaster training by staging scenes to help prepare emergency responders.
She also enjoyed spending summer days at her family cottage, time outside, riding her motorcycle and DIY. She never missed an episode of "As the World Turns" or "Wheel of Fortune." Sharron's love of bowling started in the 1960s and continued throughout her life. She participated in league bowling until early 2020.
She loved her family more than life itself; holidays brought out her pie baking and candy making. She prepared a dinner no one would go away hungry from, and don't forget the rutabagas. Christmas was always her favorite time of the year, bringing all of the family back home to fill the house she so loved. She was the family historian and storyteller, being blessed with the GIFT of gab.
She was an active and faithful member of St. John's Lutheran Church in Kendall, where she enjoyed Sunday services and movie nights. Covid couldn't touch this spitfire; she went out on her own terms and will be greatly missed by her family.
She is survived by her husband, George; her daughters, Deborah Dopson-Kienast (Stanley) of Lawson, Mo., Teri Parrish (Gary) of Brodhead, Wis., and LeAnn Steinbrink (Randy aka "Hotdog") of Wilton; her son, Jerry Neitzel (Kathy) of Fitchburg, Wis.; her grandchildren, Tina Parrish (Mark) of Beloit, Jennifer Dopson (David) of Tomah, Josh Parrish (Trisha) of Brodhead, Wis., Candace Steinbrink (Andy) of Tomah, Matthew Neitzel (Kelly) of Big Flats, Wis., Christopher Steinbrink (Morgan) of La Crosse, and Duane Neitzel of Iowa; her step-grandchildren, Tracy Kienast, Kristy Sibell, and Shawn Kienast; her great-grandchildren, Gia Cladwell-Debuque, Damon Parrish, Andrew, Logan, Annabelle, Haley Jane, Kylee and Leroy Olson, and Matthew Jr., Landyn, Gracelynn, and Aubreighanna Neitzel; her beloved grand-pups; 12 step-great-grandchildren; and many other family members.
She was preceded in death by her parents; her brothers, Harold (Vonnie) Benjamin and Lee Benjamin; her aunt, Hazel Stehr; her brother-in-law, Alfred Stehr; her mother-in-law, Irene (Murray-Johnson) Neitzel; her father-in-law, Erwin Neitzel; and her brother-in-law, Erwin Neitzel Jr.
Celebration-of-life arrangements will be announced at a later date due to the Covid-19 pandemic. Cards can be sent on behalf of the "Neitzel family" to the Sonnenburg Family Funeral Home, P.O. Box 762, Tomah, WI 54660. Online condolences may be given at www.sonnenburgfamilyfh.com.