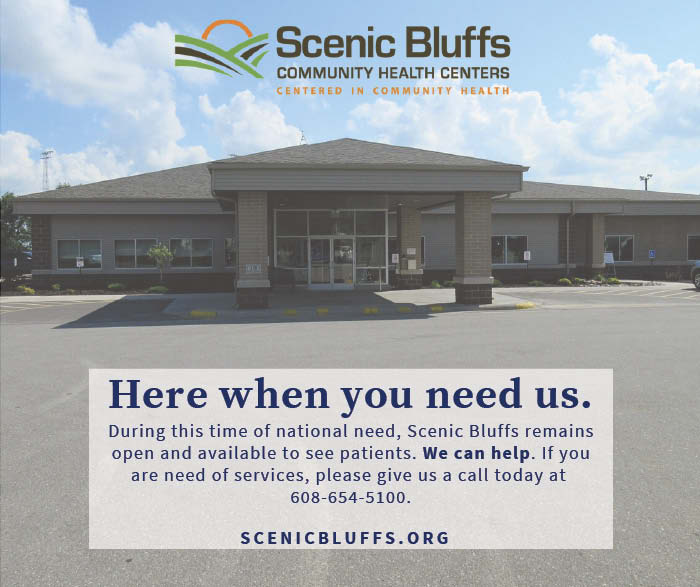 During this time of need, many may be looking for community resources and information that can help.

Scenic Bluffs Community Health Centers has three Patient Access Coordinators, known as our help team, who can assist individuals with community resources. The help team is available to all individuals regardless if they are a patient of the Health Center or not. Services the help team can assist with include information on FoodShare, housing, energy assistance, insurance and local community resource agencies. Below is some information that may be helpful to those looking for assistance during this time.

Information on payment assistance

If you are unable to make your monthly payments on bills due to loss of income during COVID-19, the most important thing to do is call and discuss your options with the servicing company. This applies to home/auto loans, rent, utility bills and other similar bills that are due. Couleecap Inc. is offering assistance to residences in Monroe, Crawford, Vernon and La Crosse counties at this time. For more information, or to see if you qualify, visit www.couleecap.org.

Information on food resources

If you are facing food insecurity, please know that local food pantries are still open and available. Most pantries have curbside service and are asking that you call ahead, as many are operating on different hours of operation at this time. Your local Aging and Disability Resource Center (ADRC) is still making meals for seniors that can be arranged for curbside pick-up or delivery. Schools in our area also are providing meals to kids as needed. For contact information on local food resources closest to you, please contact our Help Team at 608-654-5100 extension 232.

Information on health insurance

If you are facing unemployment, you may have questions about health insurance. Scenic Bluffs' Help Team members can assist you by phone with a Badgercare or Marketplace application. You can also access these applications at www.healthcare.gov. Insurance is based on family size and income. If you are currently without insurance and feel that you are experiencing COVID-19 symptoms, please call your healthcare provider. The call is free, and the test is free with or without insurance.

This is an ever-changing situation, and new resources, regulations and guidelines are available daily. For additional questions or for more information on local resources that can help, please contact the help team at Scenic Bluffs at (608) 654-5100, ext. 232. Services are available in English and Spanish.