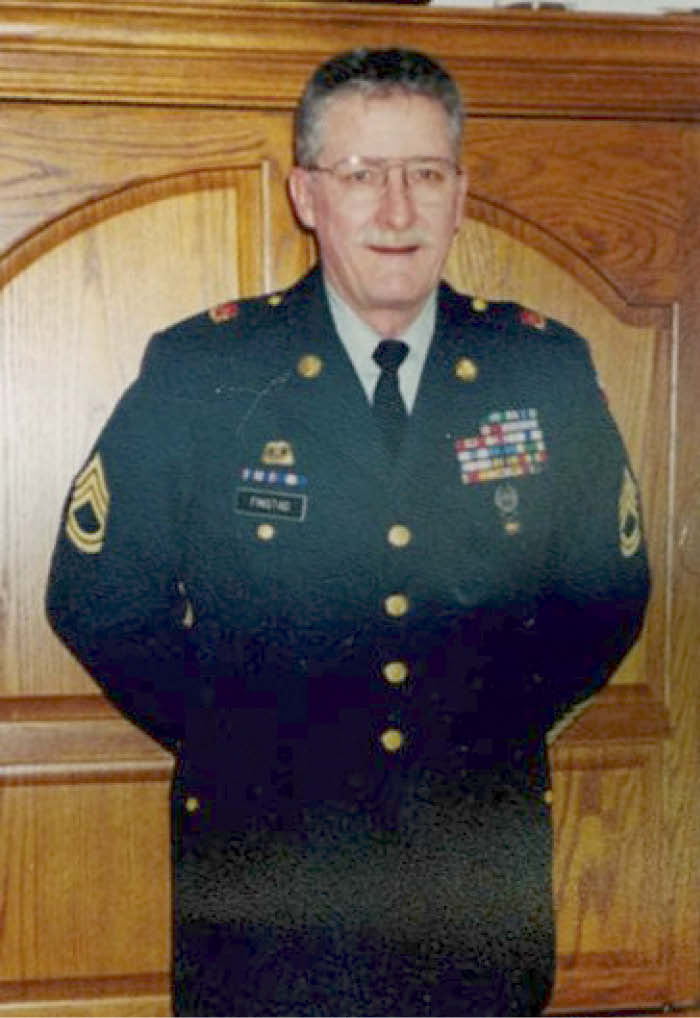 Ronald "Finni" Owen Finstad, 74, of Wilton passed away Nov. 8, 2019, at the Department of Veterans Affairs Medical Center in Tomah.
He was born March 31, 1945, along with his twin sister, Judith Ann Finstad, to Owen Edgar and Lorraine Mildred (Anderson) Finstad in Mountain Lake, Minn., and raised on the family farm in Bergen, Minn. Ron graduated from Windom High School in 1963. Upon graduation, he joined the Air Force. After his tour of service in Pakistan and Scotland, he attended the Brown Institute of Broadcasting. He was a radio announcer in Sheldon, Iowa, and later Fort Morgan, Colo. He and his family returned to Windom in 1973, and he began his career with Toro. In 1979, he transferred to Toro in Tomah. He later joined the Wisconsin National Guard full time until his retirement. On Aug. 31, 2002, Ron was united in marriage to Carolyn M. Pasch.
Ron loved his Pittsburg Steelers and Louis L 'Amour westerns and always had a love of music. He loved working in the garden and raising flowers, doing crossword puzzles and especially enjoyed babysitting his grandchildren.  
He was a member of the Hanson-Stark-Leith-Paeth American Legion Post 508 of Wilton and a faithful and devoted member of Grace Community Church in Ontario.
He is survived by his wife, Carol Finstad of Wilton; his daughters, Krista (Paul) Hason of Minneapolis, and Anje (Kevin) Schmitz of Sparta; seven stepchildren, Angela (Tim) Borchert, John (Dolly) Joseph, Ginger Joseph, Jason Joseph, Matthew (Adrianne) Joseph, Mark (Amber) Joseph, and Luke (Mary) Joseph; 26 grandchildren; one great-grandchild; brother, a Travis (Madaly) Finstad; and a sister, Marsha (Mark) Humphreys. He is further survived by a large extended family, brothers-in-law, sisters-in-law, countless nieces, nephews, other relatives and many dear friends.
He was preceded in death by his parents; a son, Jason Dean Finstad; his oldest brother and his spouse, Larry and Judy Finstad; his twin sister, Judy Payne; and two brothers-in-law, David Faulkner and Harley Hicks.  
Funeral services will be at 11 a.m. Tuesday, Nov. 12, at Grace Community Church, 100 Monroe St., Ontario. Pastor Bruce A. Milleman will officiate. He will be laid to rest in Dorset Valley Cemetery, with military honors by the Hanson-Stark-Leith-Paeth American Legion Post 508. Relatives and friends are invited for a time of visitation on Tuesday at the church from 9:30 a.m. until the time of the service. The Smith-Nelson Funeral Home is assisting the family with arrangements. Online condolences may be given at www.sonnenburgfamilyfh.com.
The Finstad family would like to thank the staff at the Tomah VA for the excellent care that was given to Ron during his stay there.