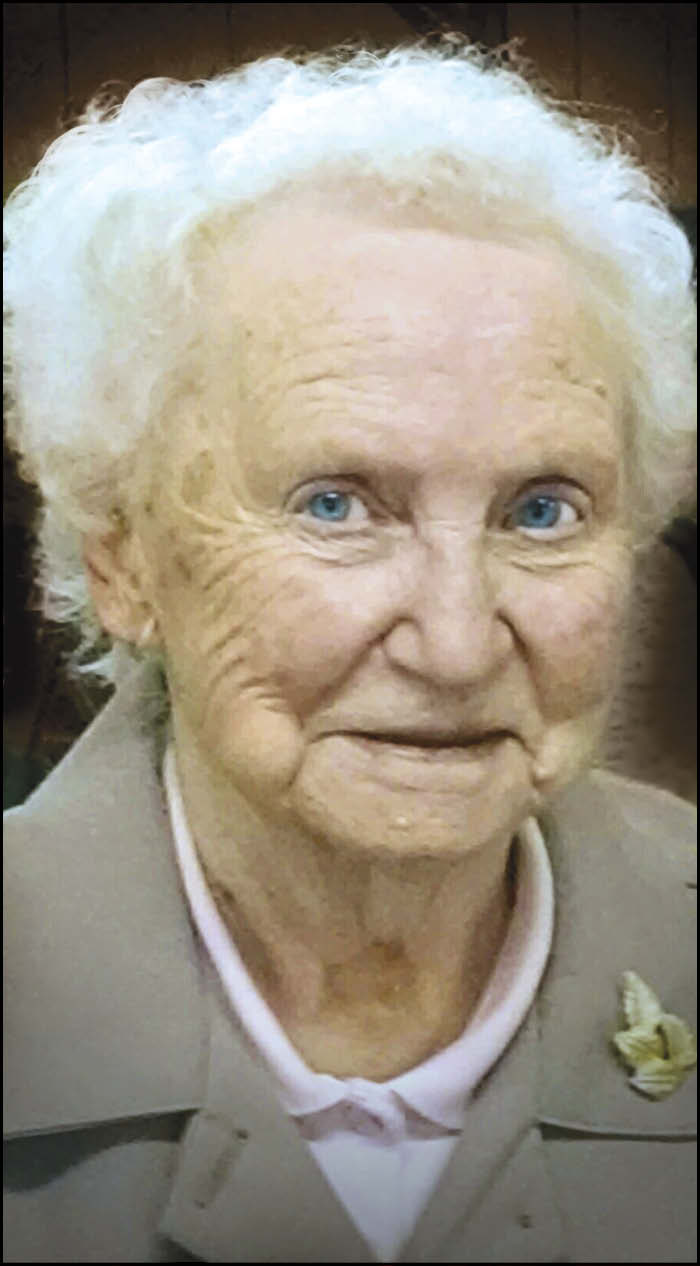 Rita E. Berendes, 99, of Norwalk passed away peacefully at Bethany Saint Joseph Care Center in La Crosse on Saturday, July 11, 2020.

ita was born Nov. 28, 1920, to Leo and Rose (Steinhoff) Kappeler on Summit Ridge in rural Norwalk. She was baptized at St. John's Summit Catholic Church on Summit Ridge. She was united in holy matrimony to Richard S. Berendes on May 28, 1945, at the same church.
Rich and Rita lived three years on Summit Ridge, and then moved to Norwalk, where they lived together until Rich died on April 18, 1996. Rita continued to live in this home until she moved to Bethany St. Joseph (BSJ) in August 2017. Until her dying day, it was well known that it was Rita's strong desire to return to her beloved home in Norwalk.
Rita was an excellent and organized homemaker. She was known for her pumpkin bars, angel food cake, scalloped potatoes, ground-cherry pie, rhubarb upside-down cake, canned beef, and popcorn. She creatively decorated their home "on a dime." She loved to hold and scour rummage sales.
She was a talented seamstress, able to make clothing and costumes, mend and make alterations. She made many sewn quilts of a variety of patterns and with appliques. Two of Rita's grandsons treasure the quilt she made each of them from squares of Grandpa Rich's flannel shirts. She included the pockets of the shirts as a square and tucked a bill in the pockets for an extra surprise. One of the quilts is being restored at this time.
She loved making, selling and giving to her granddaughter hundreds of creative Barbie Doll clothes, including elegant bridal dresses complete with accessories. She was strongly vocally dismissive to any suggestion that she switch to making Cabbage Patch Doll clothes. She thought they were UGLY!
Rita was a skilled vegetable gardener and grew rhubarb and raspberries. She fed her family from her bounty year-round. When her family was young, she supervised the evening milking of five cows and managing the Pickle Patch.
In her later life, she patiently made friends with many wild cats. She made special friends with one she named "Bill," who eventually not only won her heart, but also was allowed all the way into her house AND into the living room, where the two of them would happily sit together. Cat-themed EVERYTHING became go-to gifts for any occasion. At her time at BSJ, a mechanical cat gave her much comfort during her days and nights.
Christmas was hands-down her favorite holiday, especially with the magic of Santa. She had a sizable collection of varied Santas received from family and friends. She was known by her family for her decorated cutouts and gingerbread-men cookies. She twinkled with excitement and anticipation when opening her gifts. She would keep her Christmas tree up until February, as "it would be sad when it was down."
Her grandchildren, Kelly, John, Chuck and Gabe, fondly remember staying with Grandpa Rich and Grandma Rita and learning MANY things from each of them during their childhoods.
Rita LOVED the challenge of getting into a game of Euchre, Sheepshead or Auction at home and at community gatherings. One year, it was even a Lenten activity for the family.
Once Rita moved to BSJ, her daughter Sue and her husband Jack Horsfall visited often and tried in many ways to help her adjust. On various occasions, Sue would bring her granddaughters, Maddie and Amelia, to visit. Maddie played her violin, and both girls gifted great-grandma with their handmade cards.
Rita is survived by her children, Richard "Ron" "Dick" (Pat) Berendes of La Crosse, Sue (Jack) Horsfall of La Crosse and Mike Berendes of Norwalk; her grandchildren, Kelly (Jim) Fox, John (Lori) Horsfall, Chuck (Polly) Berendes and Gabe (Annie) Berendes; and her great-grandchildren, Katie, Olivia, Taylor, Maddie, Amelia, Charlotte, Louie, Hank, Eddie and Benet. She is further survived by many dear nieces and nephews, some of whom are very close to her age. Rita has outlived all other close relatives. She has treasured friends who remain in Norwalk.
Rita was preceded in death by her husband, Richard, on April 18, 1996; by her sisters, Justina Kruk, Margaret Rapp, Mildred Brueggen and Rosemary Kroeger; and her brother, Ronald Kappeler.
A private Mass of Christian Burial will be held Friday, July 17, 2020, at St. John Summit Ridge for children, grandchildren and great-grandchildren.
Memorials may be given in Rita's name to St. John's Summit, St. Augustine Catholic Church in Norwalk, Bethany St. Joseph Care Center or the Monroe County Humane Society.
The Torkelson Page-Smith Funeral Home of Sparta is assisting the family with arrangements, and online condolences may be offered at www.torkelsonfuneralhome.com.