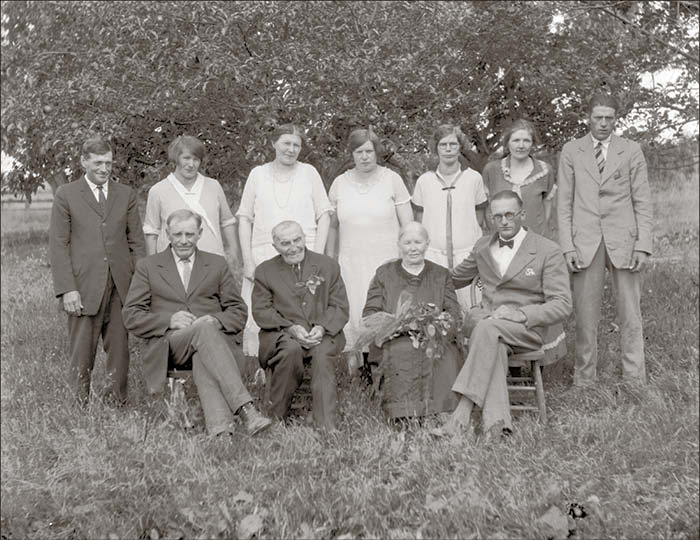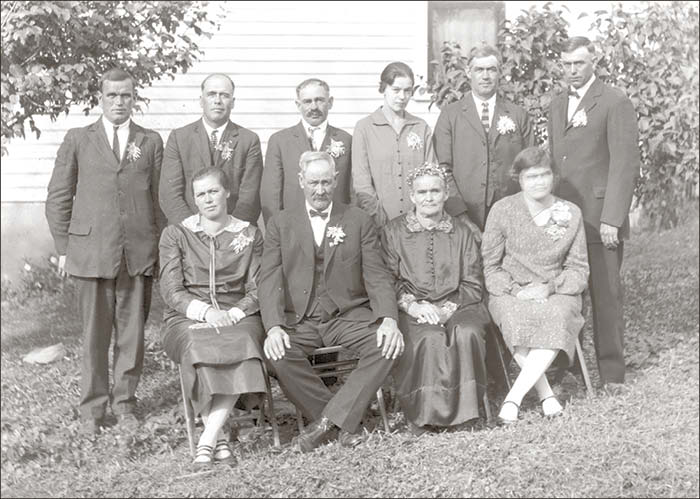 These two photos were found among the late Herbert Anderson's collection. Herbert Anderson, who lived from 1897–1989, worked as a photographer in Wilton, chronicling life in the village in the first half of the century. He also farmed in the town of Wellington, plus he was a beekeeper for decades.
The County Line has gleaned the following information about these two 1930s-era family photos, which appeared in the Sept. 10 issue.
In the top photo, the man in back, far left, is Fred Schaefer of Ridgeville, according to his grandson, Alfred Hyatt of Tomah. Fred married Margaret Nauman, and they had eight children, including Alfred's mother, the late Minnie (Glyn) Hyatt of Norwalk.
In front are Fred's brothers, Adolph and Ernest, sitting next to their parents, Ernst and Wilhelmina (Genske) Schaefer, both of whom were born in Germany.
Hyatt was uncertain of the names of those in the back row, though two of the sisters' names were Tilda and Lizzie.
Bertha Geier is the last surviving child of Fred Schaefer, Hyatt noted.
♦ ♦ ♦
The second photo shows the family of Ludwig and Matilda (Schmaltz) Birkholz, according to information provided by Alice Brandau of rural Wilton.
As a young couple, the Birkholzes came to America from Germany in 1882 and farmed in the town of Ridgeville. Ludwig died at age 82 in 1938; and Matilda, at age 86 in 1943. In the front row, left to right, are daughter Minnie, who married Henry Brandau Sr.; Ludwig and Matilda; and daughter Emma (George) Kiefer of Sparta.
Though Alice did not know the names of each of the Birkholz brothers in the back row, she noted that the young woman is her mother-in-law, Anna Birkholz, who married Rudolph Brandau. (The two Birkholz sisters married Brandau brothers.) Alice's late husband, Robert, was their son.
Matilda Birkholz was preceded in death by three sons, William, Herman and Albert, and two daughters, Amelia and Minnie. She was survived by three sons, Gust of Shirley, Mont., Edward of Cashton, and Louie of Wisconsin Dells, along with daughters Anna and Emma.
In 1943, Minnie Brandau died suddenly while visiting her grandson's family. The next day, her mother, Matilda, had a stroke and died the following afternoon. Both Minnie and Matilda were buried on the same day: Matilda at in St. Paul's Lutheran Cemetery in Wilton, and Minnie at St. Matthew's Lutheran Cemetery on South Ridge.