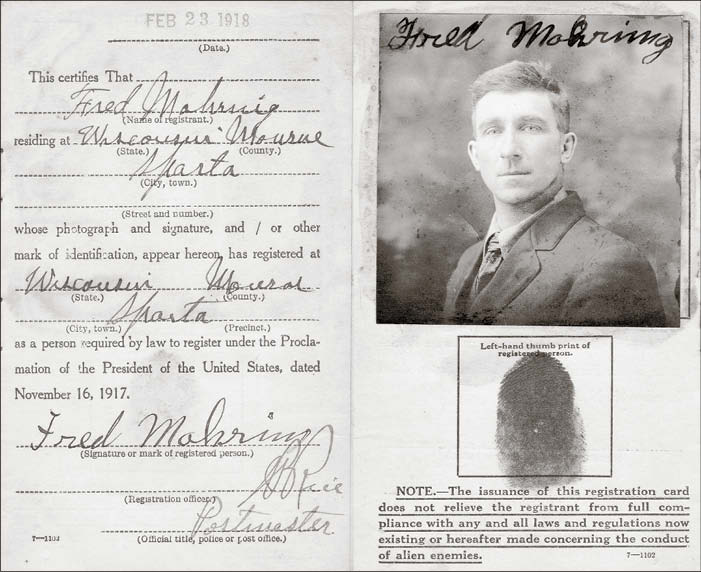 By ADAM BALZ
Monroe County Local History Room Volunteer Researcher
Author's note: The United States is recognizing the centennial of its involvement in World War I (April 1917 until the armistice on Nov. 11, 1918). Both the Sparta and Tomah National Guard companies were ordered to federal active duty as rifle companies in the 128th Infantry Regiment of the 32nd Infantry Division. Hundreds of county residents served in the armed forces during the war, and 41 died while in the service. Countless others supported the nation's war effort at home.
Between now and Veterans Day, the Monroe County Local History Room will partner with this newspaper to publish transcriptions of letters written by Monroe County soldiers while serving in Europe during World War I. We will also share articles about what life was like for those living in Monroe County during the war and exploring the topic of anti-German sentiment during World War I. These letters and stories are intended to help us better understand what it was like for Monroe County residents to endure the "war to end war," whether on the front lines or on the home front.
On the night of Sunday, Oct. 6, 1918, a small group of Tomah residents entered the local high school and began removing books. They did not choose haphazardly; in fact, they had come for a specific kind of book, and they had little difficulty finding them. Once located, these books were carried a few blocks east and piled in front of City Hall, where they would soon be set on fire.
The books that were taken in the dark of night were not illicit materials. They did not teach controversial topics, promote hateful ideas, or bear the name of disreputable authors. They were nothing more than textbooks used to teach students how to speak and write in German.
The men who gathered these books were not criminals. In fact, they were all prominent members of the community. Among them was an attorney named Frank Hebert; a real estate broker named C.W. Croty; Royal Kilmer, who had recently returned from the war; and W.B. Naylor, aformer district attorney who had since become Assistant Secretary of State. That night, all four men delivered speeches to hundreds of Tomah residents, the books smoldering nearby. No one attempted to stop the bonfire. In fact, the school board itself had removed German language classes months earlier, and the crowd had been summoned by the fire station's own bells and whistles. After it was over, a telegram was dispatched to General John Pershing himself, announcing with pride that the citizens of Tomah were "backing you and your men to the finish. Bonfire tonight of German textbooks."
What's more, other school districts around the county as well as the state and country had already organized similar bonfires, often turning them into major social events. The citizens of Sparta had conducted their own book burning on July 4, weaving the event into their holiday festivities.
Bonfires such as these were just one example of the anti-German sentiment raging throughout the country during World War I. Even states like Wisconsin, with its high German population, was not immune from such rhetoric, which just as often targeted people as objects.
What's more, the U.S. government's focus on loyalty and patriotism soon turned neighbor against neighbor. The Espionage Act of 1917, followed by the Sedition Act of 1918, made any negative statement about the government, the war effort, or the military a punishable offense. Soon, county newspapers began featuring stories of residents being arrested, and even jailed, for expressing unpopular opinions.
In the summer of 1917, an arrest warrant was issued for Theodore Bergman, a Sparta cigar maker. According to newspaper accounts, his crime was simple: he had circulated a petition against the military draft. Though the petition bore only 12 signatures, one local newspaper saw it as the work of "German-financed propagandists and their bloody brothers, the Socialist party." Bergman responded that he was exercising his Constitutional rights, but the newspaper nevertheless called his action "traitorous."
In early 1918, a travelling salesman accused Mrs. William Gossfeld, the wife of a Sparta baker, of making disloyal statements. The couple submitted a letter to the local newspaper challenging the accusation, saying her remarks had been "misconstrued" and that both of them "are and always have been true and loyal Americans, who are willing to comply to all requests which our country may ask as an aid in the present war."
By 1918, federal law required all "aliens" to register with their local postmaster. As part of this process, they signed statements of loyalty, gave their fingerprints, and provided officials with four photographs of themselves bearing their signatures. They were then asked to return 10 days later to pick up a registration card.
Failing to register brought severe penalties. Julius H. Utke, owner of the Hub Saloon in Tomah, saw his business closed after a federal agent arrived in town and discovered that he had not registered. Even though Utke had become a naturalized citizen in 1890, almost 30 years earlier, he had to register with the postmaster and be given a card.
A few months later, Rudolph Wolfgram of Sparta was arrested by a U.S. deputy marshal when he refused to register, despite repeated warnings. He was taken to Madison, where he was imprisoned without a trial for the remainder of the war.
By the summer of 1918, school boards began removing German classes offered in their schools, replacing them with French classes. In Sparta, board member Fred Holden, whose son William was serving in Europe, issued a statement decrying German textbooks as "propaganda designed to capture the schools of many lands." But anti-German sentiment came to a head on the night of Oct. 6, when residents of Tomah watched books burn. Passions were high. Soon, a cry went up in the crowd demanding that German books in the local parish schools be added to the fire. Frank Hebert calmed the crowd by reminding them that, unlike public school books, parish books were private property.
Two weeks later, the German Lutheran parochial school in Tomah was vandalized with yellow paint. The community's reaction was swift, and one newspaper placed the blame on an "overzealous gang of youths who do not like the German language." The culprits were never identified.
Soon after the armistice was declared, bringing the war to an end. Other than an article or two on those who refused to buy Liberty Loans, the issue of loyalty and patriotism disappeared from newspapers.
Ten years later, in 1928, the Sparta School District announced that it would replace its French language classes. Once again, its schools would offer German.
Author's note: Learn more about life during World War I by visiting www.MonroeCountyHistory.org.