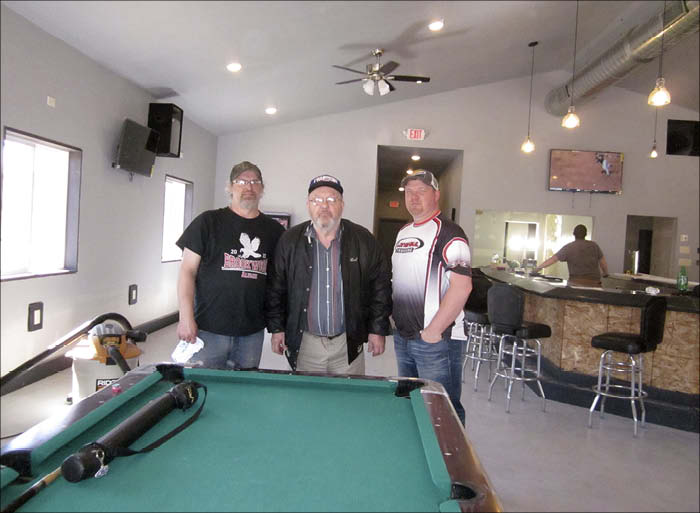 March 29 was one year to the day that The Place in Norwalk burst into flame and disappeared in a spectacular inferno.
Although the Cunitz family, the owners of the tavern, were ambivalent for some time, they did decide to rebuild. The project has caught the attention of many and is one of the few pieces of good news in the small villages.
Although no exact date has been set, it is expected the business will be ready to reopen within the next month.
Bobby Cunitz said it will take some time to make a fully operational kitchen. Despite that, the new bar area is bright and welcoming, but in need of decoration.
Unfortunately, Robert "Cob" Cunitz and his family lost all of their irreplaceable sports memorabilia and many family heirlooms in the fire. The community can help them redecorate the new Place with old and new sports memorabilia that now is collecting dust in homes, garages, and basements.
The Cunitzes hope to create displays for each of the following teams: Green Bay Packers, Wisconsin Badgers, Milwaukee Brewers, Chicago Cubs, and Brookwood Falcons. If you have any sports memorabilia for any of those teams that you would like to have proudly displayed at The Place, please consider donating.
Your treasured sports memorabilia will be enjoyed by many for years to come. Items of interest include the following: Green Bay Packers, Wisconsin Badgers, Milwaukee Brewers, Chicago Cubs, and Brookwood Falcons jerseys; team flags; team pennants; event tickets; framed and unframed quality photos or artwork; collector team posters; programs from events; bobble heads; metal team signs; vintage baseball or football equipment; and other unique team memorabilia.
They are also looking for wall hangings that include bathroom humor, all shapes and sizes of unbroken framed wall mirrors, and any size unbroken picture frames, as well as any "The Place" memorabilia and quality photos of the interior and exterior of the historic landmark.
You can arrange to drop off donations directly with Bobby Cunitz, or you can drop them off at the bar from 8 a.m. to 4 p.m. Monday through Friday. The Place has a team of decorators eager to create some one-of-a-kind displays for the bar.