Marilyn M. Pitel, 94, of Kendall died Thursday, Jan. 27, 2022, at Milestone Senior Living Facility in Hillsboro, Wis.
On April 18, 1927, Marilyn was born to Edwin and Grace (Travis) Halverson. Marilyn married Howard E. Pitel on June 12, 1948, at St. Peter Evangelical Lutheran Church. Marilyn attended Glendale Country School and graduated from Kendall High School. Marilyn's aptitude for math led her to a position as a bookkeeper with Novy Finance and Telephone Co. after graduating from high school. Marilyn worked side by side with her husband Howard on their farm. She was a faithful member of Evangelical Free Church in Kendall. Marilyn enjoyed the beauty of her flower gardens. Marilyn will be remembered for her warm and loving nature and will be dearly missed by all who knew her. A special thank you to Milestone Senior Living Facility and St. Croix Hospice for her care.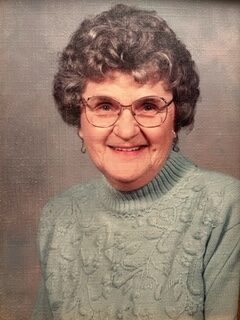 Marilyn is survived by a sister-in-law, Lucille Pitel; her nephews, Steven Pitel, David Pitel, and Bruce Pitel; a niece, Vonna Pitel; a cousin, Diana Libke; and friends and neighbors.
Marilyn was preceded in death by her beloved husband, Howard E. Pitel; her daughter, Trudy Pitel; her parents, Edwin and Grace Halverson; her brothers-in-law, Eldon and Laurel Pitel; and a sister-in-law, Marceda Pitel.
A funeral service will be at 11 a.m. Saturday, Feb. 5, at the Smith-Nelson Funeral Home, 112 E. South Railroad St., Kendall, Wis. Pastor Kim Kuhfuss will officiate. Burial will be in the Glendale Cemetery. Relatives and friends are invited for time of visitation on Saturday at the funeral home from 10 a.m. until the time of the service.
Online condolences can be offered by visiting www.sonnenburgfamilyfh.com
Masking and social distancing is requested.