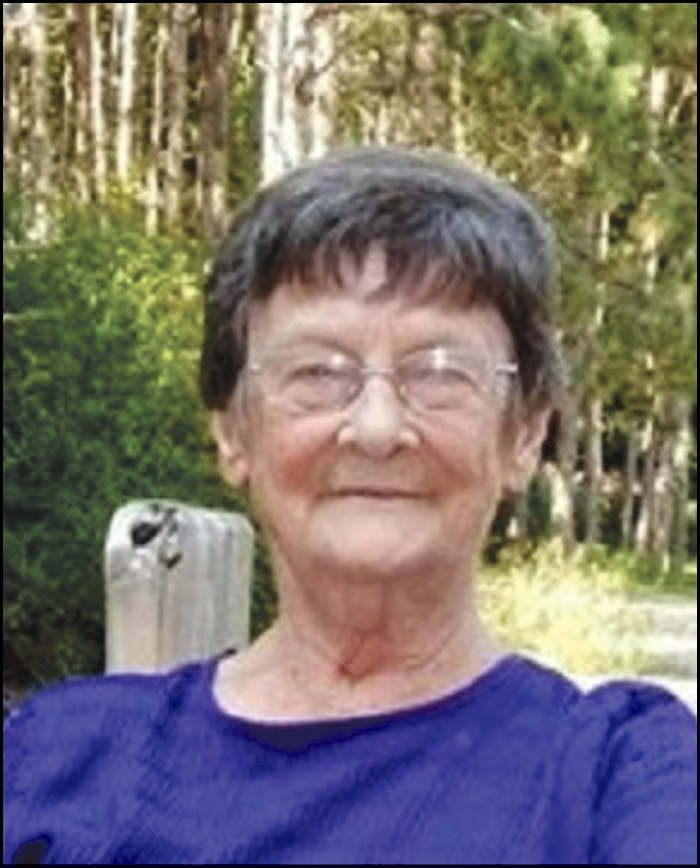 Lois Ann (Mantzke) Huber
9-5-1925 to 11-9 -2020
Our dear mother took her last earthly breath on Nov. 9 and immediately entered the doors of heaven.

Our mom was a gentle, soft-spoken, loving, caring and totally nonjudgmental person. That's not to say she couldn't let you know what she expected of you, but she always did it with love and a firmness that we all respected. She never failed to tell us how proud she was of us and our accomplishments — no matter the size.

She was blessed with a sound mind and a healthy body for all of her 95 years, and it was only in the last few weeks that she started to decline. She enjoyed tending to her vegetable and flower gardens and always seemed to have something to share when you visited her. She loved canning vegetables and made the best soups from all of those canned foods. The kids all knew that when grandma picked you up at school because you were sick, she would make homemade tomato soup with toast to help you heal.

Our mom was born in Brush Creek, Wis., on Sept. 5, 1925. As a teenager, she worked at the Badger Store in Cashton and graduated from Cashton High School. She married Gervis Huber on Nov. 14, 1944, and together they raised seven children. Throughout their married life, they lived in Wilton, Wis.; Independence, Iowa; and then settled in Janesville, Wis., in 1964.

She was a homemaker who could do it all and could fix anything with a butter knife and some tape. She was always willing to welcome friends and family into her house and treated them like her own. She was a faithful member of St. William Catholic Church and passed that strong conviction on to her children and grandchildren, all of whom revere grandma Huber's great faith. The legacy she leaves of fairness and faith will live on for generations.

She was dearly loved by her children, Donna (Bob) Dibble, Bob (Candy) Huber, Betty (Mike) Shaw, Joe (Rene) Huber, Jeanne (Dennis) Kvistad, Mary (Kevin) Plemon and Peggy (Tom) Tadder; and her grandchildren, Jon (Pam) Dibble, Janie (Rich) Woods, Jennifer Thomas, Joanie Kelley, Scott (Jen) Huber, Kimberly (Adam) Briggs, Stephanie (Dave) Bunton, Rob (Cheri) Hefty, Lisa (Jason) Bennett, Josh (Vickie) Huber, Dana (James) Huber, Katie Kvistad, Brian Kvistad, Kevin Plemon Jr., Sara (Barry) Wadsworth and Marlene Tadder. She is further survived by a multitude of great-grandchildren; many great-great-grandchildren; a brother, Gene Mantzke; and in-laws, Sue Mantzke, Lloyd (Liz) Huber and Ivan Vieth.

Eagerly waiting for mom on the other side is our dad, Gervis, as they will now get to celebrate their 76th wedding anniversary together. Behind him are her parents, Gus and Delia Mantzke; her in-laws, Clarence and Amanda Huber; her son, Bob Huber, her sons-in-law, Bob Dibble and Tom Tadder; her daughter-in-law, Rene Huber; her grandson-in-law, Joe Thomas; and two children who died at birth, Jimmy and Marlene. In that crowd will also be her brothers, Fritz, Dick and Bill Mantzke, as well as Dick's wife, Shorty; dad's sister, Shirley Vieth; and his brother, Norbert Huber.

As mom leaves us, we can hear her saying what she has said every time she ends a phone call. Her parting words were, "I love you and the whole bunch of you!"

We want to thank you all for sending cards to our mom to celebrate her 95th birthday. Those cards were so heartwarming and thoughtful, and she enjoyed reading every one of them and carried those thoughts with her until the end.

There will be a private family Mass held at St. William Catholic Church, with Fr. Jim Leeser presiding. In lieu of a memorial donation, the family asks that instead you plant a flower next spring in memory of our mom. She made the world a better place by her presence, and those flowers will only add to that.

Our family wishes to thank all the staff at Milton Senior Living for the loving support you gave mom until the very end. She genuinely considered you all her second family and loved you all.