Lloyd Harold Switz, born May 14, 1933, in Kinney Valley in the town of Wellington, passed from this world May 10, 2022, at the Tomah Veterans Administration Hospital in Tomah, Wis. He was born the first of five children to Harold Switz and Elise Caroline Drews Switz. On Sept. 22, 1962, he married the love of his life, Emma Theide Collins.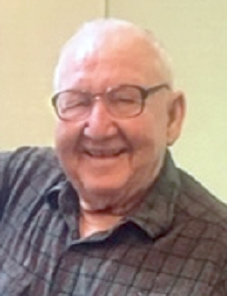 They shared 54 years of marriage before Emma went home to the Lord in 2016. Together they farmed in Kinney Valley and raised three children, Laurie, Dawn and Buck "Stacy."
Lloyd was an Army veteran who served his country as a cook in Africa during the Korean Conflict. He was a 20-year board member of the Wilton Co-op. And he also served 20 years on the Town of Wellington Board. Lloyd enjoyed pulling his John Deere tractors in the local tractor pulls.
Lloyd farmed the family farm in Kinney Valley for 56 years; after moving to town, he got a Job at Jolivet Family Farm, and then moved to Portland Implement, after which he retired.
Lloyd and Emma joined Grace Community Church in Ontario, where Lloyd served as a deacon. Pastor Bruce Milleman and the congregation were extremely important to both Lloyd and Emma and a special part of their life. Lloyd helped with the men's breakfast, making sausage patties.
Most days, Lloyd, being the social butterfly that he was, could be found playing cards, tooling around in his S-10 Pickup, watching the Packers, Brewers, Bucks and Badgers, and, of course, watching every old Western on TV. He treasured times spent meeting his brothers and sisters to enjoy a meal.
Lloyd is survived by his three children, Laurie Johnson (Jesse), Dawn Wendell and Buck "Stacy" Switz (Sharon); as we know, not all family is blood, our very special "little brother," Mark Benish (Angie); his five grandchildren, Adam Belling (Brittany), Jared Belling (Jessie), Kathleen Wendell (fiancé Craig Debevec), Kelly Schissel (Chad) and Brett Switz; three great-grandchildren, Aliceana and Greeley Belling and Ayla Belling; his siblings, Shirley Hagen (Curtis), Duane Switz (Bonnie) and Dianne Clark (Larry); his sisters-in-law, Geneva Switz, Shirley Dogs, and Sandy Collins; along with many nieces, nephews, other relatives and dear friends.
Preceding Lloyd in death were his wife, Emma; his parents, Harold and Elsie; his father- and mother-in-law, Ray and Kathleen Collins; his sister-in-law, Sandie Johnson; his brothers- and sisters-in-law Robert and Shirley Collins, Carl Dogs, and Dan Collins; and Lloyd's brother, Dean Switz.
Memorials may be given to Grace Community Church in Ontario or to an American Legion of your choice in Lloyd's name. The family would like to offer a special thank you to the hospice unit of the Tomah VA for the honorable treatment of our Dad.
Funeral services were Saturday, May 14, at Grace Community Church in Ontario. Pastor Bruce Milleman officiated. Burial with full military honors followed in Hilltop Rest Cemetery. Family and friends are invited for visitation Saturday from 9 a.m. until the time of service at the church. The Torkelson Funeral Home of Ontario is assisting the family with arrangements. Online condolences may be offered at www.torkelsonfuneralhome.com.