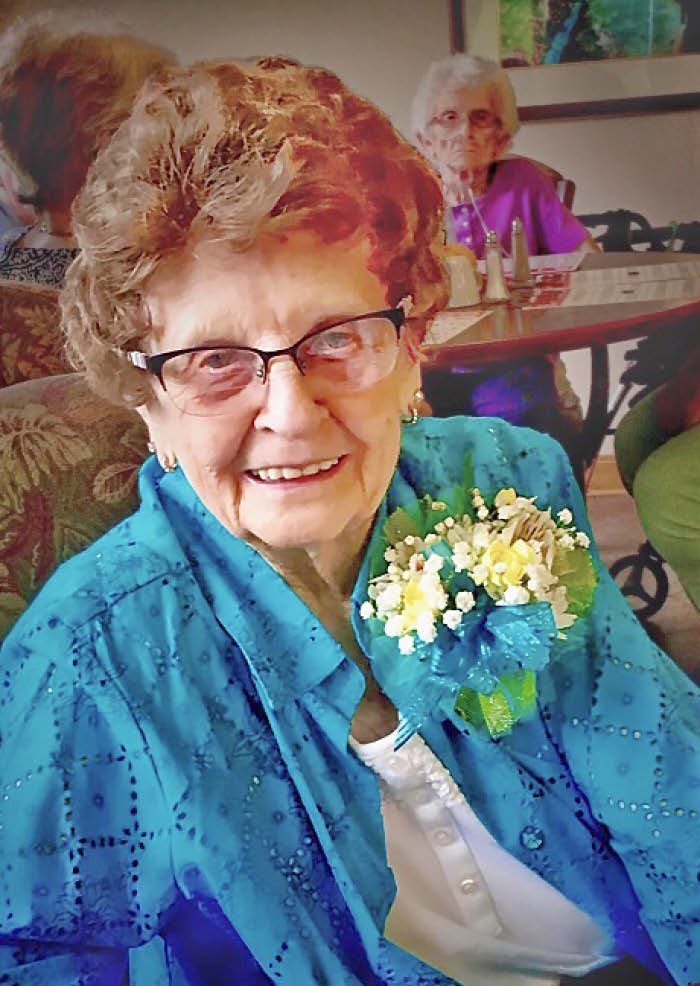 Lillian Evelyn Rumppe of Cashton passed away at the age of 93, on Saturday, Nov. 9, 2019. She was most recently a resident at Bethel Home and Maplewood Terrace in Viroqua.
Lillian and her twin sister, Lyla, were born in Strongfield, Saskatchewan, Canada, on Sept. 7, 1926, to Henry and Florence Benrud. Lillian also had an older brother, Lloyd. 
In 1937, when Lillian and Lyla were 11, the Depression forced the family to move and work on a relative's 152 acres in 24 Valley, near La Farge. The family of five, an uncle and their dog loaded the Model T with a few essentials and crossed the border to arrive at their new home after two weeks on the road. Lillian graduated from Ontario High School in 1944 and continued her education, with teaching as her goal. She met Eldon soon after graduating Vernon County Normal School in 1946.
Teaching was put on hold to raise a family, when on July 31, 1948, Lillian Evelyn Benrud married Eldon George Rumppe in a double ceremony with her twin sister Lyla Benrud and Virgil Major. Lillian and Eldon made their home on the Rumppe homestead on Irish Ridge, rural Cashton. They farmed until 1988, when Eldon retired and they sold the farm. 
It was 1965 when Lillian again resumed her education, earning her BE degree from the University of Wisconsin-La Crosse in 1971. During that time, she also spent her summers teaching elementary grades in Norwalk, where she would remain until her retirement. Lillian taught grades 4-5-6 social Studies and language arts and served as Norwalk Elementary School's principal from 1974–1990.
Lillian loved her 27 years of teaching, loved hearing from former students, and even the children of those students, who she also taught. Countless times over the years, people would take time to thank her and reminisce about their classroom memories. In this way, her love of teaching came back to her many times over.
After retiring, Eldon and Lillian became avid crafters, making doll furniture and sewing more than 1,400 authentic, ethnic dresses, all unique and beautiful complements to the American Girl collection. Lillian found joy in helping and supporting others as 4-H leader, head of music for Bethany Church Sunday School, Ladies Aid Society, and several professional organizations. Lillian was an accomplished quilter, making many personal quilts, and over the years, she and her Sew and Sew friends worked to donate 220 quilts, almost all to local veterans. She was also part of the book club at the library and kept detailed records of the books she read. 
Lillian was a wife and mother of three, grandmother of seven, and great-grandmother of four. Lillian's compassion stretched beyond family, so that no one went lonely while she was around. She cared for and visited multiple parents, grandparents, aunts, siblings, and just longtime friends. She was a hospice worker before there was even a name for it.
Lillian is survived by her children, Richard Dean (Patty Terpstra) Rumppe of Edina, Minn., Diane Marie (Richard) Gylling of Palatine, Ill., and Donna Cathleen Harris and Jack Pierce of Victoria, Minn.; her grandchildren, Stephanie Gylling (Brandon) Smith, Erik Rumppe, Natalie Gylling (Jason) Gonzales, Amanda (Gabe) Rumppe Coler, Kristin Harris (Dustin) Abanto, Gregory Gylling, and Ryan Harris; her great-grandchildren, Colin and Lucas Smith and Penelope and Lily Abanto; her sister-in-law, Ella Mary (Jack) Poore of Marana, Ariz.; along with many other relatives and countless dear friends.
Lillian was preceded in death by Eldon, her husband of 67 years; her brother, Lloyd; and her sister, Lyla. 
Funeral services will be at 11 a.m. Monday, Nov. 18, (visitation from 9:30) at Trinity Lutheran Church in Cashton. Pastor Amanda Schultz will officiate. Burial will be held at a later date in the Hilltop Rest Cemetery in Ontario.
In lieu of flowers, memorial contributions may be made to Bethel Home and Services, 614 S. Rock Ave., Viroqua, WI 54665. Online condolences may be offered at www.torkelsonfuneralhome.com. The Torkelson Funeral Home of Cashton is assisting the family with arrangements.