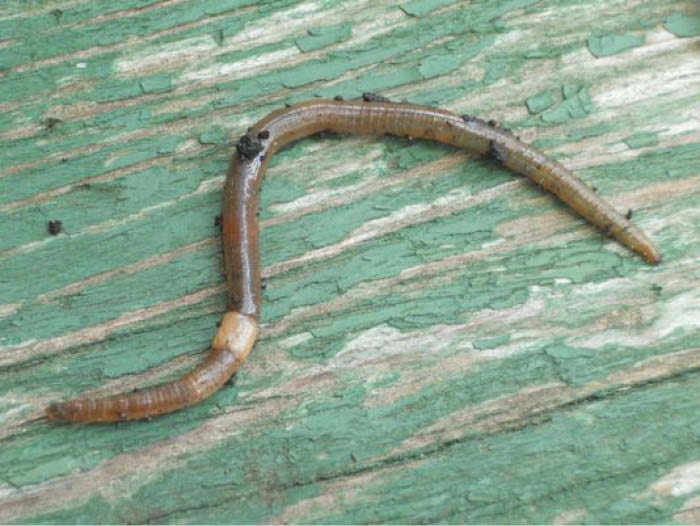 Contributed by the University of Wisconsin-Extension
An aggressive, invasive type of earthworm known as a jumping worm has been identified in Monroe County.
These are no ordinary worms. When they are disturbed, jumping worms thrash violently, slither like snakes and even jump into the air.
In 2013, species from the genus Amynthas were confirmed for the first time in the Upper Midwest, at the University of Wisconsin-Madison Arboretum. At this time, they have been confirmed in over 40 counties in Wisconsin.
They are most likely spread by movement of plants, compost, mulch, top soil, and potting soil of containerized plants that have the cocoons or possibly hatched jumping worms present in them. The cocoons are extremely difficult to find, as they are the color of soil and about 2 millimeters in diameter, plus they can survive Wisconsin winters.
For a full description of the appearance of jumping worms, visit dnr.wi.gov/topic/invasives/fact/jumpingworm/index.html.
Jumping worms are not like the common European earthworm (aka nightcrawler). They live in the top part of the soil; they don't make channels that plant roots can exploit; they grow more quickly, reproduce more rapidly, occur at higher densities, and thus consume more nutrients, which starves other invertebrates; and they leave behind an inhospitable environment for plants.
Instead of nutrient-rich castings being left behind that help the soil, they transform the ground into a field of soft, dry soil pellets. Soil hit by Asian jumping worms has nutrients, but it's all on the surface, and is too easily washed away by rain. It's not a sustainable way to keep the soil rich and healthy, and in some cases, the plants that were growing there are no longer able to. Some plants do not seem to be as negatively affected by them as others.
In addition, the jumping worms are competitive with other species and grow rapidly. They're parthenogenetic: They can reproduce without needing to mate with another worm of their species. The introduction of a single individual is enough to launch a jumping-worm invasion.
At this time, there are no good, reliable ways to eliminate jumping worms once they become established. Some work has been done at the UW Arboretum to research control options. Some promise has been shown with a low-nitrogen fertilizer (Early Bird), which contains tea seed meal as one of the ingredients. While promise has been shown in some studies, many questions remain about its overall effectiveness. Early Bird fertilizer is also very difficult to find at this time.
The important thing now is to the stop the spread. What can you do to help stop the spread?
• Learn to recognize them and teach others to do so. See the link near the beginning of article.
• Plant, sell, purchase and trade only those landscape and gardening plants that you are reasonably sure are free of jumping worms. Buy bare-root stock whenever possible. Be cautious when sharing and moving plants.
• Look for jumping worms in your yard, garden and forest, mulch, compost, potted plants and other suitable places.
• Sell, purchase and trade only compost that you know was heated to appropriate temperatures for the correct amount of time following protocols that reduce pathogens.
• Arrive clean; leave clean. Remove soil and debris from vehicles, equipment, footwear and personal gear before going to and from work and recreational areas.
What if you already have them?
• If you find them, report them to the DNR by email at [email protected]
• Don't panic. By taking precautions, you can continue enjoying your yard, trees and garden.
• Don't spread the worms to uninfested places on your property.
• Remove and destroy adult worms by sealing them in a bag and throwing it in the trash.
• Experiment with a variety of plants or try alternative landscaping in heavily infested parts of your property
Additional information and pictures can be found at the following websites:
• dnr.wi.gov/wnrmag/2015/06/worms.htm